DEKALB COUNTY, Ga. — DeKalb County expressed its "sincere condolences" for the families of a pilot and passenger killed on Wednesday when a small plane crashed into townhome, as that plane was towed away on Thursday.
Video from the scene a day later showed a truck moving away the wreckage, little of it recognizable except for a chunk that included one of the plane's wheels.
The county, meanwhile, issued a statement offering sympathy for the families of the people who died in the crash.
"DeKalb County Government and DeKalb-Peachtree Airport extend sincere condolences to the families and friends of those who lost their lives in yesterday's plane crash," the statement said. "DeKalb County will continue to work with the National Transportation Safety Board and the Federal Aviation Administration during the investigation."
"I felt the ground vibrating, the screech through the trees," Jared Hauck said.
Aftermath of DeKalb plane crash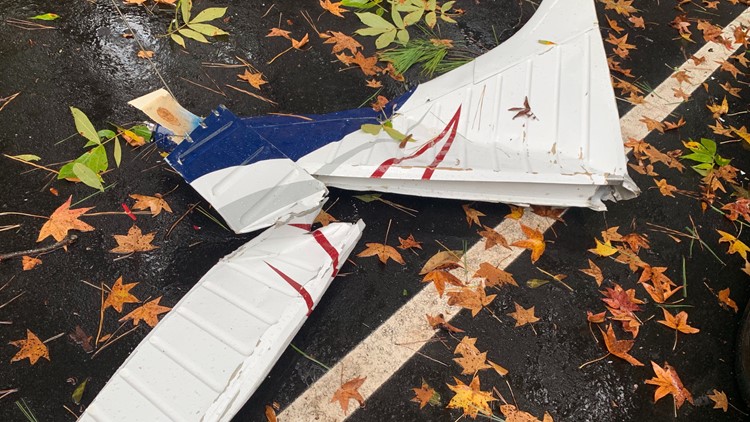 One man, Shaun Anderson, told 11Alive about how he made a split-second decision to veer from his usual routine - likely saving his life.
The musician moonlights as a Lyft driver, and usually shuttles passengers from here to there across Atlanta until the wee hours of the morning. So, it's usually late in the morning when he wakes up to get started with his day.
On Wednesday morning, Anderson said his routine derailed a bit when he woke up too early to start his day, and he couldn't go back to sleep.
"So, I figured I would take a shower and just try to go back to sleep and get ready to go to work for 3 or 4 today at the restaurant, or I would get up and go run some errands and then come back and maybe do a jog or something," he recounted.
He chose to run errands first, and delaying the shower meant that he wasn't home when the Piper PA-28 smashed into the bathroom.
"If I were to have taken a shower during that time, I would have been in the shower - it pretty much destroyed the upstairs bathroom," he recalled. "You can basically see inside the house - the bathroom upstairs wall is gone. The shower - everything is gone."
A witness inside the apartment complex also shared video of the aftermath with 11Alive. Video shows damage to the outside of a townhome building. DeKalb Fire and Rescue said no one was in the unit affected and there are no other reported injuries.
The video shows how the impact knocked bricks off of the building.