It was a tumultuous weekend for the NFL in more ways than one.
President Trump took a shot at the league's television ratings. In a tweet sent right before Sunday's games, the president said "NFL attendance and ratings are way down. Boring games, yes, but many stay away because they love our country. League should back U.S."
11Alive decided to VERIFY the president's claim. Did this weekend's events have a dramatic effect on Sunday's games? And are the NFL's T.V. ratings sinking overall?
We should also note that before the season began, many Kaepernick supporters declared and NFL boycott after the free agent was not picked up by a team. Kapernick is the former 49ers quarterback that began kneeling during the national anthem at games last season to protest police brutality in minority communities.
"I am not going to stand up to show pride in a flag for a country that oppresses black people and people of color," Kaepernick said, to NFL.com at the time. "To me, this is bigger than football and it would be selfish on my part to look the other way. There are bodies in the street and people getting paid leave and getting away with murder."
For more on the original protest, click here.
We looked at the networks numbers for Sunday's games and compared them to the same weekend in 2016. Two of the three networks saw lower ratings. Fox was down 16 percent nationally where most cities saw the Eagles-Giants game.
VERIFY | Are NFL football players required to stand for the National Anthem?
PREVIOUS | Falcons players wear cleats honoring charity, condemning police brutality
NBC's "Sunday Night Football" was down 11 percent from 2016. It was also down 9 percent from the previous week's game between the Falcons and the Packers. On the other hand, CBS said its Sunday games were up 4 percent from 2016.
PHOTOS: NFL players take a knee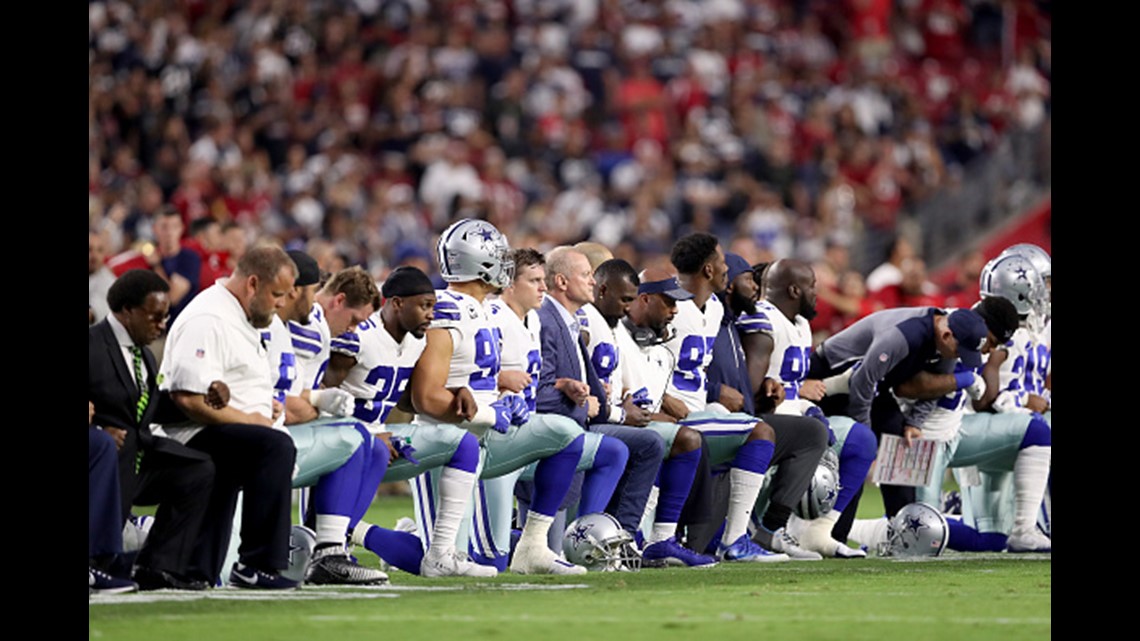 An important note, however: these numbers do not yet include the number of people who watched football live streaming on computers and mobile devices.
An explanation for the drop might be more than just politics. Some analysts said that fans may tune out if the game isn't close or if a "big name team" isn't playing.
Something else to consider: one advertising executive told NBC News that this is a trend that's ongoing with television in general.
PREVIOUS | Veteran uses U.S. Flag Code to defend NFL players kneeling during National Anthem
VOTE | Will you STOP watching NFL games if players continue to kneel during national anthem?
The 11Alive fact checkers can VERIFY that ratings were lower for Sunday night's games on some networks but higher on another. We cannot, however, link the lower ratings to the NFL protest.