A plane carrying two people crashed Wednesday morning in DeKalb County.
Authorities have confirmed that two people are dead. The crash happened at a townhome community on Oakawana Drive after taking off from DeKalb-Peachtree Airport at around 10:30 a.m., according to the FAA.
The plane, a Piper PA-28 crashed shortly after leaving Runway 21, the FAA said.
A witness inside the apartment complex shared video of the aftermath with 11Alive. Video shows damage to the outside of a townhome building. DeKalb Fire and Rescue said no one was in the unit affected and there are no other reported injuries.
The video shows how the impact knocked bricks off of the building.
The National Transportation Safety Board (NTSB) is on the scene and investigating the accident, according to Captain Dion Bentley, PIO of DeKalb County Fire. Bentley said NTSB is handling the recovery process.
"The damage to the townhome was moderate, a lot of bricks fell ... but it's a small plane, it's hard to explain, the damage is significant - but you would think a lot of fire, nothing like that," Bentley said.
The American Red Cross of Georgia said in a statement that some of its team members responded to the scene to offer support.
"Volunteers met with displaced families to ensure they have a safe place to stay and provided emergency resources for food, clothing and other essentials," the statement said. "They also provided canteen services for emergency workers."
What's visibly missing from the crash site is fire. When first responders arrived, they said there was no heavy smoke or flames.
What appears to be pieces of the plane are on the ground nearby.
Aftermath of DeKalb plane crash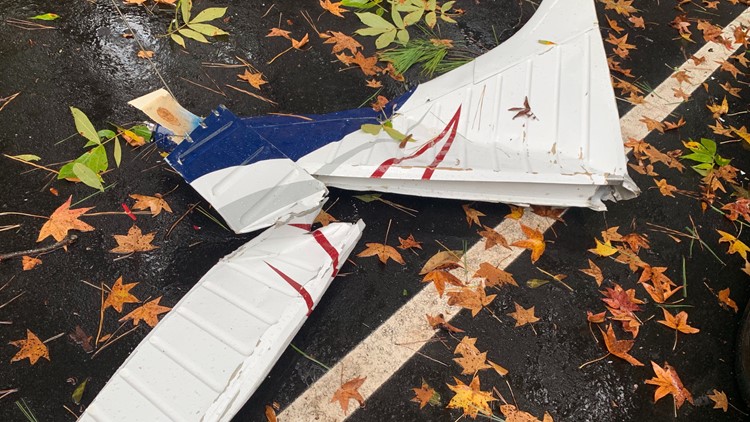 Meteorologist Chris Holcomb said there weren't any strong winds, no heavy rain or storms, but it was misty with a little fog at a visibility of about six miles at PDK. Holcomb also said the ceiling was 400 feet, which means visibility above that ceiling would be lower.
He said all airport sites in the area were on IFR and LIFR rules. That means "instrument flight rules" and "low instrument flight rules," meaning pilots need to depend on instruments for flights rather than "visual flight rules" when visibility is better. LIFR usually applies with ceilings below 500 ft.