Fox and Ward were remembered during a joint funeral service at Appalachian State University's Holmes Convocation Center.
"We were overwhelmed the other day with the most tragic news that a parent could ever hear," Timothy Fox, the father of K-9 Deputy Logan Fox, said during the service. "Then we have been overwhelmed by the abundance of compassion and help from everybody."
The fathers of Fox and Ward, who did not know each other before last month's tragic events, gave unscheduled, joint remarks at the beginning of the funeral. The two embraced as they continued to lean on each other's support.
"We want to say to the law enforcement team: you all are heroes," Fox said.
"Every one of you," added Rev. David Ward, the father of Sgt. Chris Ward.
"Every single one that took that oath are heroes to this country," said Fox. "America don't wait until this happens to show our law enforcement we care."
On April 28, Fox, 25, and Ward, 36, were shot and killed during a welfare check that turned into an hours-long standoff at a home on Hardeman Circle in Boone. Five people were killed, including the two deputies and a married coupled, identified as the homeowners George and Michelle Ligon. Watauga County investigators said the suspect, identified as the son of the homeowners, then shot and killed himself.
Law enforcement from across the country joined the Boone community Thursday to line Rivers Street for a processional ahead of the funeral.
"It's hard to describe it. It's been painful," said Katie Greene, with the Boone Chamber of Commerce. "It has rocked, rocked our lives. There's not one person that I talk to on a regular basis that's not impacted by this event."
That sense of community is why Greene was able to find so many volunteers - mostly mothers and their children - to make nearly 6,000 red ribbons for people to wear during the service and procession.
"I would say - especially in the face of tragedy - that the true colors of the community show," said Jennifer Stevens, a family friend. "You can really feel this community is bonded together, supporting, loving, finding ways just to support one another."
PHOTOS: Memorial grows for fallen Watauga County deputies after deadly standoff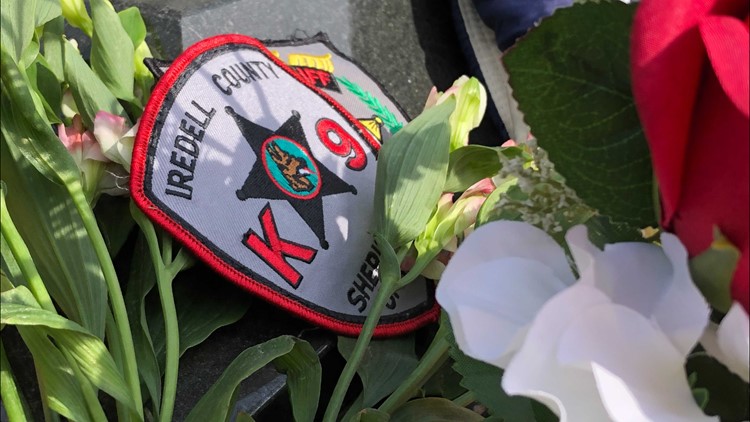 Fox and his K-9 Raven were like family to Tina Townsend, owner of The Pet Place in Boone. Townsend said Fox would often come by with Raven, where they were friends with everyone.
"Logan was marvelous," Townsend said. "He had a huge heart for anybody and anything."
Ward was remembered by friends and family for his kindness, as well. Donna Ward said she was listening to her police scanner when the shooting happened.
"He was the sweetest, the kindest," Ward said. ''I'm on my knees praying every morning for these people. I pray for everybody, but, these officers, they have a tough job."
Watauga County Schools dismissed early Thursday so teachers, students, and staff could stand alongside their community.
A private memorial and burial will be held at a later date.