ZANESVILLE, Ohio — One Zanesville woman's dream of earning a college degree came true at the age of 102.
Nancy Power Hodous received her degree from Zane State College with help from The Oaks at Bethesda in Zanesville on March 30 – just a few weeks away from her 103rd birthday.
Hodous dressed in her cap and gown for a special ceremony and walked down the aisle to accept her associate degree in public service.
Hodous, who currently is a resident at The Oaks at Bethesda, is known for her philanthropic work with various organizations like the historical society.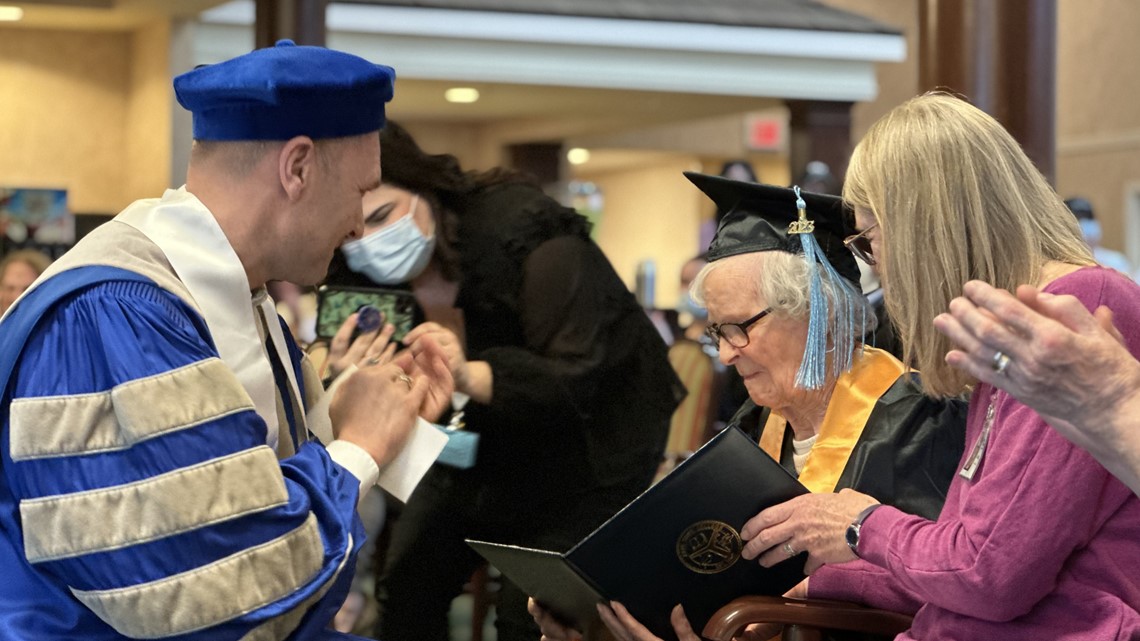 "Nancy has such a zest for learning, with her love of poetry and continued education. We are so honored to present her with this degree. Nancy is proof that it's never too late in life to keep reaching for your dreams," said Tiffany Goins, executive director at The Oaks at Bethesda.
The graduation ceremony was made possible by Trilogy Health Service's community foundation, "Live a Dream" program. The program helps seniors experience and fulfill things that have been lifelong wishes.
Hodous has taken several business, arts and poetry courses at the college level and had the opportunity to audit a poetry class at Harvard University, according to a release from Trilogy Health Services. Her favorite poets are Robert Frost and Ralph Waldo Emerson.