Lufthansa unveils new paint scheme for its planes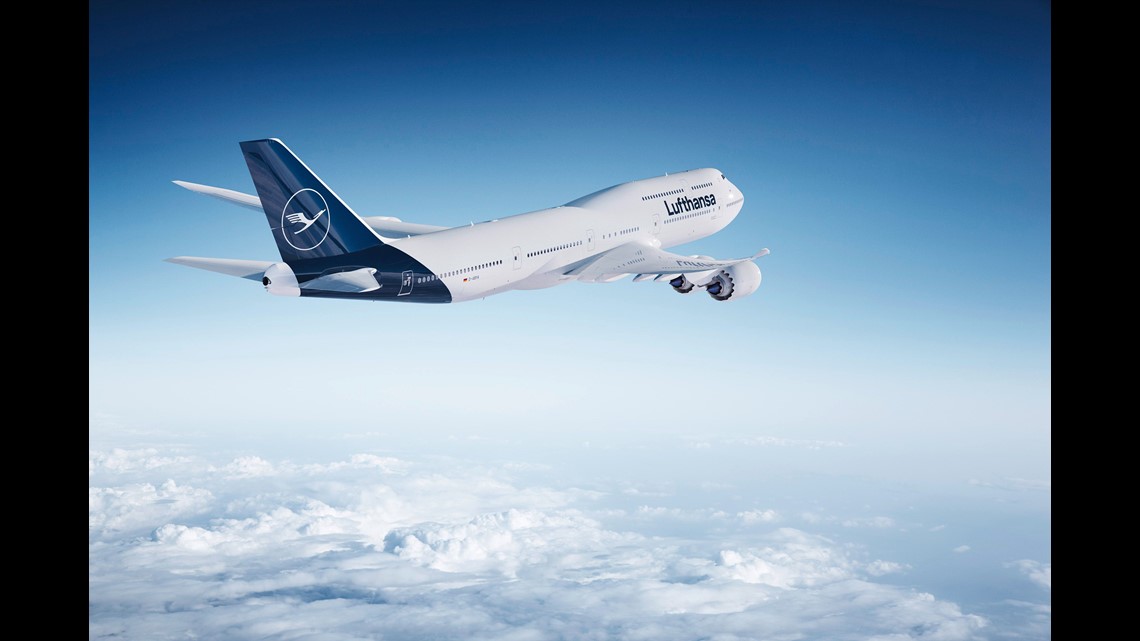 Lufthansa unveiled a new paint scheme for its aircraft last week, becoming the latest big carrier to update the livery of its aircraft.
Lufthansa's distinctive yellow will disappear from the outside of its planes in favor of a dark blue-and-white scheme. The airline says that newer, darker blue will become its "leading brand color," though yellow is not going away completely. Lufthansa says it will still be found "on every boarding pass and at every Lufthansa counter at the airport, among other things."
Staying is Lufthansa's signature crane logo. It will remain on the tail, with the enclosing circle becoming thinner in the new two-color look.
SOME OTHER CHANGES SINCE 2014: Air Canada | Alaska Airlines | Frontier Airlines | Hawaiian Airlines | Iberia | LATAM Airlines | Southwest Airlines | Spirit Airlines | Qantas (scroll to bottom for more photos)
"Lufthansa has changed and is more modern and successful than ever. From now on, this will also be visible to the public through a new design", said Lufthansa CEO Carsten Spohr of the company's first livery change in 30 years. "The crane has always been with us and clearly stands for the promising performance from Lufthansa."
However, not everyone greeted Lufthansa's new look with the same enthusiasm.
Patrick Smith called the new look "depressing" in his Ask the Pilot blog.
ARCHIVES: Lufthansa celebrates arrival of the 1,500th Boeing 747 (story continues below)
Boeing's 1,500th 747: Behind the scenes at the 747 factory
"What sinks this one is the lack of color," Smith wrote. "Yellow, specifically. Lufthansa without yellow is like sky without blue. Yellow — some would call it gold — has been part of the Lufthansa livery for the better part of a hundred years, and they've bleached it away."
Still, he figured the redesign "could have been a lot worse."
Veteran aviation analyst Henry Harteveldt was another to offer a less-than-complimentary critique.
"Only the #airline's #branding team feels good," he said about the new look.
John Walton, who writes for The Runway Girl Network, took to Twitter with a less-than-flattering take. Among other complaints, he worried that Lufthansa's dark blue scheme would frequently come off as black – "which is…not the brand" – during northern Europe's notoriously long and gray winters.
Not everyone took such a dim view, though few appeared to be impressed.
"Personally I thought Lufthansa's old livery was timeless, so I hate to see it go," wrote One Mile at a Time blogger Ben Schlappig. "I don't like the new livery quite as much, but I also don't think it's too bad."
Yet, there were others that gave Lufthansa's new look a thumbs-up.
"Guess I'm one of the few, but I love the change. Much more modern and fresh. Fantastic change," a commenter wrote in a post at The Points Guy website. It was one of several that approved of the change, though most expressed disappointment.
AdWeek discussed a more pragmatic goal, which Lufthansa itself factored into the decision: the ability to look sharp in the age of digital media.
"At a time when every brand is looking for ways to do business digitally, there's a related challenge that gets far less attention -- the importance of simply looking more digital," AdWeek writes. "And that, it seems, is much of what Lufthansa's trying to accomplish."
AdWeek backed up its assertion by pointing to a video Lufthansa released to explain its brand update.
"Since 1989, a lot of things have changed, particularly in the digital space," Alexander Schlaubitz, Lufthansa's VP of marketing, said in the video. "A lot of the things that had been designed from a brand perspective at the time were quite static, and that was OK. ... But since then, the world has become incredibly dynamic and incredibly agile."
However, it was perhaps Brett Snyder, author of The Cranky Flier, who voiced what seemed to be the prevailing sentiment.
"I've seen people up in arms about how terrible it is, but it's really not. It just seems somewhat unnecessary," Snyder wrote.
Still, Snyder did wonder if perhaps the new look could become a unifying theme for all of the airlines that fly under the broader Lufthansa Group, which also includes Austrian, Swiss, Eurowings and Brussels airlines.
"I can only wonder if this is the beginning of a common-branding scheme for the whole group," Snyder added. "That might look sharp if they all lined up that way."
For now, however, Lufthansa will begin the repainting process of its own fleet. About 40 planes are expected to get the new livery, according to FlightGlobal, which says it will take about seven years for the carrier's entire fleet to get the new look.
TODAY IN THE SKY: Here it is: Southwest confirms new look for its planes
Southwest unveils first new look since 2001
TODAY IN THE SKY: Alaska Airlines' iconic Eskimo gets a makeover
Alaska Airlines unveils makeover for logo, airplanes
TODAY IN THE SKY: New-look Air Canada woos Americans
Air Canada unveils new paint scheme for its planes
Air Canada's new employee uniforms include flight attendants, pilots
TODAY IN THE SKY: Spirit picks flamboyant yellow as U.S. airlines repaint planes
Spirit rolls out a bold new paint scheme for its planes
TODAY IN THE SKY: LATAM Airlines unveils post-merger paint scheme for LAN, TAM planes
LATAM Airlines unveils post-merger aircraft paint scheme
IN PICTURES: 31 cool aviation photos
February's #avgeek photo gallery (2017)