Currently, the balloon has been measured as cruising at around 60,000 feet in the air while drifting southeast. Models show the balloon making it to the South Carolina coastline at around noon on Saturday. Friday night is expected to leave Missouri, cross over southern Illinois, western & central Kentucky, and northeastern Tennessee. By Saturday morning it will be over North Carolina.
The winds at 60,000 FT are blowing the balloon about 40-50 MPH to the southeast. It'll be back over international waters in the Atlantic by Saturday evening (February 4, 2023).
Using an NOAA Hysplit model, a spaghetti plot shows the possibilities of where it could be flying over next. This model is usually used to track where the wind takes volcanic ash to keep air traffic safe from ingesting pollutants.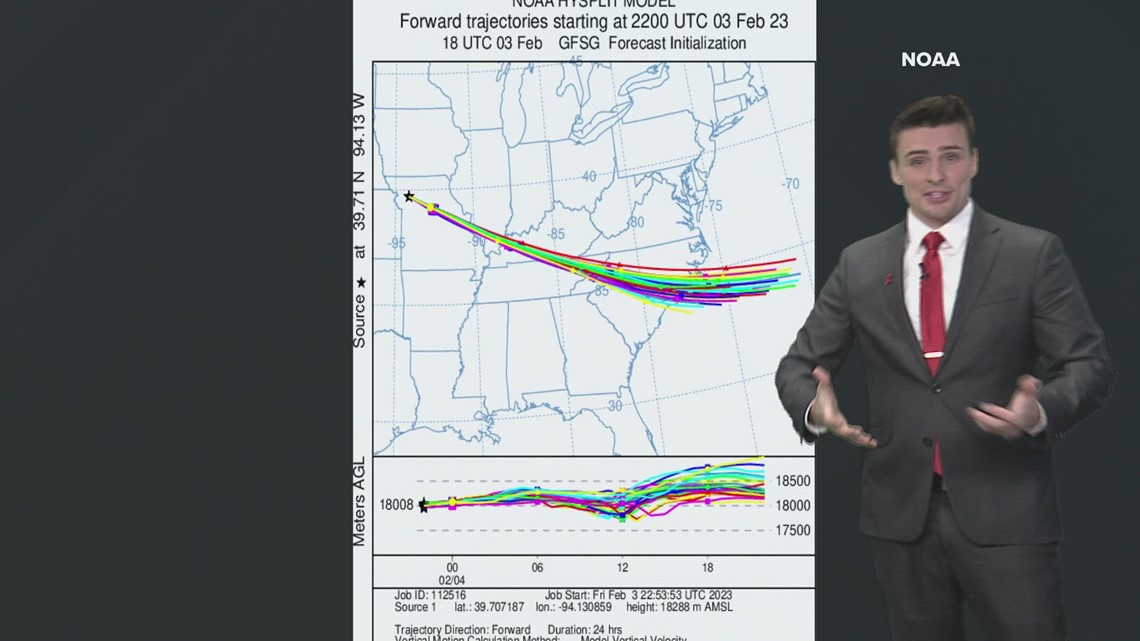 During a Feb. 3 press conference, Pentagon Press Secretary Brig. Gen. Pat Ryder said if the government shot the balloon down, there's a possibility the debris could harm property or even people whenever it'd make landfall.
Another thing to note is that at 60,000 feet, the balloon is above commercial airspace. Ryder said the balloon does not present a military or physical threat to people on the ground.
In a Chinese Foreign Ministry statement, the Chinese government confirmed ownership of the balloon, but said it is being used for "research, mainly meteorological, purposes."