WASHINGTON — After a speech and introduction by Vice President Mike Pence, President Trump spoke for about an hour and a half at a rally for Dan Bishop -- one day before North Carolina's 9th District special election.
The president campaigned for the Republican candidate ahead of Tuesday's contest, hoping thousands in attendance at the event in Fayetteville would also turn up at the polls.
"Hello Fayetteville," President Trump said as he took the stage before thousands of supporters at the Crown Exposition Center in Fayetteville.
Bishop, a former Mecklenburg County Commissioner, spoke alongside Trump as both of them took aim at Democratic opponent Dan McCready.
In what's supposed to be a razor-thin race, Bishop has run tough on immigration, pro-2nd amendment rights, and promises to be loyal to Mr. Trump.
"Mr. President, we're not tired of winning," Bishop said as he stepped up to the microphone. "We want to keep on winning."
With an eye to his own reelection next fall, Trump also touted his administration's accomplishments but also urged voters to give him more time.
"We had a very, very special day in 2016. It was a very special time," the president said referring to him winning North Carolina in the presidential election. "And I don't know if you can ever compare anything to it, but I can say this, 2020 is essentially just as important because they'll try to take it away."
Earlier in the day, Trump said he didn't think Tuesday's special election was a bellwether for his performance in the state next year.
Speaking to reporters before leaving the White House to campaign for Bishop, Trump tamped down expectations for the vote to fill a vacant House seat representing the once-reliably GOP district.
Bishop will face McCready Tuesday in the final stroke of the 2018 midterm elections, which saw Republicans lose control of the House. Polls will open Tuesday at 6:30 a.m. and close at 7 p.m.
Trump insisted the midterms were not a referendum on his presidency and said his efforts to help embattled GOP Senate candidates went unnoticed.
"We're very happy with the way we've done," he added.
The rally in North Carolina served as a measure of the president's clout in trying to elect a Republican to the House in a closely watched special election that's seen as a tossup race.
"You have a Democrat named Dan McCready and he wants open borders and sanctuary cities, he's not going to protect your second amendment," Trump said.
Bishop also spoke on sanctuary cities and counties.
"President Trump needs nobody else in Washington who supports sanctuary cities and counties here in North Carolina or anywhere else," Bishop said.
This was Trump's first campaign rally since a tough end of summer that saw slipping poll numbers, warning signs of an economic slowdown, and a running battle over hurricane forecasts.
Trump visited the state Monday night on the eve of the House election. He enjoyed wide popularity within his own party, but a GOP defeat in a red-leaning state could portend trouble for his reelection campaign.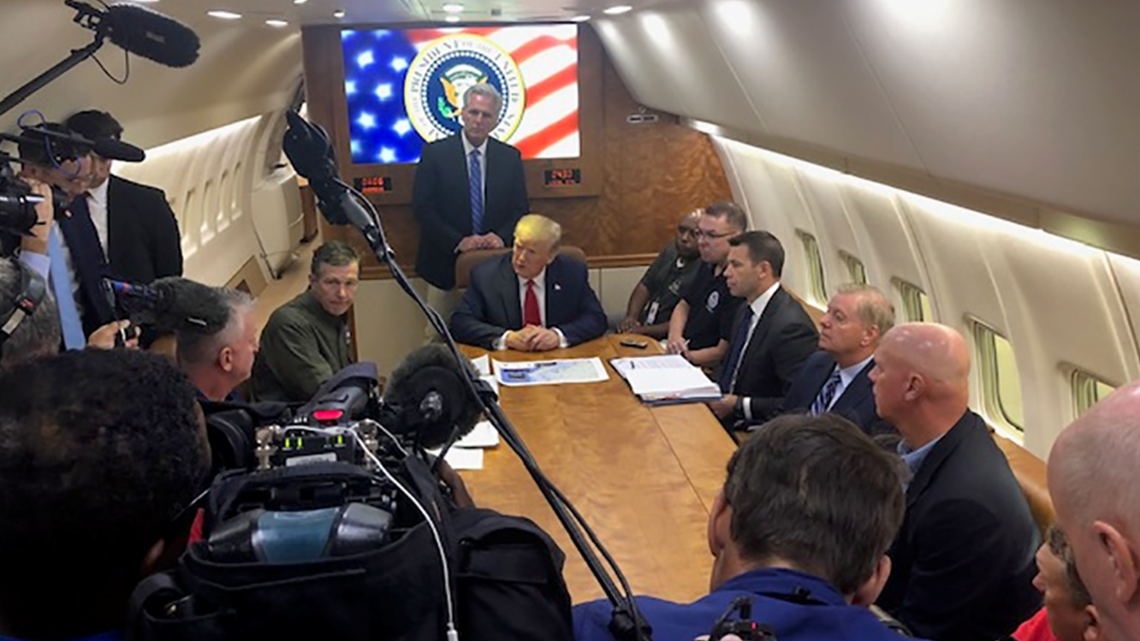 Just hours before the rally, the president received a Hurricane Dorian briefing on board Air Force One in Havelock, N.C.
He was supposed to tour damage before Monday night's event in Fayetteville, but severe weather prevented him from doing so.
During the briefing, Governor Roy Cooper requested an expedited federal disaster declaration for Dorian. He also told the president a universal application for federal programs for survivors would help simplify the process for people impacted by storms and other disasters.