Budd's campaign was bolstered by endorsements from former President Donald Trump and other high-profile conservatives, including Sen. Ted Cruz. Budd will move from the U.S. House, where he represented North Carolina since 2017. He will fill the seat that is being vacated by Sen. Richard Burr, who opted to retire over seeking another term in Congress.
Budd's platform of criticizing President Joe Biden's economic policies resonated with voters. A recent poll found that North Carolina voters viewed the economy as the biggest issue in the midterm elections. Budd told WCNC Charlotte's Flashpoint that Biden created a "hostile environment" with energy providers.
"It's time now to put the brakes on the Biden agenda of reckless spending, overregulation and higher taxes," Budd during his speech to supporters late Tuesday night in Winston-Salem. "It's time to fully support the men and women of law enforcement who keep us safe each and every day."
Beasley, the first Black female chief justice on the North Carolina Supreme Court, ran on a platform to reel in big corporations that reported record profits amid inflation-hurting Americans. During an appearance on Flashpoint, Beasley decried prescription costs, as well.
Another strong issue for Budd was access to abortion. Budd, who describes himself as "pro-life," co-sponsored a bill that would ban abortions after 15 weeks. He's also hinted that he does not support exemptions in cases of rape or incest. The Republican has maintained that access to abortion should be legislated at the state level, supporting the Supreme Court's ruling to overturn Roe v. Wade.
"I'm pro-life and I have been long before politics," Budd said on Flashpoint. "I've always been about supporting life, including the life of the mother."
The outcome of races for House and Senate will determine the future of Biden's agenda and serve as a referendum on his administration as the nation reels from record-high inflation and concerns over the direction of the country. Republican control of the House would likely trigger a round of investigations into Biden and his family, while a GOP Senate takeover would hobble Biden's ability to make judicial appointments.
Democrats were facing historic headwinds. The party in power almost always suffers losses in the president's first midterm elections, but Democrats had been hoping that anger from the Supreme Court's decision to gut abortion rights might energize their voters to buck historical trends.
"This is not the outcome that we wanted, but we have made history in North Carolina," Beasley said, adding later that the "fight will continue because progress continues."
Who is Ted Budd?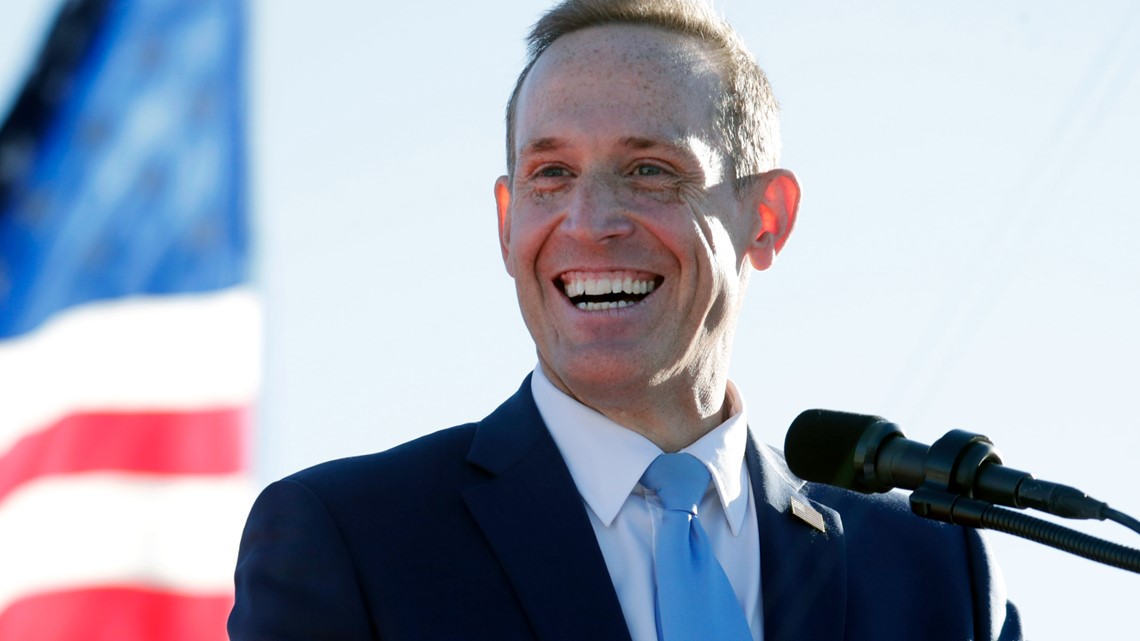 Ted Budd has served North Carolina's 13th Congressional District in the U.S. House of Representatives since 2017. He was born in Winston-Salem but grew up on a large farm on the Yadkin River in Davie County. He is a graduate of Appalachian State University and earned an MBA from the Wake Forest University School of Business.
Budd is a conservative who has earned endorsements from several major Republicans, including former President Donald Trump, former South Carolina Gov. Nikki Haley, Sen. Ted Cruz, and former House Speaker Newt Gingrich.
He has spent much of his campaign criticizing President Joe Biden's administration for not doing enough to curb inflation. On a recent episode of WCNC Charlotte's Flashpoint, Budd attacked Biden's energy policies.
"I'm pro-life and I have been long before politics," Budd told WCNC Charlotte. "I've always been about supporting life, including the life of the mother."
Who is Cheri Beasley?

Cheri Beasley served as an associate justice on the North Carolina Supreme Court from 2012 through 2019. She was appointed to the bench by former Gov. Bev Perdue. In March 2019, Beasley became the first Black woman to serve as chief justice of the court, holding that position through the end of 2020. She is a graduate of Rutgers University-New Brunswick. Beasley also has a law degree from the University of Tennessee and a master's of law from Duke University.
When it comes to the economy, Beasley says Congress can do more to reign in bigger corporations. In an interview with WCNC Charlotte's Flashpoint, she decried prescription costs and record profits amid inflation.
"We also know that corporations are making 70-year record profits under the covering of inflation," Beasley said. "They're jacking up prices on the things that we need."
"The question is: Who makes the decision? Is it a woman and her physician or is it politicians up in Washington?" Beasley asked rhetorically. "Congressman Budd has to understand that, in an exam room with a woman and her doctor, there is no place for him for that decision to be made."
All of WCNC Charlotte's podcasts are free and available for both streaming and download. You can listen now on Android, iPhone, Amazon, and other internet-connected devices. Join us from North Carolina, South Carolina, or on the go anywhere.