CHARLOTTE, N.C. — The Labor Day weekend is off to a busy start in the Queen City as President Donald Trump made two stops in Charlotte Friday.
First, signed an executive order at the CPCC Harris Conference Center in west Charlotte before attending a private fundraiser for Republican congressional candidates Mark Harris and Rep. Ted Budd at Carmel Country Club in south Charlotte.
Here were the minute-by-minute updates on President Trump's visit Friday:
PHOTOS: President Trump makes two stops in Charlotte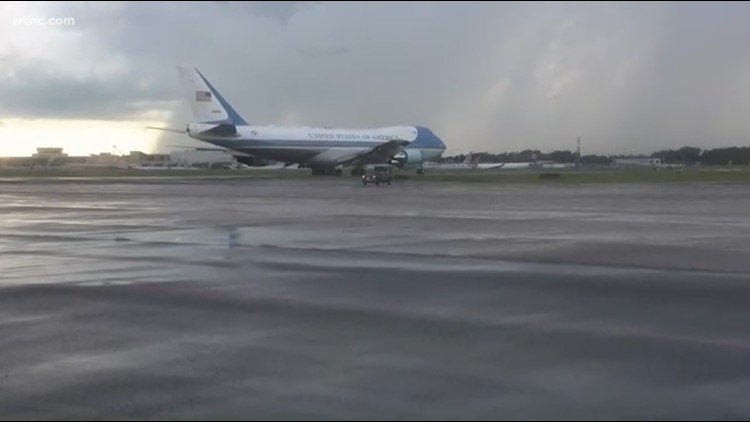 6:20 p.m.: President Trump leaves Charlotte on Air Force One.
3:43 p.m.: President Trump signed an executive order providing retirement security to small business employees.
3:40 p.m.: President Trump said he will "promise to put American workers first. I'm honoring that promise here in Charlotte."
3:39 p.m.: Charlotte-Mecklenburg Police said officers will close down a stretch of Billy Graham Parkway and South Tryon Street.
3:38 p.m.: President Trump said African-American unemployment is at its all-time low.
"That's why Kanye West and Jim Brown... came out in favor of Trump," he added.
3:33 p.m.: President Trump vowed retirement savings will be available to more Americans than ever.
3:20 p.m.: President Trump throws a jab at our neighbors up north, saying "Canada has taken advantage of us, as have other countries."
3:05 p.m.: As President Trump wished the public a happy Labor Day weekend, he said, "wherever you go, stay in North Carolina. It's a great place."
2:38 p.m.: President Trump was spotted walking off Air Force One.
2:37 p.m.: President Trump sends a tweet criticizing Bloomberg moments before stepping out of Air Force One.
2:26 p.m.: Several politicians and business leaders were spotted lining up at Charlotte Douglas airport to meet President Trump.
2:23 p.m.: The Air Force One touches down Charlotte Douglas International Airport.
2:00 p.m.: Protesters were spotted making their way to the Carmel Country Club.
1:27 p.m.: Air Force One departs Andrews Air Force Base for Charlotte Douglas International Airport. A White House spokesperson confirmed that President Trump is on schedule for a 2:15 p.m. arrival to Charlotte.
1:22 p.m.: Trump boards Air Force One in preparation for his flight to Charlotte.
1:17 p.m.: Marine One touches down at Andrews Air Force Base in Maryland with President Trump.