Thousands of supporters gathered outside of Gastonia Municipal Airport Wednesday evening as Trump spoke for more than an hour.
Despite Gaston County DHHS urging attendees to socially distance and wear masks, few supporters wore masks and many people were seen standing shoulder-to-shoulder.
During his rally, President Trump talked about things he'd do if was re-elected, raved about his crowd size during a pandemic that's worsening and even commented on the heated U-S senate race in North Carolina.
"This is one hell of a big crowd," President Trump said.
The president even took a swipe at Vice President Biden when comparing campaign stops.
"We've got so many people, but Joe doesn't have that problem, he has about 5 people in a circle," Trump said.
"I love this state but You've got to get this governor to open up his state," Trump said.
According to the polls, President Trump is in a razor-thin race with Biden in the Tarheel state.
Trump told supporters, if re-elected he would continue to cut taxes, lower drug prices, and support law enforcement as he focussed on crucial demographic, white suburban women.
"I'm going to save the suburbs. I'm going to stop lower-income housing and stop crime from coming into the suburbs," Trump said.
Joe Biden's campaign issued the following statement following Trump's rally in Gastonia:
"This is a tragic milestone and our hearts break for everyone who has lost a loved one due to this pandemic.
"On the same day we reached 4,000 COVID-19 deaths and 250,000 positive COVID-19 cases, President Trump is coming to North Carolina and purposefully ignoring public health guidelines to hold a large rally with no social distancing or requirement for face masks. North Carolinians know better: we know it didn't have to be this bad, and we know we have the power to change course in this election.
"Joe Biden will be a leader who heals our grieving state, listens to the experts, follows the science, and works with North Carolinians to tackle this pandemic and build our economy back better."
One supporter, Kelly De Gyor, drove four hours from the South Carolina coast to attend her first Trump rally.
"Stood in line for several hours, about to melt, so excited," De Gyor said. "There was not anything going to stop us from this rally."
Mark Stein said this is also his first Trump rally.
"It's impressive the amount of people that are here," Stein said.
Gaston County EMS said by the time Air Force One touched down, paramedics treated 31 people for heat-related ailments at the rally.
The City of Gastonia confirmed many of the parking lots near the airport were filled to capacity.
Many of Trump's supporters waited in line for hours at Gastonia Municipal Airport.
"It's more than worth it," said Doeen O'Neil as he spoke through her window outside the Gastonia Municipal Airport. "When he appears it's so exciting."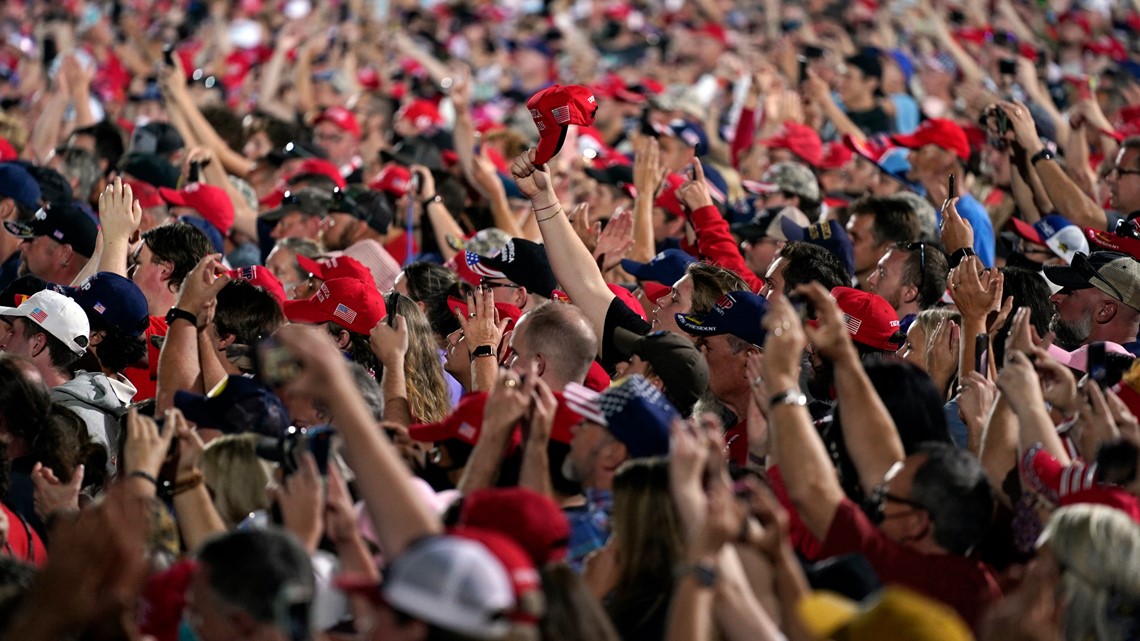 O'Neil and several dozen others were already at the airport Wednesday morning, hoping to get a spot in front. Wednesday's rally will be Trump's sixth time in North Carolina in recent months as he tries to drum up support with less than two weeks before Election Day.
His rally in Gastonia is important for Trump as polls show he and former Vice President Joe Biden are still locked in a close battle for the Tar Heel State, a state both candidates need to secure the White House.
Secret Service told WCNC that about 20,000 people were in attendance.
Two of those who showed up early said that they came early because they know how many people show up at his rallies.
"The last rally had 5,000 people and that was packed," they said. "If that many people come here it will be worse."