CHARLOTTE, N.C. – An American Airlines flight leaving Charlotte hit a deer while attempting to take off Wednesday.
American flight 5320, bound for Gulfport, Mississippi hit a deer on takeoff and then immediately returned for landing, according to American Airlines officials. Officials say the plane was leaking fuel after the collision.
Officials say 44 passengers were on the plane during the incident. All of the passengers were safely removed from the plane, according to American Airlines. The airline said the passengers were taken back to the terminal and will be put on a new plane.
Charlotte Douglas tweeted that the damaged plane had been removed from the airfield and that the runway was back open just after 2 p.m.
The aircraft has been removed from the airfield. Runway 18L-36R is open.

— CLT Airport (@CLTAirport) February 15, 2017
Passenger Antonio Bucca was on the plane at the time of the incident.
"We were just taking off and it kind of sounded like a tire popped almost," he said. "We ended up taking off and then they said we had to come back because we hit a deer."
Bucca says when they came back down they did a fly by. He's guessing that's because they wanted to access the damage.
"When we came down there were ambulances, fire trucks, cops, helicopters and they hosed down our plane," Bucca said. "After they hosed it down they brought us in and gave us food and now we're just waiting to see when we can get our bags."
When Bucca got off the flight he says he couldn't see much damage.
Charlotte Mayor Jennifer Roberts tweeted after the incident, saying she was thankful the plane was able to make a safe landing after the collision.
I am thankful for the capable @AmericanAir crew that made a safe landing back at @CLTAirport after today's emergency.

— Jennifer Roberts (@JenRobertsNC) February 15, 2017
American Airlines released the following statement on the incident:
American Airlines flight 5320, operated by PSA Airlines, hit a deer upon takeoff from Charlotte Douglas International Airport at approximately 12:15 p.m. It was a CRJ-700 with 44 passengers and 4 crew on board headed to Gulfport, Mississippi (GPT). The airplane came immediately back to the airport and landed safely. There was fuel leaking from the aircraft, so passengers deplaned on the runway and fire trucks did hose the plane down. The passengers have been bused back to the terminal and will get a new aircraft.
Charlotte Douglas International Airport released a statement Thursday thanking emergency responders, airport staff and the airline crew for their quick response and efforts.
The airport said it's been proactive in managing its Wildlife Hazard Management Program and has taken multiple actions since 2011.
"On February 3, 2017 the Airport issued a Request for Information (RFI) for a Perimeter Fence Enhancements, which will increase the height of the fence to ten feet and include a perimeter intrusion detection."
Several incoming and departing flights were delayed as a result of the collision. Airport officials asked that all passengers check with their airline on the status of their flights.
In 2010, a similar incident occurred when a Boeing 737 operated by US Airways leaving Charlotte for Miami struck a deer near the end of the runway. According to the FAA, over 1,100 deer-aircraft collisions happened between 1990 and 2015. Of those reports, 932 of the deer strikes resulted in damaged aircraft.
Major delays at Charlotte Douglas after a plane hit a deer, closing two runways.
A post shared by Chris LeClere (@christopherleclere) on
Wheels up, deer down. Crew and staff have been total pros at @CLTAirport after AA5320 deer strike. pic.twitter.com/wLz9V5ijQJ

— Matt Van Brink (@DrSchnitzel) February 15, 2017
Video of the regional jet surrounded by emergency responders @CLTAirport @wcnc pic.twitter.com/CVVwSKrRZy

— Mark Boyle (@WCNCmboyle) February 15, 2017
Video from @CLTAirport of @AmericanAir eagle flight. Unconfirmed reports of a deer on runway. @cnnbrk @usatodaytravel @nytimes pic.twitter.com/V5QSXvQO6R

— Orlando Alvarez Jr. (@Orlijr) February 15, 2017
Plane hits deer at @CLTAirport Everyone OK but traffic at a standstill. pic.twitter.com/CSa1lKKGQ7

— Greg Potts (@gpotts5626) February 15, 2017
American says passengers are being taken off damaged plane with a bus.

— Mark Boyle (@WCNCmboyle) February 15, 2017
Airport open and operational. RWY 18L-36R closed while #CLT officials assist aircraft after reported deer strike. Aircraft landed safely.

— CLT Airport (@CLTAirport) February 15, 2017
American Eagle flight hit the deer as it was accelerating down Rwy36. pic.twitter.com/I0JmP9KlRz

— Flight Alerts ⚠ (@FlightAlerts777) February 15, 2017
Plane hits deer at Charlotte airport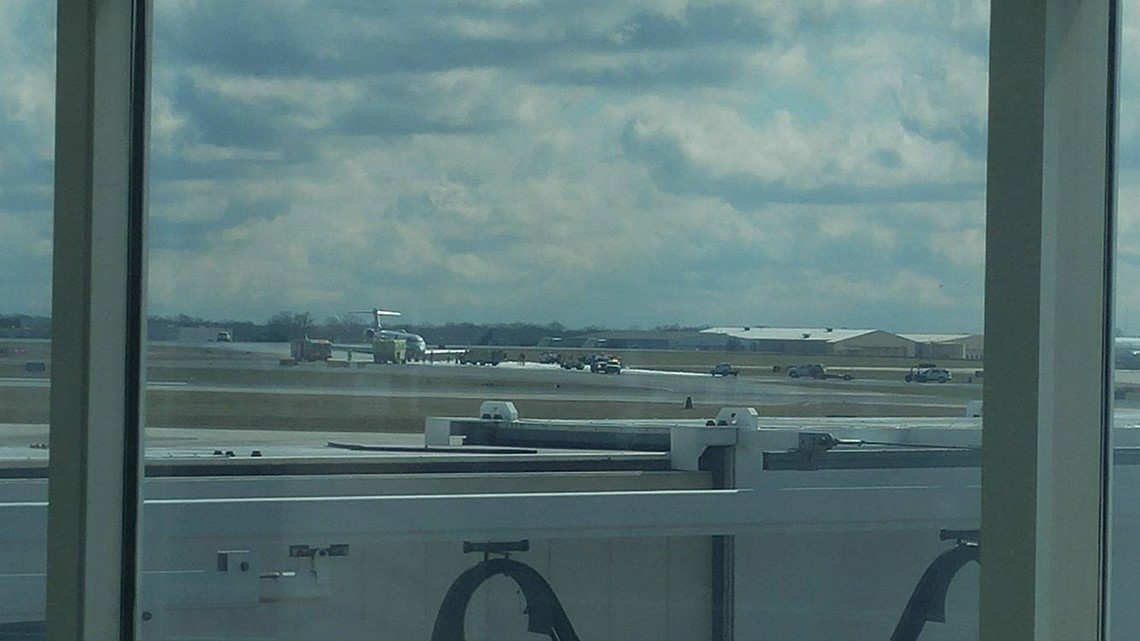 Please stick with WCNC.com as more details become available.