Girl Scout cookie season is in full swing, and that's got many people thinking about the delicious sweets. Searches about Girl Scout cookies have been on the rise over the last couple of months. Some people are wondering about possible differences in the cookies they know and love, searching "different girl scout cookies."
A tweet with over 127,000 views from earlier in February claimed there are two different versions of certain types of cookies sold in different regions of the country.
THE QUESTION
Are Girl Scout cookies different based on where you live?
THE SOURCES
THE ANSWER
Yes, Girl Scout cookies are different based on where you live.
WHAT WE FOUND
Girl Scouts of the USA says it licenses two commercial bakeries to make its popular cookies. Those bakeries are ABC Bakers and Little Brownie Bakers.
ABC Bakers makes Trefoils, Thin Mints, Peanut Butter Patties, Caramel deLites, Peanut Butter Sandwich, Caramel Chocolate Chip, Toast-Yay!, Lemonades and Adventurefuls.
Little Brownie Bakers makes Trefoils, Thin Mints, Samoas, Tagalongs, Do-si-dos, Adventurefuls, Lemon-Ups, Girl Scout S'mores, Toffee-tastic and Raspberry Rally.
Yes, those are different lists of cookies, and some of them might not be available on your local order forms. No, it's not a typo.
When you buy from a local Girl Scout, the list of available cookies will depend on where you live. Local Girl Scout councils choose which bakery to partner with, which determines the cookie varieties in their area, a Girl Scouts FAQ page says.
There are several cookies that both bakeries make, and several other cookies unique to one bakery or the other. Each bakery makes the cookies they share with slight differences in recipes and ingredients, even though the cookies are still largely the same, Girl Scouts of the USA says.
The bakeries even use different names for three of the cookies, though they are effectively the same cookie. Caramel deLites are the same cookie as Samoas, Do-si-dos are another name for Peanut Butter Sandwich cookies, and Tagalongs are the alternate name for Peanut Butter Patties.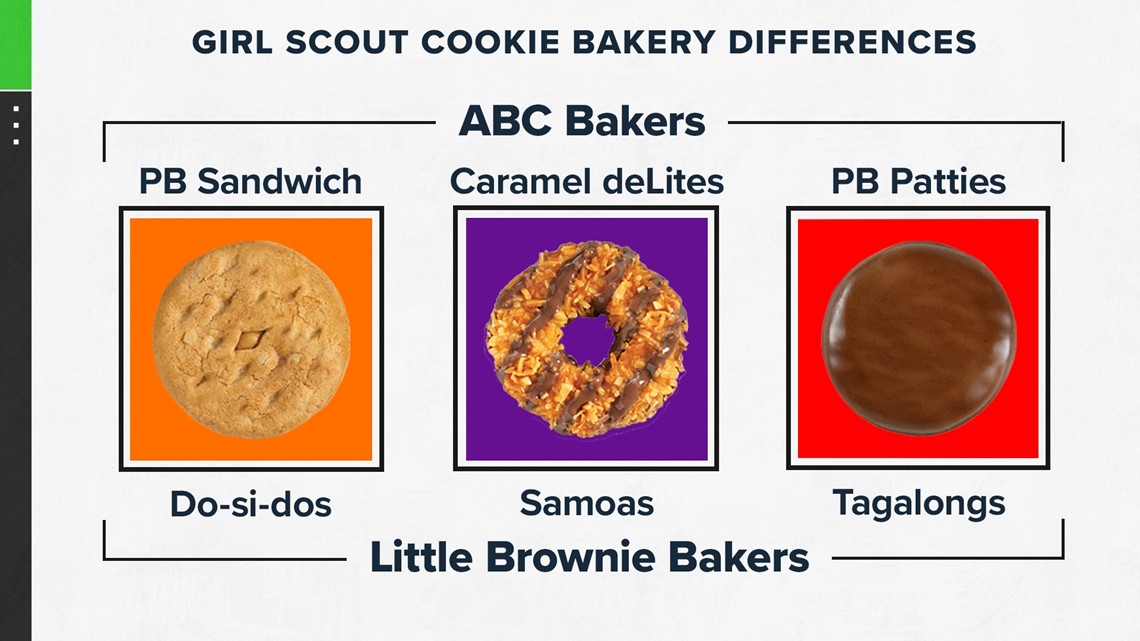 The map in the tweet, which shows which bakery's cookies are available in which areas, was created by the Los Angeles Times in 2015 and last updated in 2017. The LA Times matched each ZIP code to its local Girl Scout council and checked which bakery each council used.
Girl Scouts began baking and selling cookies as early as 1917. At the time they were home-baked. In 1936, the Girl Scouts began licensing bakers to make their cookies for them. ABC Bakers says it was licensed in 1937, making it the oldest remaining Girl Scout cookie baker in the United States.
By 1948, there were as many as 29 bakers of Girl Scout cookies across the United States. When the Girl Scouts began adding multiple varieties of cookies, they also gave these bakers room to offer optional varieties.
Over the years, the Girl Scouts streamlined the number of licensed bakers to establish uniformity and standards in quality and prices. Eventually, they cut their bakeries down to the two that currently exist. While these bakeries are given leeway in the varieties they can offer, three cookies are mandatory: Thin Mints, Trefoils and Peanut Butter Sandwich/Do-si-dos.