CHARLOTTE, N.C. — Grayson Brooks, 12, is constantly in and out of Levine Children's Hospital.
Grayson has Cystic Fibrosis, which is a hereditary disease that affects the lungs and digestive system. Basically, his body produces thick and sticky mucus that can clog the lungs and obstruct the pancreas.
In order to keep Grayson healthy, he needs to get his port cleaned, which as Grayson said, can be a really scary process.
"I'm usually like wincing and everything because it hurts so much," Grayson said.
New technology at Levine Children's Hospital is helping kids, like Grayson, escape the scary world of medicine and dive deep into the virtual world.
Before his procedure begins Grayson puts on a fully immersive virtual reality headset.
"I was in like a little submarine with dolphins, and otters and stuff like that. It was really a lot of fun," Grayson said. "It helped me get my port re-accessed which is usually very stressful."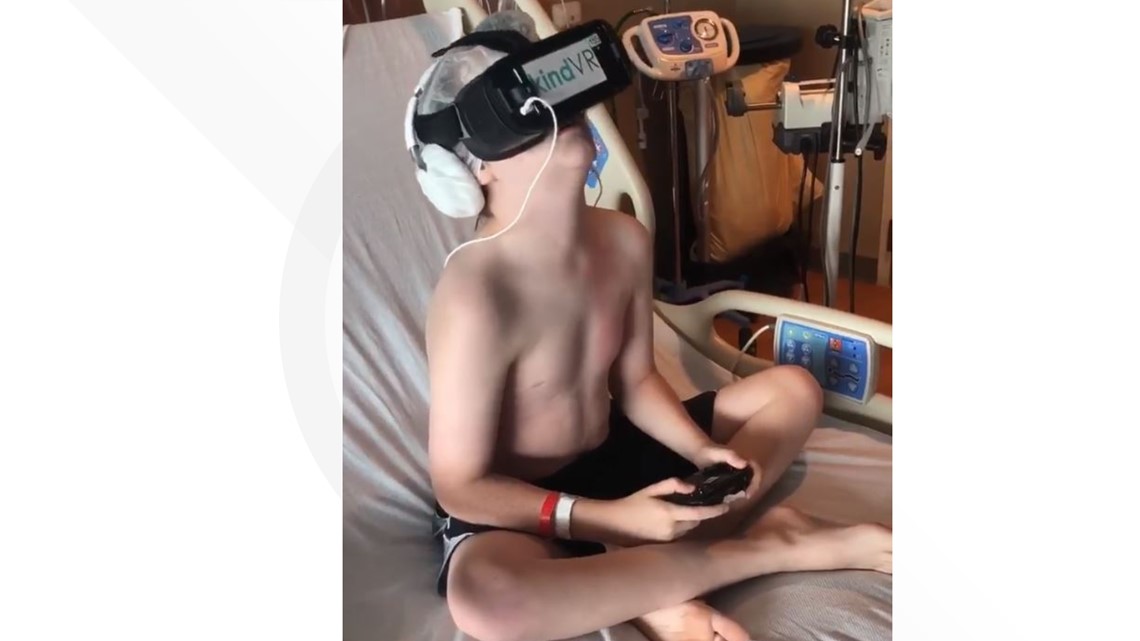 Grayson said the virtual reality headset allows him to play mini-games while exploring the depth of the ocean. While the nurses clean his port, Grayson is swimming amongst the sea turtles.
"t's like you have a little controller and wherever you look you can press any of the buttons and it will shootout a bubble and the bubble would make the animal change colors," Grayson recalled. "In the end, it will count how many animals you hit with the bubbles."
Before the virtual reality headset, Grayson had a really hard time allowing nurses to access his port.
"I was in there one day and he was getting the tape off getting his port de accessed and bless his heart it was awful," said Andrea Westmoreland, Certified Childlife specialists at Levine Children's Hospital. "He was screaming kind of kicking and throwing his arms and after that whole experience, I was like alright we have to do something about this."
Westmoreland had the perfect idea for Grayson. He would be the first patient at Levine Children's Hospital to test out the new VR headsets.
"The headsets were donated through a grant from Northwestern Mutual. We currently have three of them within the hospital and hopefully we can get more of those, "Westmoreland said. " The grant was $13,000 for three sets."
Westmoreland immediately noticed a difference in Grayson the moment they used the VR headsets.
"Without it, it took 25 minutes [to finish a procedure.] But then a week later we go back in there get it all set up and it took probably less than 3 minutes to get the tape off to de-access," Westmoreland said. "The nurses were all finished and Grayson is still playing and he looks up like, 'oh we're all done?'"
Westmoreland said they have now used the VR headsets on several other patients with great success.
"I've actually done this with several other patients for port access and dressing changes," Westmoreland said. "The VR has also been used in the hematology clinic it's been used in the neurology patients."
Westmoreland said she hopes to get more VR headsets so more kids and adults can use them during scary procedures.
OTHER STORIES ON WCNC