2018 was a wild weather year with two hurricanes and a winter storm hitting the Carolinas. Charlotte-Mecklenburg Schools coped with a deadly school shooting, and the search for a little boy with autism touched the hearts of people across the country. Here are the most popular local stories of the year.
10. Human trafficking bust in front of Charlotte grocery-store
The parking lot of a north Charlotte grocery store became the scene of a human trafficking bust in September.
Gerald Johnson, 59, was arrested for human trafficking and promoting prostitution in front of Food Lion on Beatties Ford Road. The arrest was part of a larger, undercover sting by Charlotte-Mecklenburg Police.
"We should do more in our community to stop things like that from happening," one shopper said.
9. Facebook post: Missing Davidson teacher dead in Mexico
A Mooresville teacher was supposed to meet up with his brother in Mexico City in October, but he never showed.
The search for Patrick Braxton-Andrew began when he disappeared after a walk in the small hiking village of Urique. It ended weeks later when his body was found in a shallow grave.
A funeral was held for the Davidson graduate at Davidson College Presbyterian Church in December. The Sinaloa Cartel was believed to be behind Braxton-Andrew's murder.
8. Missing 4-year-old Charlotte boy found safe
A frantic search began in November after Justin Idiarte left his family's south Charlotte apartment on a Thursday night.
His mother said she heard him get up and thought he was going to the bathroom. She then dozed off, and when she woke up, she realized he was gone.
Justin was found Friday morning at another apartment, just 100 yards away. He told the neighbor he woke up and didn't think his parents were home.
7. Journey cassette tape forces brief evacuation in uptown Charlotte
Charlotte-Mecklenburg Police gave the all clear in uptown after a suspicious package turned out to be a Journey cassette in October.
Employees at the Duke Energy Building called 911 to report the object. During the investigation, multiple buildings near Church Street and Martin Luther King Jr. Boulevard were evacuated.
The package was determined to be non-hazardous and non-incendiary.
6. Video shows racially charged interaction in Charlotte
Remember South Park Susan? The white woman was caught on camera harassing two black women at an apartment complex in October, and the video went viral.
"What are we gonna talk about tonight?" Susan Westwood asked in the video. "Being hot, being beautiful, being white?"
Westwood claimed the other women didn't belong there and called 911. A warrant was later issued for her arrest; she turned herself in to police in Sunset Beach, at the urging of her mother.
5. Mother of 1-year-old swept away by floodwaters charged with involuntary manslaughter
"I thought it was safe." That's what a Charlotte mom told authorities in Union County after her son drowned in flooding from Florence in September.
Officials said Dazia Lee drove around barricades, and her car got caught up in the rushing water. She managed to get herself free but lost her grip on 1-year-old Kaiden's car seat. His body was found the next day.
Lee was charged with involuntary manslaughter and driving on a closed/unopened highway.
4. What Brad Panovich expects in Charlotte from Hurricane Florence
First Warn chief meteorologist Brad Panovich began warning about the devastating impacts of Florence almost two weeks before the monster storm hit.
Despite reaching Category 4 status a few times, the hurricane landed just south of Wrightsville Beach, N.C. as a Category 1 storm on September 14. A few days later, flash flooding hit the Charlotte area, trees fell down, and thousands lost power.
Charlotte-Mecklenburg Schools shut down for several days to protect students and serve as shelters for coastal evacuees.
3. Classmate shoots, kills student at Butler High School
On October 29, a fight erupted between two students at Butler High School in Matthews. By the end of it, one student was dead; the other in handcuffs.
The shooting forced the school into a lockdown mode and sent parents into a panic.
"We had some initial confusion and it is understandable that some families were frustrated – the safety of their loved ones was first on their minds and ours," said Charlotte-Mecklenburg Schools superintendent Dr. Clayton Wilcox.
Bobby McKeithen, 16, died at the hospital. Jatwan Cuffie, also 16, was charged with second-degree murder.
Alumni, parents welcome students back to Butler High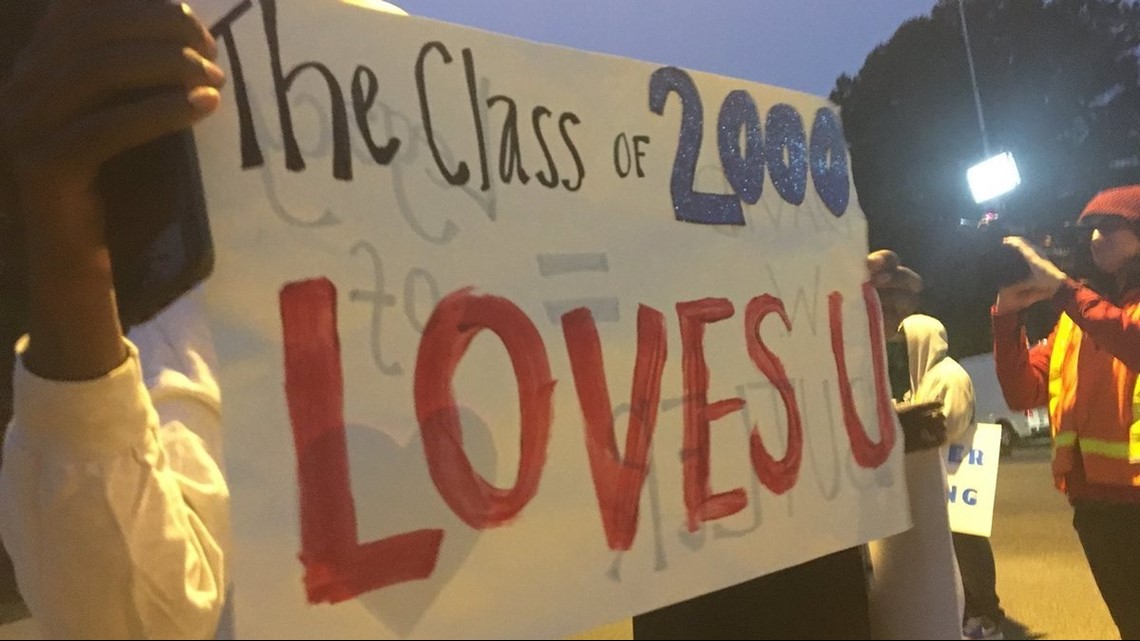 2. NC Highway Patrol placing troopers every 20 miles along interstates during Thanksgiving
This story caught people's attention as they made their travel plans for Thanksgiving weekend. A few days before the biggest travel day of the year, North Carolina State Highway Patrol (NCSHP) announced troopers would be set up every 20 miles along major interstates.
"Our mission is simple; reduce needless collisions in hopes of reporting zero fatalities statewide," said Col. Glenn McNeill Jr., commander of the NC Highway Patrol.
The traffic blitz ran from Wednesday, Nov. 21 through Sunday, Nov. 25. As a result of the I-40 Challenge, a joint operation among seven other states, zero fatalities were reported along the interstate in North Carolina.
1. 'Investigation is not over' | FBI seeking answers after finding body believed to be Maddox Ritch
The disappearance of a six-year-old boy with autism in Gaston County made national headlines in September. Maddox was reported missing at Rankin Lake Park in Gastonia on a Saturday. His body was found in a creek a few days later, not far from where he was last seen.
"He was just a very sweet boy," said Patty Woodcock, a teacher at Odell Primary School where Maddox was a student. "We're a close-knit school, a close-knit family, and we came together even more."
In November, an autopsy revealed Maddox drowned; there was no evidence of trauma.