CHARLOTTE, N.C. — Terry Rozier scored 22 points as the Charlotte Hornets eased past the Detroit Pistons but LaMelo Ball suffered an injury for the fourth time this season.
The Hornets took the lead early in the first quarter and never looked back, emerging to an impressive 117-106 win over Detroit to pick up their fifth straight win in a row. It's the longest win streak for the team since March 22.
Despite the respectable streak, the Hornets saw Ball, an all-star caliber player, suffer yet another injury. This time, it's LaMelo's right ankle that was the culprit after he awkwardly fell on the court midway through the third quarter. He has ruled out for the remainder of the game afterward. Ball has missed over 25 games due to a left ankle injury at various parts of this season.
Following the game, the Hornets announced that an x-ray revealed Ball fractured his ankle. He has been ruled out of Charlotte's next game against the Phoenix Suns on Wednesday and updates are expected at a later time.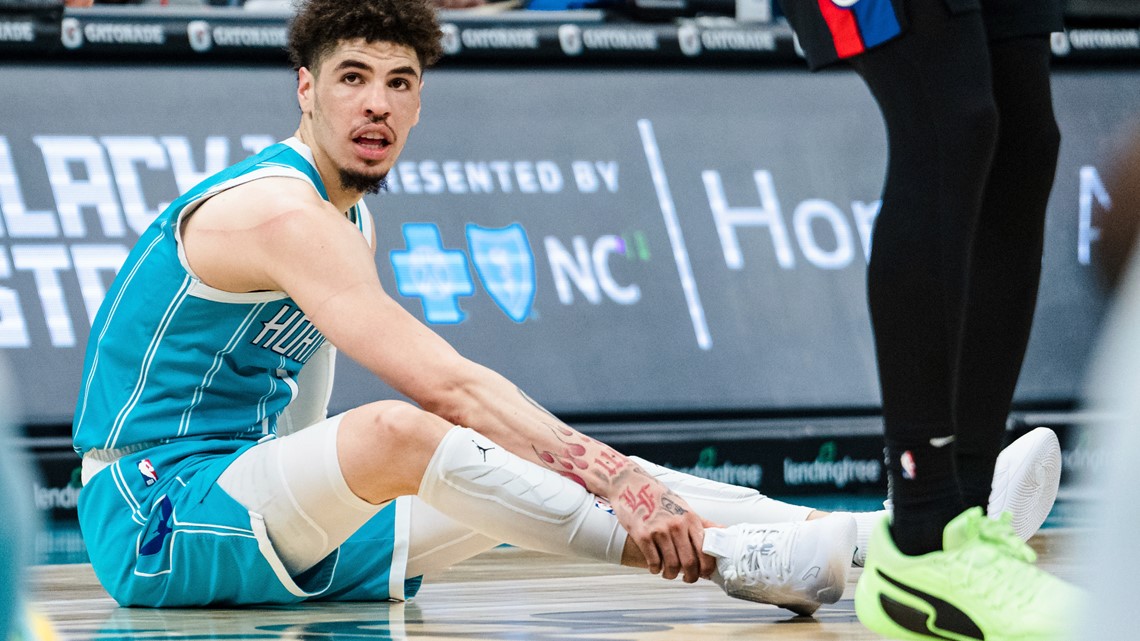 Ball opened the high-end effort for the Hornets with 12 points in the first quarter on four 3-pointers as Charlotte took a 41-21 lead at the end of the frame. A 17-0 run for the Hornets in the quarter helped widen the gap.
Detroit outscored Charlotte 25-24 in the second quarter but the game was still a lopsided 65-46 going into the locker room.
The Hornets kept the pace going in the third quarter and led 92-76 going into the final frame. With just under 10 minutes left in the third quarter, Ball had possession and was backpedaling when he fell over on his own and began limping. He was quickly taken out of the game and sent into the locker room.
The Pistons continued to push forward for a comeback and got within five points of the lead but were bested by the Hornets at the end 117-106.
Detroit's James Wiseman and Hamidou Diallo led the game with 23 points each.
Rozier led the Hornets with 22 points. Gordon Hayward followed with 19 points. Kelly Oubre Jr. came off the bench to score 18 points, equalling Ball's effort.
The Hornets have now won five-straight games but still sit a hefty six games back from even the 13th spot in the Eastern Conference. Their next game is on Wednesday against the Suns.
Detroit, meanwhile, remains the worst team in the Eastern Conference and are next in action to take on the Chicago Bulls on Wednesday.