NORTH WILKESBORO, N.C. — Kyle Larson scored his third NASCAR All-Star Race win in a race 27 years in the making.
Larson dominated the race at North Wilkesboro Speedway by leading 145 laps to secure the $1 million prize for winning the event. It was the first NASCAR Cup Series race held at the track, albeit a non-points event, since November 1996.
The race was banked by long green flag runs synonymous with the Wilkes County track. Many of North Wilkesboro's races from the 1940s to the 1990s ended with huge gaps between first and second place with Sunday night being no exception.
Larson took the lead from Daniel Suárez about fifty laps in the race and never looked back. Suárez led the first 56 laps after starting on the pole but had to settle for 7th place.
"I can't even tell you what it means [to win]," said Larson after the race. "The crowd made this weekend so awesome."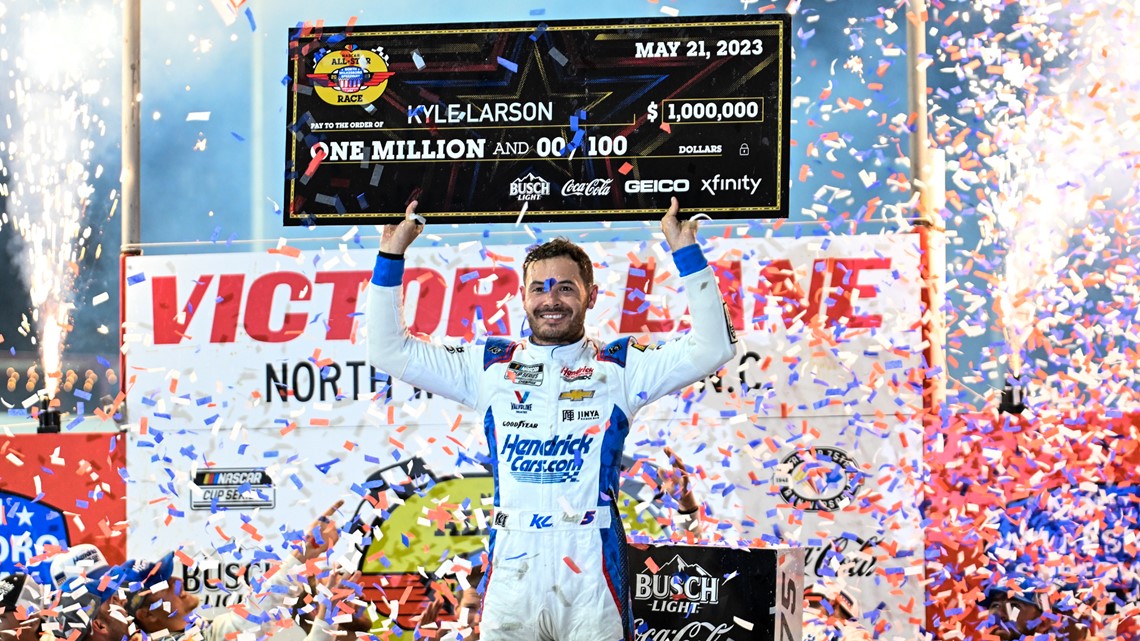 Larson previously scored all-star wins at Charlotte in 2016 and Texas in 2021. He is now tied for second in all-star wins with Dale Earnhardt and Jeff Gordon, trailing only Jimmie Johnson, who scored four all-star wins.
Bubba Wallace finished second, Tyler Reddick finished third, Chase Briscoe finished fourth, and Chase Elliott finished fifth.
The race's only caution for an on-race incident came on lap 17 when Ricky Stenhouse was spun around by Erik Jones. A competition caution at lap 100 was the only other pause in the action.
Twenty-four drivers started the event with 21 of them qualifying by winning a race either this season or last season, being a past champion, or a past all-star race winner. Josh Berry and Ty Gibbs finished first and second in the all-star race open to earn their spot. Noah Gragson won the fan vote.
It was a storied return for the rural North Carolina track, which just a few years ago was abandoned and overgrown with weeds and lost dreams.
North Wilkesboro Speedway hosted NASCAR Cup Series races from 1949 to 1996. NASCAR abandoned the track as part of a large-scale effort from the sanctioning body to swap dates from rural, smaller tracks like North Wilkesboro to larger areas and facilities like Texas Motor Speedway (Dallas-Fort Worth) and Chicagoland, among others.
Ever since its closure, fans have pleaded for high-end racing to return to the racetrack that hosted NASCAR races since its inception in the late 1940s.
Efforts were attempted over the last two decades but nothing materialized until a joint effort by Dale Earnhardt Jr. and others was started in 2019 simply to scan the track for an iRacing race. After this, an even bigger effort grew to bring racing in person to the track.
Smaller series events were held in August and September 2022 before NASCAR announced it would return to the track for all-star weekend.
It's uncertain if NASCAR will return to North Wilkesboro or if this was a one-off event to celebrate NASCAR's 75th anniversary, but for now, the Wilkes County faithful and racing fans alike, this is a terrific way to honor a historic track's past.
The NASCAR Cup Series sticks in North Carolina for its next race, the Coca-Cola 600 at Charlotte Motor Speedway on Sunday, May 28.