CHARLOTTE, N.C. —
MONDAY
12:01 a.m. - The Charlotte Hornets announce that the fan store at Spectrum Center will hold a fan appreciation sale beginning at 10 a.m. Monday with All-Star merchandise available for 50% off.
SUNDAY
11:15 p.m. - For the second year in a row, both NBA All-Star Game teams played for community-based organizations.
Team LeBron played for Right Moves for Youth, a school-based, dropout-prevention and student support program in Charlotte that provides resources and guidance to help teenagers improve attendance, behavior and grades. Since Team LeBron won, the charity will receive a $350,000 donation from the NBA and the National Basketball Players Association.
Team Giannis chose to play for Second Harvest Food Bank of Metrolina, which aims to eliminate hunger by soliciting and distributing food and household items to people in need. They will receive a $150,000 donation.
11:02 p.m. - Kevin Durant with the Golden State Warriors named 2019 All-Star MVP. Durant is now a two-time MVP, also winning in 2012.
AP
10:53 p.m. - FINAL SCORE: Team LeBron wins over Team Giannis, 178-164.
10:26 p.m. - Team LeBron pushes ahead, ending the third quarter in the lead with a score of 132, Team Giannis with 131.
10:19 p.m. - Team LeBron catches up to Team Giannis, reaching a tied score of 127 to 127 with just over 2 minutes left in the third quarter.
PHOTOS: 68th NBA All-Star Game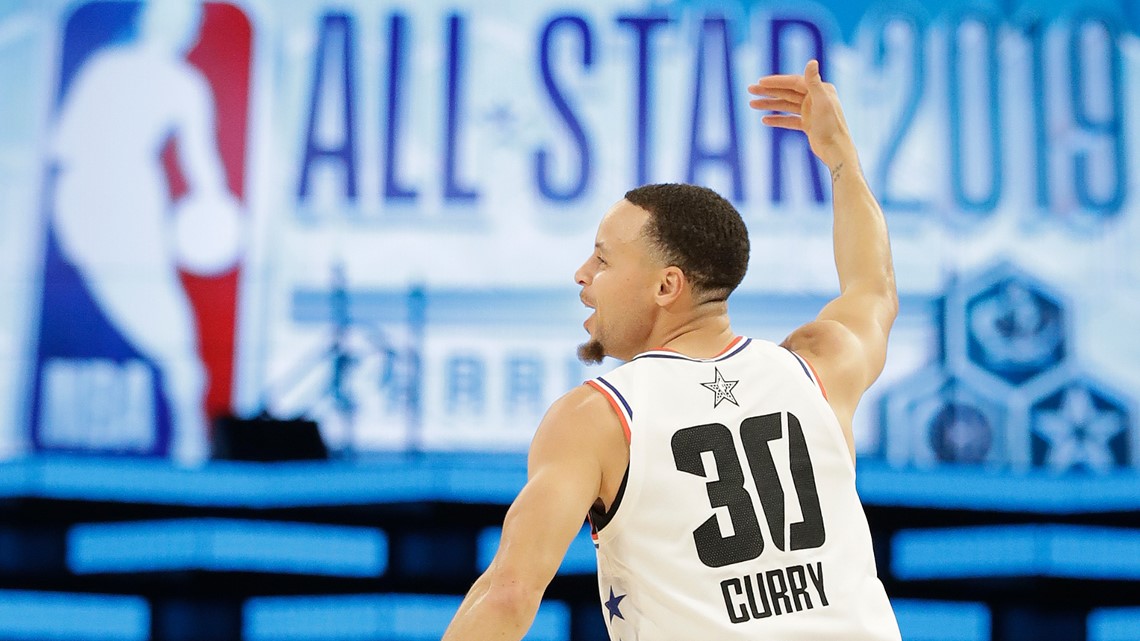 10:00 p.m. - The second half tips off with Team Giannis in the lead.
9:34 p.m. - Musician J. Cole performs for the halftime show at the Spectrum Center. J. Cole wore a Charlotte Hornets jacket during his performance.
AP
9:29 p.m. - At the half, Team Giannis is still ahead with 95, Team LeBron has 82.
8:57 p.m. - At the end of the first quarter, Team Giannis leads with 53 points over Team LeBron with 37.
8:20 p.m. - The National Anthem is performed by Anthony Hamilton, a South Meck. High School graduate.
8 p.m. - The All-Star Game tips off.
6:30 p.m. - Doors open for the 68th NBA All-Star Game. Fans were lining the street long before, ready to go explore the Spectrum Center before the festivities start. Law enforcement is around the area to ensure everyone safety during the event.
3:45 p.m. - Notable sportscaster and former basketball star Shaquille O'Neill was spotted thanking Charlotte-Mecklenburg Police officers while they were out controlling traffic in the heavily congested city.
3 p.m. - NBA Legends Brunch begins.
SATURDAY
10:35 p.m. - Hamidou Diallo wins the ATT Slam Dunk contest with a 45 after jumping over popular rapper, Quavo of the music trio Migos. Earlier, Diallo caught attention for jumping over Shaquille O'Neal and revealing a Superman shirt under his jersey.
10:17 p.m. - Hamidou Diallo (Oklahoma City Thunder) and Dennis Smith Jr. (New York Knicks) advance to the final round of the ATT Slam Dunk.
10:12 p.m. - Charlotte Hornets point guard Kemba Walker receives a 50 after a full 360 degree slam dunk.
9:50 p.m. - ATT Slam Dunk Participants are introduced -- the final of the three events in the State Farm All-Star Saturday Night. Among participants, Kemba Walker of the Charlotte Hornets.
9:29 p.m. -- Joe Harris of the Brooklyn Nets wins the 3-point contest with 26 points. Harris said he's giving the trophy to the University of North Carolina at Charlotte for letting him practice there. He said he practiced at UNC Charlotte with his former college assistant Ron Sanchez, who is now head coach at University of Charlotte.
9:15 p.m. - Steph Curry gets a first round score of 27 in the 3-point competition. Steph and brother Seth have a competition of their own -- "Whoever loses has to pick up the tab for all the tickets anytime we play against each other for the rest of our careers," Steph Curry said. Steph Curry, Buddy Hield and Joe Harris advance to the final round.
9 p.m. - Former Charlotte Hornets player Dell Curry and others raised a $35,000 donation to to the Classroom Central.
8:45 p.m. - Jayson Tatum of the Boston Celtics wins the Taco Bell Skills challenge, the first of three events in the All-Star Saturday Night.
8 p.m. - Events kick off for All-Star Saturday Night. Hornets point guard Kemba Walker participates in the 3-point competition along with Charlotte natives, Steph and Seth Curry.
7 p.m. - NBA commissioner Adam Silver took the podium for the first time during All-Star Weekend, and took a few minutes to talk about "the bumps in the road" -- why the All-Star Game did not come to Charlotte in 2017 as scheduled and how everything was able to come full circle in 2019.
6:30 p.m. - Doors open for the State Farm All-Star Saturday Night. At 8 p.m., the events will start -- the Taco Bell Skills Challenge, Mtn Dew 3-Point Contest and ATT Slam Dunk.
3 p.m. - Charlotte Hornets player Kemba Walker and NBA 2k unveil their latest basketball facility makeover at McCrorey YMCA in Charlotte with a ribbon-cutting event. The renovation is part of NBA 2K's "2K Foundations" program.
10:15 a.m. - Steph Curry steps to the podium for NBA All-Star media day.
"Charlotte means everything to me. It's where I learned to play the game... Me and my brother, we always dreamed of being in All-Star games, and for it to come full circle and be here where my dad played for 10 years, it'll be a great memory for a long time."
10 a.m. - Kemba Walker speaks to the media ahead of Saturday night's 3-point contest saying he's "just trying to enjoy every moment" of the NBA All-Star in Charlotte.
9:30 a.m. - All-Star media day kicks off at Bojangles Coliseum
FRIDAY
11:01 p.m. - Final score of the Rising Stars game is 161-144 with Team USA beating Team World. Ben Simmons scored 28 points for Team World; Kyle Kuzma scored 35 points for Team USA.
9:19 p.m. - The NBA announced the winner from the NBA All-Star Celebrity Game. The Home team won against the Away team, 82-80.
9 p.m. - The Rising Stars game starts at the Spectrum Center, featuring the NBA's up-and-comers playing as Team USA and Team World.
8:33 p.m. - Kendall Jenner is spotted leaving The Ivey's Hotel in uptown
7 p.m. - The NBA All-Star Celebrity Game starts. The home team is led by former Carolina Panther Steve Smith, North Carolina native Chris Daughtry and television personality Dr. Oz. The away team is led by Hall of Famer Ray Allen, rapper Quavo and comedians Adam Ray and Brad Williams.
5:15 p.m. - Multiple celebrities spotted on the red carpet ahead of the Rookie Fashion Show. In the fashion show, children of celebrities take the runway.
3:30 p.m. - Past and present NBA players, business partners and guests spent part of the day giving back for the 12th annual All-Star Day of Service. The event kicked of at noon and lasted til around 4 p.m., allowing many the chance to give back to the Queen City. Michael Jordan and Dwyane Wade were among those helping out.
12 p.m. - Steph Curry, Kemba Walker, Blake Griffin, Glen Rice, Kristi Toliver & Seth Curry getting ready to lead group of CMS students in skills clinics at the Charlotte Convention Center