CHARLOTTE, N.C. — A massive project underway, known as the Cross Charlotte Trail, is connecting the city's greenways by creating a 30-mile-long pathway through Mecklenburg County.
The trail is part of Charlotte's strategic mobility plan to make areas of Charlotte more accessible. The Queen City's greenways are a space to get active but they're also designed to connect residents to restaurants, shops, and offices.
Hunt Allen told WCNC Charlotte he lives near the Little Sugar Creek Greenway and not only exercises on it everyday, but bikes on it to get to work. "I feel very safe and comfortable riding on the trail all the way downtown." Allen said.
Crews are working to extend the Little Sugar Creek Greenway from Brandywine Road to Tyvola Road. The project is one segment of the Cross Charlotte Trail that will eventually go from the South Carolina state line to the PNC Music Pavilion.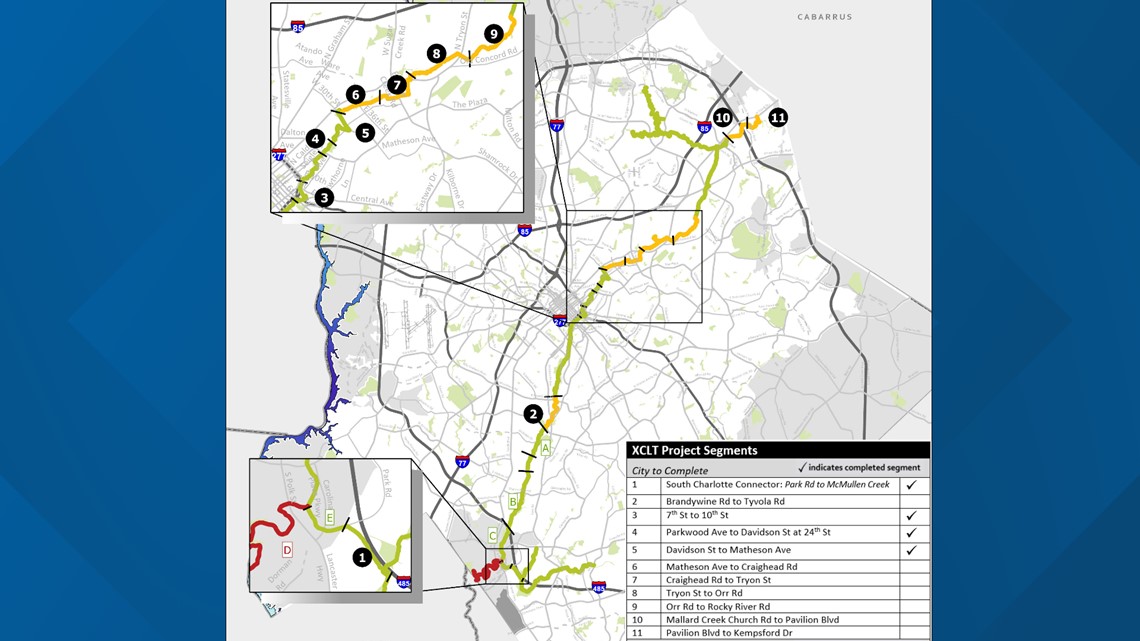 Megan Huggins, who was bicycling on the greenway with her two-year-old son in tow, told WCNC Charlotte she's excited for the construction to be done so she can ride from the Park Road Shopping Center to Park Road Park.
Once the Brandywine-to-Tyvola segment is done, the Cross Charlotte Trail will be open from Pineville to NoDa. "That's the best news I've heard today," Huggins said with a smile.
According to the City, when the entire $113 million trail is finished, "approximately 140,000 residents and 130,000 jobs will be within walking distance of the proposed trail..."
The 30-mile-long pathway is part of Charlotte's strategic mobility plan; investing in multimodal travel options that promote health and sustainability.
A spokesperson for the City said the project has not been pushed back by the supply chain or inflation, but did not have a date for when the entire trail will be finished. The Brandywine-to-Tyvola segment is expected to be done by April 2023.
All of WCNC Charlotte's podcasts are free and available for both streaming and download. You can listen now on Android, iPhone, Amazon, and other internet-connected devices. Join us from North Carolina, South Carolina, or on the go anywhere.