CHARLOTTE, N.C. — You've seen them countless times - and you remember the times you didn't see them (and maybe hit them going a little too fast?) Now, speed bumps are getting overhauled.
Since 1997, nearly 2,000 speed-controlling devices have been installed on Charlotte city roads. Most, some 96% of them in Charlotte, are called "speed humps." These contemporary cousins to the classic "speed bump," extend across the entire roadway and act as little hills. It's less steep than the classic bump with only a height of three or four inches, according to the U.S. Department of Transportation Federal Highway Administration.
It even has a hipper, cooler cousin, the "speed table," an elongated hump with a flat section atop, which is typically 10 feet wide, according to the highway administration.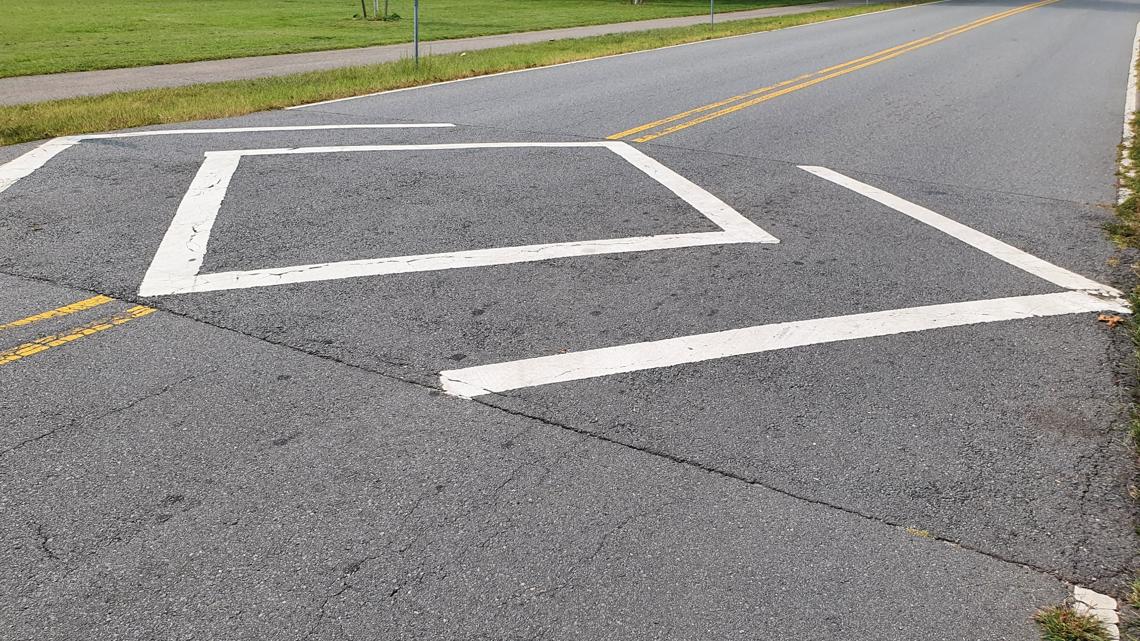 The city of Charlotte has not installed a new speed hump since 2021, according to city data. That's because, since 2019, the city has been exploring "speed cushions." Of the 33 speed-controlling devices installed this year by the Charlotte Department of Transportation, all of them have been speed cushions.
Like a speed hump, a speed cushion extends across the roadway and typically raises your vehicle a few inches off the ground. Speed cushions have one glaring difference from a speed hump: It has cut-outs, or gaps, where the roadway surface remains unchanged.
These cut-outs, which are typically on either side of the roadway's center line, allow emergency vehicles and transit buses to pass without the dreaded bump. It's also more environmental because water can flow through the cushion.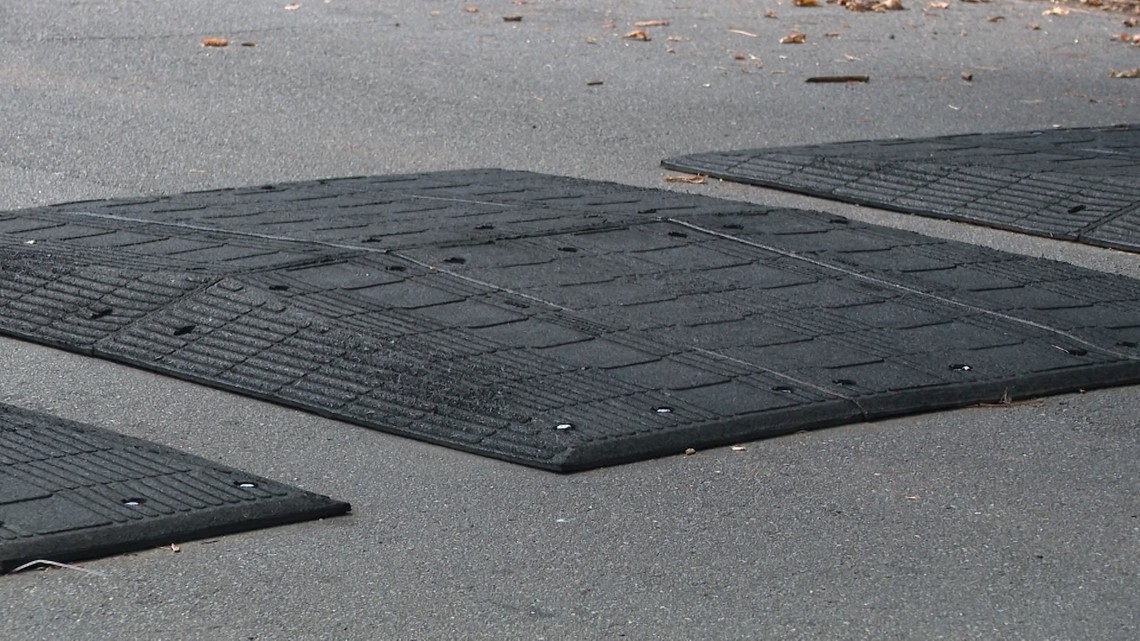 "Emergency response agencies and community groups have been cited in the belief that speed humps increase the amount of time for an emergency vehicle to respond to calls," the authors of a 2004 study wrote.
The openings in the cushions are not meant for passenger vehicles, which would have to drift into the middle of the road to use the openings. However, bicyclists and motorcycles can typically pass safely through the gap that overlaps with those modes of transportation's side of the road.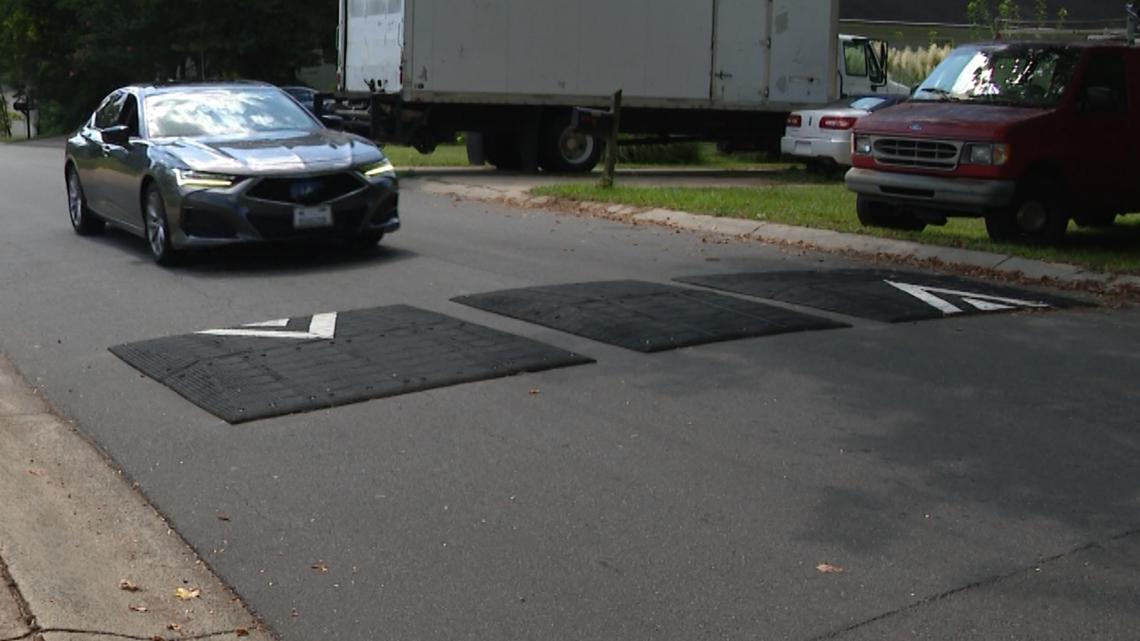 Some of the most recent speed cushions are created with rubber instead of asphalt.
In Charlotte, speed humps still largely outnumber the speed cushions. As new speed cushions are installed, and older speed humps get retired, you could start to see more cushioning in your drive. Until then, if you want to see one for yourself, they're installed at these locations in Charlotte:
1102 Polk St.
2754 Mayfair Ave.
2321 Belvedere Ave.
446 W Worthington Ave.
2644 Mayfair Ave.
4917 Craigwood Drive
1048 White Plains Road
1301 Woodland Drive
1421 Woodland Drive
2091 Katherine Kiker Road
1245 Polk St.
152 S Canterbury Road
2703 Starnes Road
6216 Glenridge Road
2921 Starnes Road
513 Kentbrook Drive
607 Kentbrook Drive
9938 Glenburn Lane
1025 Druid Circle
925 Druid Circle
916 Polk St.
4214 Wright Ave.
5908 Wallace Ave.
4825 Craigwood Drive
6044 Glenridge Road
2301 Katherine Kiker Road
5330 Poplar Springs Drive
5200 Poplar Springs Drive
2900 Belvedere Ave.
1011 White Plains Rd Lake Drive
5630 Kildare Dr Lake Drive
Paper Birch
Walker Road
Allen Road S.
Walker Road
2124 Catherine Simmons Ave.
Browne's Pond Wilora Lake Road
Atlas Cedar Drive
6012 Elmwood Circle
6401 Elmwood Circle
Donnefield Drive
Polk and White Road
Lincrest Place
546 Nottingham Drive
Allen Road S.
Wilora Lake Road
Polk and White Road
Browne's Pond Atlas Cedar Drive
2819 Mulberry Pond Drive
Kilcullen
844 Nottingham Drive
2712 Mulberry Pond Drive
451 Nottingham Drive
2735 Rozzelles Landing Drive
4736 Cheviot Road
Rozzelles Landing Drive
Progress Lane
Starnes Randall Road
Progress Lane
Hollybrook Drive
Starnes Randall Road
4941 Cheviot Road
Orange St.
Cherrycrest Lane
Windsor Drive