Charlotte-based American Airlines estimates holiday travel will reach about 60 percent of last year's level, which is huge considering we're still in the middle of a seemingly worsening pandemic.
Already by Saturday, parking lots at Charlotte-Douglas International were starting to fill up. Tens of thousands of people are expected to fly out of Charlotte over the next several days.
On Sunday, travelers continued to arrive for departures even as North Carolina reported a record high of 4,514 new coronavirus cases in a single day.
"I'm going to Puerto Rico," Rhoda Sherman told WCNC Charlotte's Lexi Wilson."[The crowd is] bigger than I expected, I think there are a lot of people in here, it's a little scary," Sherman said.
The return flight home
"This is going to be a very busy place over the Thanksgiving holiday. It already is a fairly busy place considering where we are in relation to recovery from the pandemic," said Charlotte Douglas' Chief Operating Officer Jack Christine.
The Sunday after Thanksgiving could be even busier. Some 22,000 people are expected to fly in and out of Charlotte.
Last year, on those same days, travel numbers were around 33,000 per day.
Expected travel numbers are down a bit from last year, but not nearly where it would be if people were listening to CDC guidance.
"It's really not safe for people to travel because it's getting worse," said airport employee Jade May.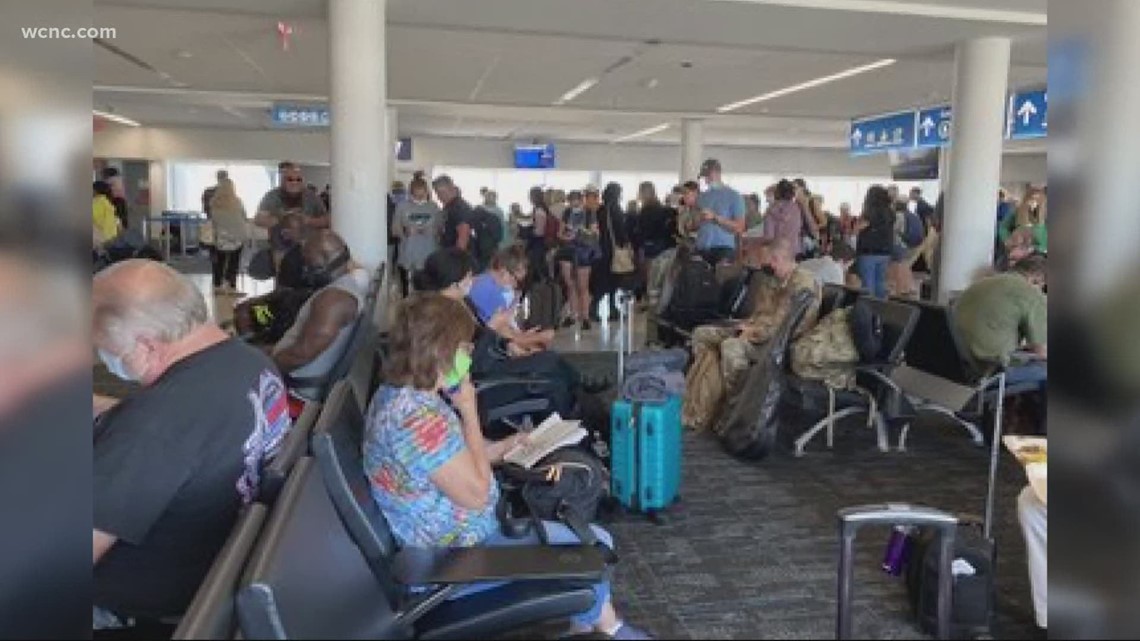 Charlotte airport upgrades
Charlotte-Douglas International launched new tools that allow travelers to check live security wait times and real time parking lot capacity.
Charlotte airport cleaning procedures
The airport, along with the airlines, are ramping up sanitization with nightly electo-static spray cleanings in every terminal. The airport also requires passengers to wear face masks while moving through the airport as well as on planes.
Airlines and the airport are ramping up sanitization.
Families willing to take the risk of traveling to see loved ones hoping precautions are enough.
"People have learned how to work with it, the airlines know what to do, masks distancing all that, its just the new norm," Miles Vining said.