WASHINGTON — Rain and showers continue overnight with lows in the upper 40s to mid 50s. Becoming windy Thursday with a stray shower possible. Blustery and more like March Friday.
Forecast Discussion:
A Yellow Weather Alert is in place overnight for more showers and rain. Lows will fall into the 40s and 50s so a light jacket is a good idea in addition to the umbrella. Some fog may develop in a few spots tonight. Becoming windy Thursday afternoon with a few showers, mainly in the morning. Highs will be seasonable with temps climbing well into the 60s but the afternoon breezes will make it fell a bit cooler. The weather will be dry and cool for the Nationals game Thursday evening.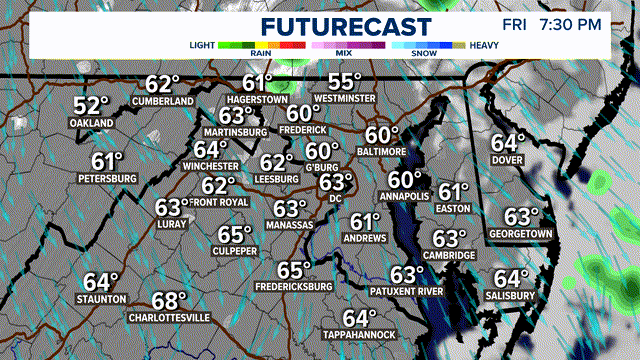 Detailed Forecast:
Overnight: Cloudy and chilly more rain and showers. Lows: 46 - 54. Winds: SE/NW 5 - 10.
Thursday: Mostly cloudy, breezy and cool. A stray shower. Highs: 66 - 69. Winds: NW 10 - 20 +.
Friday: Partly sunny, breezy and chilly, stray shower. Highs: 56 - 61. Winds: WNW 10 - 20 +.


Allergy Index:
The latest allergy index shows that the tree pollen count is high. Light rain typically helps to keep pollen counts lower. Right now, oak, birch, sycamore, sweetgum, mulberry and pine pollen are the predominant tree species contributing to the pollen count. Wednesday's rain should lead to a break Thursday.

Extended Forecast:
More showers are forecast again for the weekend, especially Saturday night into Sunday. More low 60s are forecast for both Saturday and Sunday. Monday starts off the week on a cool note with highs around 60 and some afternoon or evening rain and showers. .

Saturday: Morning sun, afternoon clouds and chilly. Highs: 58 - 63.
Sunday: Mostly cloudy and cool with mostly afternoon/evening showers. Highs: 58 - 63.
Monday: Increasing cloudiness and still chilly with some p.m. rain and showers. Highs: 58 - 63

Does a baseball travel farther in warm or cool air?
Do northwesterly winds make it easier or more difficult to hit home runs in Nationals Park?