CHARLOTTE, N.C. — Happy Easter everyone!
Easter in 2021 is a better one than last year. Sunshine will be wall to wall and rain will not bother the Charlotte area until later this week. We dropped down to 36 degrees this morning which tied 2015 for the coldest start to Easter over the past 10 years.
Our highs in the lower 70's are near the average for an Easter Sunday in Charlotte which average around 71.4 degrees. This average is warmer than our typical average for April 4th due to Easter falling on different dates ranging from March to the end of April.
CHARLOTTE EASTER EXTREMES:
Snowiest: 2.7" (1940) This Easter people woke up to a peak snow depth of 3.0" of snow since it started falling on Easter Eve.
What determines Easter's Date:
Easter can range from March 22nd to April 25th. We will not see another earliest Easter date until the year 2245 but the latest Easter date will happen again in the year 2038.
When Easter happens, it all depends on the full moon. Easter is always celebrated on the FIRST Sunday following the FIRST spring full moon. Spring started on March 20th and the first spring full moon was the Worm Moon on March 28th (Sunday). So a week later, April 4th is Easter. So for the earliest Easter date of March 22nd to happen, Spring and a full moon have to happen on a Saturday which would make Easter the following day since that would be the next Sunday.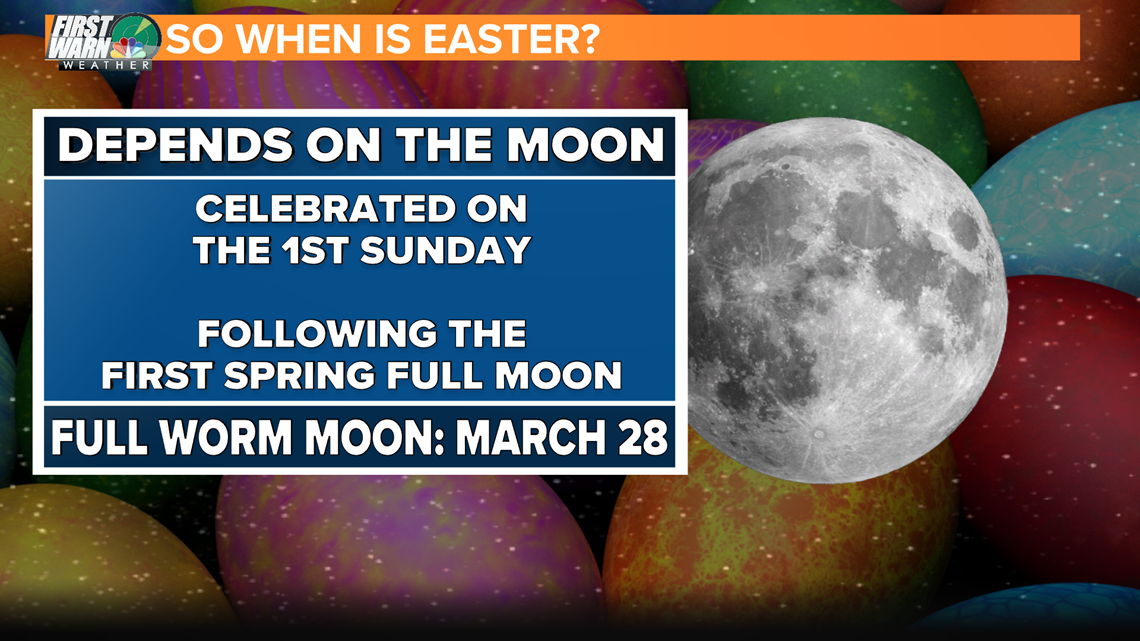 Spring's date can also change from a rare March 19 to March 20th and 21st. But the church for ease designates March 21st as the cemented spring date.
So happy Easter everyone! It is going to be a good day!