CHARLOTTE, N.C. — The remnants of Florence are out of the Charlotte area but the damage is far from done after the huge storm drenched the region with flooding rains Sunday.
The heaviest bands of rain made their way to the metro area around 6:30 a.m. Sunday, bringing torrential rain and strong wind gusts that lasted through the afternoon hours. Areas south and east of Charlotte were especially impacted by the storm's heavy rainfall. Flash Flood Emergencies were issued in Chesterfield, Mecklenburg and Union Counties during the worst of the storm.
A Flash Flood Warning is in effect for Stanly County until 12 p.m. Monday. The rest of the Charlotte area remains under a Flood Watch through at least Monday.
RELATED: Florence is gone, but the Carolinas are just now dealing with her devastation
RELATED: Baby swept away by rushing floodwaters after mom loses her grip
According to the National Weather Service, a Flash Flood Emergency is issued in "exceedingly rare situations when a severe threat to human life and catastrophic damage from a flash food is happening or will happen soon."
First Warn meteorologist Chris Mulcahy said the rain is done in Mecklenburg County for Monday morning but heavy rains remain east of Charlotte in parts of Anson, Richmond and Stanly Counties. The greatest concern now will be how long those heavy rains last in areas of eastern North Carolina, where several rivers are expected to see historic flooding from the storm. Eventually, the storm will make its way north and into Virginia, West Virginia and the Ohio Valley.
"This storm system will affect about 20, maybe 25 states," said First Warn forecaster Larry Sprinkle."
Florence rainfall totals across the Carolinas
Matthews: 10.7 inches
Chesterfield: 15.7 inches
Wingate: 15.67 inches
Monroe: 11 inches
Southeast Charlotte: 8.69 inches
Indian Trail: 10.3 inches
Myrtle Beach: 10.22 inches
Wilmington: 23 inches
RELATED VIDEO: Florence floods the Charlotte area
Dozens of roads were also shut down Sunday due to standing water, particularly in areas south and east of Charlotte, like Union County.
The heavy rain and flooding led to mandatory evacuations in Cumberland County and the cities of Fayetteville and Wade for all people within a mile of the banks of the Cape Fear River and The Little River to minimize the imminent threat of injury or loss of life.
The National Weather Service reports Florence has dumped more than 33 inches of rain in some parts of the area, which is the most rain from a tropical system in North Carolina.
The eye of Hurricane Florence officially made landfall Friday morning near Wrightsville Beach, North Carolina with devastating storm surge, flooding and heavy rainfall. According to the NHC, some parts of the coast could see storm totals of 30 to 40 inches by Monday.
RELATED: What we know about the victims of Florence
Other significant preliminary rainfall totals from the NWS (as of 7 p.m. Saturday)
Newport: 23.75"
Trenton: 18.29"
Swansboro: 30.58"
Charlotte: 1.03"
New Bern: 8.49"
Wilmington: 14.34"
PHOTOS: Florence unleashes havoc on Carolinas
A 105 mph wind gust recorded in Wilmington Friday morning was the second-strongest ever. The record was set by Hurricane Helene in 1958 with 135 mph.
►STAY UPDATED: Download the NBC Charlotte news app for breaking news alerts and info you need to know
Gov. Roy Cooper announced Friday that over 20,000 people are in 157 shelters statewide with the unrelenting rains of Florence expected to last through the weekend. Cooper said the state's goal is now to remove people from immediate danger until the storm has passed. Then recovery efforts will begin.
"We're going to get so much rain at one time that storm drains will probably overflow," Sprinkle said. "If you live in a low-lying or flood-prone area, do not try to drive on a flooded road."
RELATED: When Hurricane Florence will impact Charlotte
The National Hurricane Center's forecast of life-threatening storm surge along the coast proved to be true as Florence pounded southeastern North Carolina Thursday. In New Bern, storm surge was recorded near 10 feet. More than 100 people were rescued from rooftops and attics when floodwaters rushed the streets of downtown New Bern.
RELATED: Closings and delays as Hurricane Florence threatens the Carolinas
States of emergency
Late Monday night, President Trump approved North Carolina's Emergency Declaration. The administration said the president's actions "authorizes the Department of Homeland Security, Federal Emergency Management Agency (FEMA), to coordinate all disaster relief efforts."
Gov. Roy Cooper and Gov. Henry McMaster declared states of emergency for their respective states ahead of Florence. On Tuesday, Cooper received updates from FEMA at Fort Bragg.
RELATED: Gov. Roy Cooper issues mandatory state evacuation for the barrier islands of North Carolina
RELATED: Gov. McMaster orders mandatory evacuations for SC coastal counties, reverses lanes
"Do not try to ride out this storm," Cooper said. "First thing is to save lives and people get where they need to get."
RELATED: Gov. Cooper declares state of emergency as Florence approaches east coast
RELATED: South Carolina under state of emergency due to Florence
Cooper said state emergency management officials are working with local and federal agencies to prepare North Carolina for possible impacts from Florence.
New Hanover County, including Wilmington, declared a state of emergency at 11 a.m. Monday ahead of Florence.
Download the WCNC app to track Florence, turn on notifications and receive the latest updates on any forecast changes.
"We are planning for devastation"
As Florence rumbles toward the Carolinas, FEMA is ramping up its preparation for the powerful storm.
FEMA is ramping up preparations for Hurricane Florence as the powerful Category 4 storm rumbles towards the Carolinas.
As of Monday evening, the emergency agency had positioned more than 80,000 liters of water, 402,000 meals, 1,200 cots and 34 generators at Fort Bragg near Fayetteville, North Carolina.
RELATED: Hurricane Florence still a Category 4, will bring 'devastating' storm surge to the Carolina coast
RELATED: LIVE BLOG: Preparations underway in the Carolinas for Hurricane Florence
In addition, both Fort Bragg and North Field Air Base near Columbia, South Carolina, are serving as "incident support bases" to distribute more supplies, including meals, water, blankets when needed. And FEMA teams have been sent to both states where they will serve as "rapidly deployable assets, with expertise in operations, logistics, planning, and recovery."
Still smarting from the criticism hurled at the agency following Hurricane Maria, the Trump administration wants to leave nothing to chance as it faces its first major storm in nearly a year.
In a news conference on Tuesday, FEMA said those who are under mandatory evacuations orders must leave as soon as they can.
"Be a part of the team. Don't think you can out swim this. It's a full team effort -- don't put rescue officials at risk," FEMA said.
The Carolinas prepare for Hurricane Florence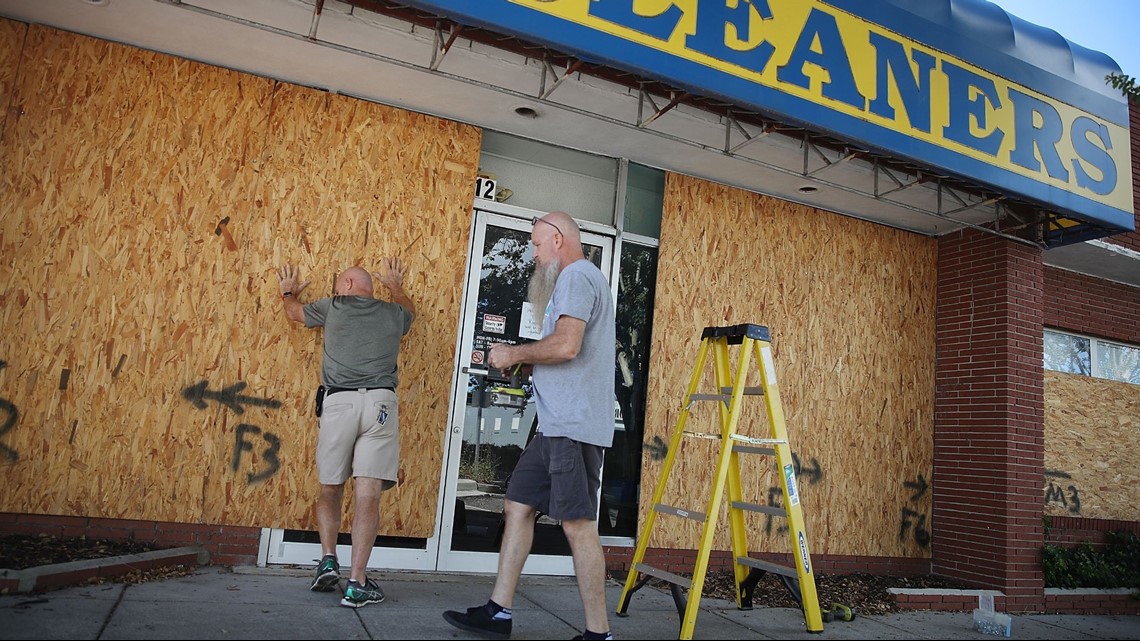 FEMA officials said they are planning for devastation.
"There is no indications that this storm is going to slow or weaken -- we are planning for devastation," FEMA said.
Nearly 3,000 people died in Puerto Rico in the aftermath of Maria, making it the second deadliest hurricane in U.S. history. The toll far exceeded the original estimates, leading to verbal reprimands that FEMA did not do its job.
"Because FEMA and the federal government were simply unprepared, thousands of our fellow American citizens have perished – and we now know that the poor and elderly were the most at risk," Rep. Bennie Thompson D-Miss., ranking member of the House Committee on Homeland Security, said in a statement when the revised death toll was released two weeks ago.
Mandatory evacuations were underway Monday in North Carolina and more were scheduled for Tuesday – including the entire coastline of South Carolina.
Preparing for a hurricane
Preparing for a hurricane can be stressful, but it doesn't have to be difficult. One of the easiest and cheapest things you can do to get ready for a hurricane is putting together a supply kit.
Severe weather in the coming day can knock out power for several days and there are a number of item's you'll want to have handy.
Here is a checklist of recommended items:
Cash (ATMs may not work)
Car charger for cell phones and other devices
Drinking water (recommended 1 gallon per person per day, minimum three days)
Prescription medication (Two-week supply)
Batteries: Extra batteries for all of your devices
Battery-operated weather radio/clock
Food: Lay in a three-day supply of canned goods and items that don't require refrigeration. Secure a hand-operated can opener, as well as any necessary pet food.
Additional items: First aid kit, flashlights, helmets, and blankets. Also, store any essential documents in a watertight container.
Tips to protect the elderly before Hurricane Florence hits
Hurricane Florence is expected to hit the Carolinas later this week, which means residents should be prepared.
Here's what senior citizens need to know ahead of the storm. Please check on your elderly neighbors before the storm hits.
From the Red Cross
1. Get a kit
For your safety and comfort, have a disaster supplies kit
packed and ready in one place before a disaster hits.
• Assemble enough supplies to last for at least three days.
• Store your supplies in one or more easy-to-carry containers,
such as a backpack or duffel bag.
• You may want to consider storing supplies in a container
that has wheels.
• Be sure your bag has an ID tag.
• Label any equipment, such as wheelchairs, canes or walkers,
that you would need with your name, address and phone
numbers.
• Keeping your kit up-to-date is also important. Review the
contents at least every six months or as your needs change.
Check expiration dates and shift your stored supplies into
everyday use before they expire. Replace food, water and
batteries, and refresh medications and other perishable
items with "first in, first out" practices
2. Make a plan
Meet With Your Family and Friends
Explain your concerns to your family and others in your support network and work with them as a team to prepare. Arrange for someone to check on you at the time of a disaster. Be sure to include any caregivers in your meeting and planning efforts. Assess yourself and your household. What personal abilities
and limitations may affect your response to a disaster? Think about how you can resolve these or other questions and discuss
them with your family and friends. Details are important to ensure your plan fits your needs. Then, practice the planned actions to make sure everything "works." Family Communications Plan
• Carry family contact information in your wallet.
• Choose an out-of-town contact person. After a disaster, it is often easier to make a long-distance call than a local call from a disaster area.
2. Make a Plan Post Emergency Phone Numbers Near Your Phones (cont.)
Post emergency numbers near all of your phones. Include the numbers of those in your support network. Remember that in some emergencies telephone lines might not be working. Consider having alternative plans for contacting those in your network.
Plan for Those With Disabilities
Keep support items like wheelchairs and walkers in a designated place so they can be found quickly. This step is essential for those who have home-health caregivers, particularly for those who are bed bound.
Plan for Your Pets or Service Animals
Take your pets with you if you evacuate. However, be aware that pets (except service animals) are not permitted in emergency public shelters for health reasons. Prepare a list of family, friends, boarding facilities, veterinarians and 'pet-friendly' hotels that could shelter your pets in an emergency.
Pet-Friendly Evacuation Shelters for Hurricane Florence
Click here for the full list of shelters
Brunswick County
Brunswick West Brunswick High School
550 Whiteville Road
(910) 754-4338 | Irma Preparedness Info
Carteret County
Newport Middle School
500 E. Chatham Street, Newport, NC 28577
(252) 728-8470 | Shelter Info
Catawba County
Shelters will be opened if required
Charlotte, NC
Animal Care & Control works with Emergency Management and American Red Cross to ensure that emergency sheltering for pets is available for anyone who needs to evacuate their home. AC&C may set up temporary pet shelters at various Red Cross Evacuation Shelters to house pets. Stay tuned to your local news stations for information on the locations of Evacuation Shelters.
704-336-7600 | Pet Preparedness Info
Chowan County
Pets not allowed, but there may be space available in a dog shelter
Forsyth County
The Forsyth County Animal Response Plan, which is incorporated in the Winston-Salem/Forsyth County Emergency Operations Plan for Multi-Hazards, has been recognized by the North Carolina State Animal Response Team as the top animal response plan in North Carolina. Names of shelters will be revealed when needed.
(336) 703-2480 | Emergency Info
Stick with WCNC.com for the latest developments on Tropical Storm Florence as it nears the southeast United States.
Get the mobile app!