Twelve days after a tropical depression formed in the Atlantic off of the coast of West Africa, south of the Cape Verde Islands, what grew to be Hurricane Hugo plowed through the Carolinas, changing lives and forever modifying cities, towns and landscapes.
The 30-nautical-mile-wide storm impacted an estimated 1.8 million people and caused about $6 billion in property damage, prompting Presidential declarations for federal disaster assistance to be issued for 24 counties.
On September 10, 1989, the storm that would later be known as Hurricane Hugo formed in the Atlantic Ocean, earning its name just a day later. The eighth storm of the season spins to Category 5 strength by September 15, before plowing the U.S. Virgin Islands and Puerto Rico, leaving eight bodies in its wake on September 18.
After raking the northeast side of the Bahamas, Hugo set its sights on the Carolina coastline.
Government officials, meteorologists, weather enthusiasts, East Coast residents and national news networks watched as the tropical depression formed off Africa's west coast and developed rapidly as it crossed the tropical Atlantic.
On September 13, Hugo progressed into a Category 1 storm, and just two days later catapulted to full Category 5 strength.
September 17, Hugo makes acquaintance with the Windward Islands, the larger islands of the Lesser Antilees, within the West Indies, with 135 mile per hour winds on the islands of Guadeloupe and Monteserrat, leaving behind nearly two dozen dead and many residents without a home.
Hugo weakened from its Category 5 status but was still a major hurricane when it reached the shores of Puerto Rico. The eastern shore sustained tremendous damage as winds gusts of up to 125 miles per hour and heavy rain tormented the island. At least eight people lost their lives there on September 18.
Joe Riley, then-Mayor of Charleston, said in an interview with the National Weather Service, "We had the benefit of this hurricane being out there a good while and to witness the terrible damage that occurred in the Caribbean, and we had the ability to know this was a killer hurricane."
Cathy Haynes of Charleston County Emergency Management also told NWS, "It hits Puerto Rico and we see all the devastation there and it's still holding true to its track with Charleston right in its cross-hairs."
The morning of Thursday, September 21, Hugo had weakened to a Category 2 storm, but not before hurricane warnings were issued for the South Carolina coastline. When Hugo crossed the Gulf Stream, with the environment good for strengthening, and it flared up into a Category 4 by nightfall.
Local officials and media began planning for the storm's anticipated impact.
"I called my senior staff, department heads, admins together and told them we should see this as an opportunity. And they looked at me a little odd and I said 'It's an opportunity because if this hurricane comes our way then we will have the chance to serve our citizens when they need us more than they've ever needed us before,'" Riley recalled.
"I started to do things that started signal the seriousness," Riley recalled in an interview with the NWS, "One thing is we boarded up the windows of this building (Charleston City Hall)."
Officials urged people in harm's way to evacuate and for those who planned to ride out the storm to complete their preparations.
"The most important thing for the mayor to do is to evacuate the citizens," Riley continued, "Because hurricanes kill through storm surge more than anything else. Getting your citizens to evacuate is difficult because people don't want to leave, and you have to thread the needle between panic and fear. We went door to door in some sections of the city getting people out and telling them they had to leave."
More than 250,000 evacuated the coast, according to the South Carolina Department of Natural Resources.
Just after midnight on that fateful Friday, Carolinians got their first impression of Hurricane Hugo.
Making landfall at high tide as a Category 4 in Sullivan's Island, Hugo pummeled South Carolina's historical coastline with winds reaching 140 miles per hour and a storm surge reported at 12-feet.
In fact, Hurricane Hugo produced the highest storm tides ever recorded on the East Coast, with Bulls Bay, just to the north of Sullivan's Island, reporting a 20-foot storm tide. With a 20-foot-storm surge on top of the normal high tide, destructive Hugo became the costliest storm of its time.
About a dozen people lost their lives in Sullivan's Island and Isle of the Palms, nearly 10,000 homes were damaged or destroyed, and municipalities and residents alike faced more than $3 billion in estimated damages.
Just to the south of Sullivan's Island in South Carolina's landmark port city, Charleston's historic downtown was blasted by winds, defacing storefronts, toppling trees, beaching boats and leveling buildings. A Coast Guard cutter reported winds of 138 mph, while speeds were recorded in downtown Charleston at 120.
The National Weather Service calls Hugo's landfall in Sullivan's Island "fortunate", as a "track slightly farther south would have produced tremendous flooding in downtown Charleston".
The South Carolina Emergency Management Division estimates that if a storm with a similar track and intensity as Hugo struck in 2009, the estimated damages would have been in the $8 billion-range, and more than 21,000 homes would've been destroyed.
After leaving the Low Country in shambles, in just five short hours, Hugo continued on its path of devastation, cutting inland to Lake Moultrie, west of Sumter, as a Category 1 storm through Chester and York Counties, and by 5 a.m., Hugo had been downgraded to tropical storm as it passed just to the west of Charlotte and to the east of Gastonia. Hurricane force wind gusts were felt several hundred miles inland, all the way to mountains of Western North Carolina, with the storm track passing through Lincoln, Catawba, Alexander and Ashe Counties before leaving the state.
Charlotte's Myers Park neighborhood, known for old, tall tree canopies donning the historic city streets, took quite a blow from Hugo. Streets were blocked by fallen trees and limbs after 90mph winds pounded the community.
Some 80,000 trees were downed across Charlotte during the storm, and an estimated 200,000 dump truck loads would be needed to haul away the debris.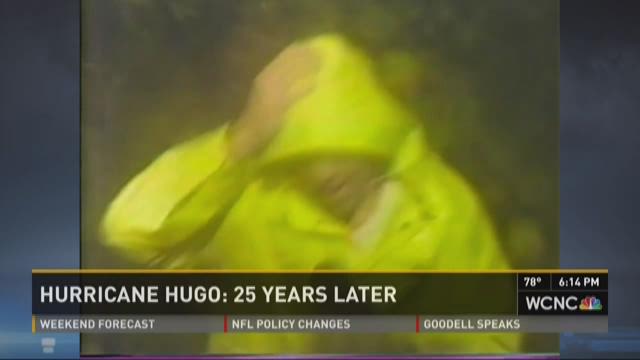 One then-resident told the Charlotte Observer that the 'sweet nectar of the oak trees' sap drew hordes of bees.' Medical personnel treated hundreds of bees and hornet stings, the Observer reports, as a result of the insects' homes being ripped apart.
One Charlotte resident, Karen Geiger, was pinned in her car for two hours after Hugo's brutal winds knocked one of the Queen City's many ancient trees over. Geiger suffered a crushed foot, a ruptured spleen, broken ribs and pelvis and a collapsed lung.
In uptown, storefronts were defaced, windows were shattered out of high-rise buildings and debris lined the city streets. Residents citywide were without power for days—some for as many as 18 days. "Hugo knocked down power lines like matchsticks across the region", a photo shown in the Charlotte Observer was captioned.
On the 25th anniversary of Hugo's landfall, NOAA ranks Hurricane Hugo as the seventh-costliest in U.S. history, causing $13.5 billion in damage—when adjusted for inflation. At the time, Hugo was the most costly storm in U.S. history until it was upstaged by Andrew in 1992.
In North Carolina, the damages were near the $1.7 billion mark, much of which occurred in the lumber industry. Eastern Carolina University says 68,000 acres of North Carolina forests were destroyed by Hurricane Hugo, while another 2.7 million acres were damaged—that's a total state loss of $435 million worth of lumber; the storm effectively ended the logging industry in the Tarheel state. Nearly 70% of the lumber-quality trees in the Francis Marion National Forest in South Carolina were wrecked in the storm.
Along the North Carolina coast in Brunswick County, ECU reports the county alone faced $131 million in damages.
In North Carolina, Duke Energy spent $109 million in the weeks after the storm to repair or replace 8800 power poles, 6300 transformers, 1700 electric meters and 700 miles of cable and wire to restore power to the 700,000 who lost it during Hugo.
If a storm of Hugo's strength and a similar track were to hit today, the South Carolina Emergency Management Division estimates 1.2 million people in South Carolina would have to be evacuated, more than 231,000 homes would be damaged statewide, and the monetary damages would top $16 billion.
Quick facts about Hurricane Hugo
Hugo made landfall at high tide during the autumnal equinox; Cape Romain reported a tidal surge of 19.8 feet
Wind speeds of 120 mph reported in downtown Charleston with 138 mph reported by a Coast Guard cutter
82 deaths in the U.S. and Virgin Islands (26 in SC) and more than $10 billion total property damages were attributed to Hugo
The hurricane hunter aircraft nearly crashed because of reported winds of 190 mph in Hugo at a flight level of 500 meters
Because of damage to the plane, more than 50,000 pounds of fuel had to be dumped to save the lives of crewmen
A week after Hugo hit, nearly 60,000 people were homeless because of 5,100 homes destroyed and 12,000 uninhabitable
In its wake in South Carolina, Hugo left:
13 directly related deaths, 22 indirect deaths, and several hundred injuries
$6.5 billion in damages
264,000 evacuated from their homes in eight counties
270,000 temporarily unemployed
60,000 left homeless
54,000 state residents seeking disaster assistance
Other response actions required in South Carolina because of Hugo were:
The Red Cross opened 191 shelters that housed 89,968 people at the height of the evacuation
Red Cross workers provided mass feeding in shelters and on mobile feeding routes for 30 days
The Salvation Army provided more than 500,000 meals and 338,000 food boxes
More than 4,000 volunteers and employees with the Salvation Army worked nearly 60,000 hours helping more than 600,000 storm survivors
Approximately 6,317 S.C. National Guard Members supported the Hurricane Hugo response, which was 46% of the total state strength in 1989
$62 million in food stamps were issued to more than 200,000 households
An initial effort to rebuild dunes cost the state and federal governments $3.8 million
More than 3,000 active duty service members were employed in support and execution of assigned tasks
30 assistance centers were established to receive applications for loans, grants, housing and other types of needs
The forest communities lost more than 6.7 billion board feet in timber valued at $1.04 billion
The damaged timber, concentrated on 4.5 million acres, represented 36-percent of the state's woodlands
Primary and secondary schools received $55.6 million in damages. Crop damages topped $2 billion