CHARLOTTE, N.C. —
The Drought Monitor:
WCNC Charlotte chief meteorologist Brad Panovich says most of the Carolinas are facing drought conditions, ranging from dry to severe. While the Charlotte viewing area sees most counties in the dry range, severe conditions are being observed along part of the Carolina coast. The worst of it is in far SE North Carolinas and eastern South Carolina.
The most recent drought monitor shows an increase for both North and South Carolina.
North Carolina: 82%. 54% under drought and the other 28% is abnormally dry.
South Carolina: 72%. 35% under drought and the other 37% is abnormally dry. 20% is under severe drought.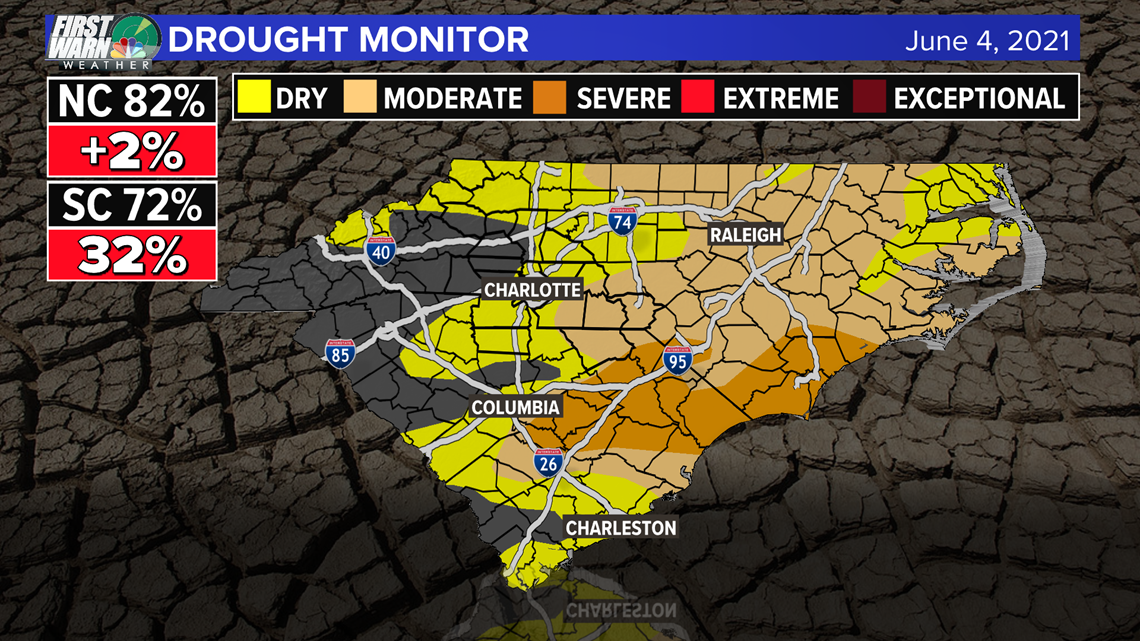 The drought conditions also line up with more statistics he tweeted earlier in the week; on June 1, Panovich shared a graphic comparing the normal temperature and amount of rainfall in the Charlotte area compared to the numbers for spring 2021. The average temperature this year was up to 61.5 degrees, more than a degree warmer than usual. Charlotte also typically sees about 11 inches of rain, but spring 2021 was drier than normal at just 7.76 inches recorded.
How Much Rain Do We Need:
Simply put the Carolinas need above average rainfall. Below are the next months average rainfall totals.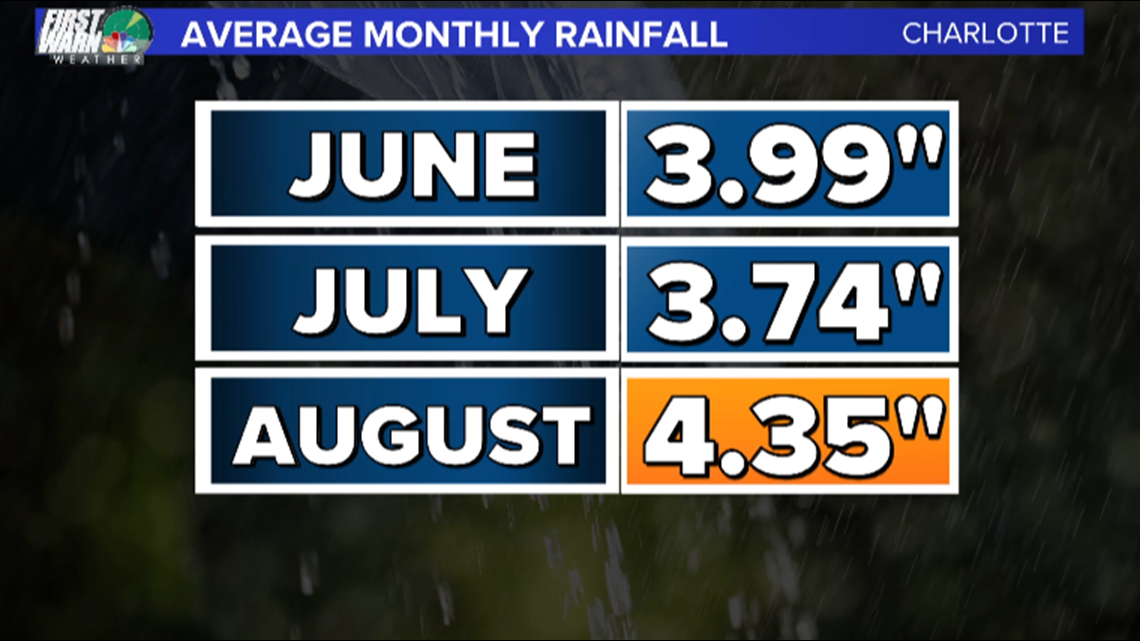 For easy math let's just say each month's average rain is four inches.
Moderate Drought (D1):
Areas under 'moderate' drought' that is now active for our eastern zones would need a surplus of at least 1-2 inches of rain over the next 30 days. That is on top of the average rainfall. Thus (4+1-2") mean that areas in the tan below need 5-6" of rain over the next month to get back to normal.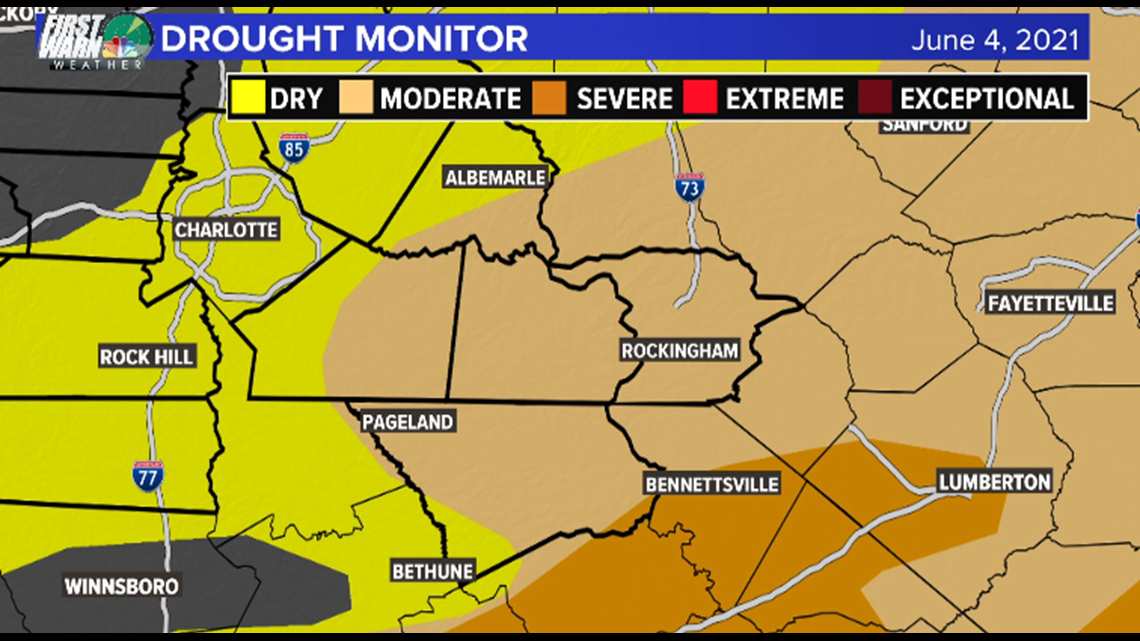 Over a 3 month period, the moderate drought areas would need 5-6" surplus. That is a 3 month total of 17-18" of rain (12" of normal rainfall plus the 5-6" surplus)
Abnormally Dry (D0)
The ABNORMALLY DRY or a D0 ,is the precursor to drought classification. So that means if these areas do not get more rain soon, they will start seeing some repercussions. At this level, there is just overall dryness and some stress on the grass.
The areas under the abnormally dry, will need an average month of around 4 inches. That includes Charlotte and surrounding areas up to Lincolnton and Statesville.
Over a 3 month period. The Dry areas will need a surplus of 3-4" to catch up and remove themselves from the drought monitor.
Severe Drought (D2)
This is a big jump from moderate. At this level there will be crop losses and most lawns will be brown. This year alone some areas are seeing wheat not set up and corn becoming shriveled due to the dry arid air.
Right now, 20% of South Carolina is under a severe drought.
One spot here in SE North Carolina however still needs over 3 inches above normal per month to overcome its drought.
The good news is that these areas did have some decent rainfall to begin the first days of June.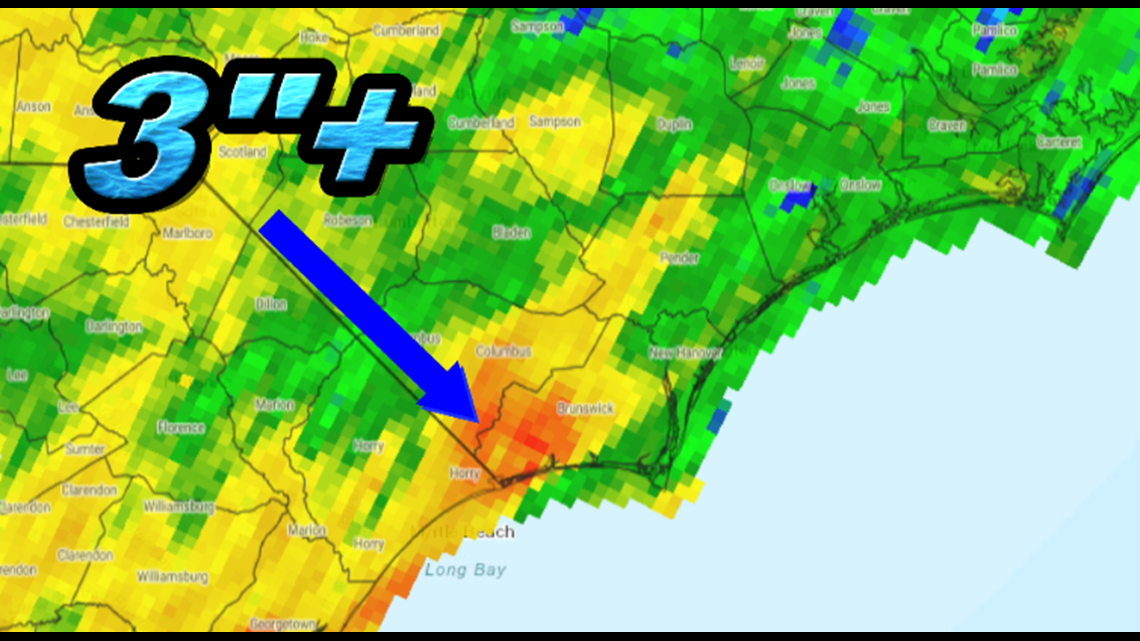 Besides precipitation, some other factors in determining drought or removal from the classification are:
The Ground water
Stream and lake levels
Agricultural impacts
Soil moisture
How long will this last?
According to Cabe Speary, the Fire Environment Forester with NC Forest Service, this does not look to be long term. He said "This is what you call a 'flash drought'. It typically lasts up to 60 days while a long term drought can be up to 6 months.
To compare. 2019 was a similar flash drought in the eastern part of NC from about the 3rd week of May until the middle of June.
So as long as we can keep constant rain chances around through June and July and avoid any Bermuda highs from drying us up and heating us up. We will make up a lot of ground heading into summer.