CHARLOTTE, N.C. — Power outages in Charlotte and across the Carolinas were steadily rising again Saturday morning during the worst of freezing weather, but one of the region's major utility providers said restoration efforts should be finished before the end of the day on Christmas Eve.
"I woke up around 6:30 this morning I heard the air running and it dropped out after that," said Christopher Fulghum, a Ballantyne resident.
As of 5:45 p.m. Saturday evening, Duke Energy spokesperson Jeff Brooks said customers in Mecklenburg County who were affected by rolling blackouts had power restored. However, there still will be about 2,000 customers affected by the wind storm without power into Sunday.
"It really was kind of a perfect storm in that we had a couple of thousand outages from the wind event. And then overnight, we had record energy use," said Bill Norton with the utility.
Duke Energy, which provides electricity across a large portion of both North Carolina and South Carolina, said it had about 450,000 customers without power Saturday morning at its peak.
After initially asking customers who still had service to reduce usage, the power company said it would begin instituting temporary service disruptions Saturday morning, in order to reduce the load on the power grid. The intentional disruptions, which the company called "load shedding," were expected to last between 15 and 30 minutes for individual customers, according to Duke energy.
By noon, Duke announced that rolling blackouts were finished for the time being, and at 3:45 p.m. said restoration efforts should be completed later Saturday.
"We are in restoration mode (and) about doing the conservation. We will evaluate the need for additional measures as the day progresses. Right now, nothing additional is planned for today," said another Duke spokesperson.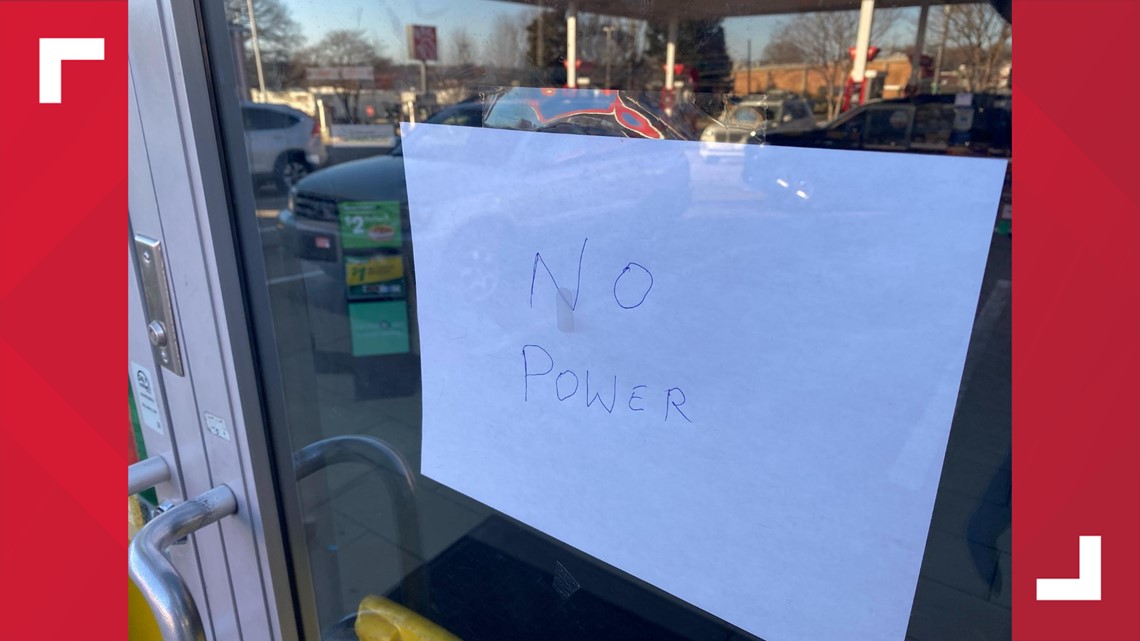 "We're bringing them back on in chunks, so it doesn't stress the system again," said Norton. "So that's 10,000 customers at a time, then another 10,000 after a bit of time, then another 10,000. So you can't flip the switch and bring them all back on at once, or you crash the grid."
For many, the outages could not come at a worse time as the temperature at Charlotte Douglas International Airport, the official weather observation location for the city, dropped to 9 degrees. The wind chill made it feel more like -3. In the mountains and higher elevations of western North Carolina, those freezing temperatures were even worse. The wind chill in Jefferson was -27.
Duke Energy crews have been working throughout the night and day since frigid cold temperatures arrived Friday. The sudden change in weather was ushered in with winds gusty upwards of 60 mph in parts of the greater Charlotte area.
On Saturday morning, Duke Energy asked customers with service to conserve electricity as it experience high levels of power demand.
"We sincerely appreciate the cooperation and patience of our customers, who can help ensure the stability and reliability of the system for all by taking these steps," Daniel Stephens, Duke Energy Carolinas manager of System Operations, said in a statement. "Public conservation can make a difference."
Duke was asking its customers to:
Select the lowest comfortable thermostat setting and bump it down several degrees whenever possible.
Avoid using large appliances – this means appliances with a three-pronged plug, such as dishwashers, ovens and dryers – during high-demand periods like early winter mornings.
Shift non-essential activities, like laundry, to late evening hours when power demand is lower.
Charge electric vehicles overnight.
If you have an electric water heater, limit the use of hot water as much as possible.
Some residents say they are doing their part to help cut back on energy use.
"We are just making we are not turning the thermostat up more than we have to and making sure we don't have any lights or appliances running that we don't need right now," said Fulghum.
"If you have the flexibility to knock your thermostat just back by a degree or two," said Norton. "I mean you think about we have 4 million customers if everyone takes that small measure that might prevent a drastic measure."
The temperature in Charlotte was not expected to rise above freezing again until the afternoon hours of Christmas on Sunday.
The WCNC Charlotte weather team has declared Weather Aware days for Friday, Saturday and Sunday due to the dangerous cold and high winds in the forecast. Any time a person sees the Weather Aware label on the forecast online or on social media, they know it's really about their personal safety, their family's safety and protecting their property.
How to report a power outage
Duke Energy
If you see a fallen power line or safety hazard, call Duke Energy at 1-800-769-3766 immediately To check the status of current outages and their estimated time of restoration, check the interactive map online.
Blue Ridge Energy
Energy United
Energy United also has text message alerts for customers who wish to stay informed about outages in their area.