CHARLOTTE, N.C. — After a very hot afternoon with triple-digit heat, scattered storms are ongoing across the Charlotte area. Heavy rain associated with the storms are causing localized flash flooding for parts of the area.
Gusty winds, frequent lightning along with flash flooding are the main threats. Some storms may turn severe and produce damaging wind gusts.
The heat continues into the start of the weekend. Expect afternoon temperatures in the low 90s with heat index values in the low 100s. After a quick warm up, watch for another round of storms to develop.
Those dangerous conditions are why WCNC Charlotte's team of meteorologists declared Thursday a day to be Weather Aware day.
Officials recommend everyone should limit their time outdoors in the afternoon, stay cool and hydrated. Take extra precautions during the middle of the day when it's typically the hottest period.
Storm threat Saturday
A low risk for severe thunderstorms on Saturday afternoon and evening. The late-day storms may disrupt your outdoor weekend plans.
Heavy rain, isolated gusty winds, and frequent lightning may cause delays for the second half of the day. During the summer months especially in this type of hot, muggy and stormy weather pattern, it's best to plan your events earlier rather than later.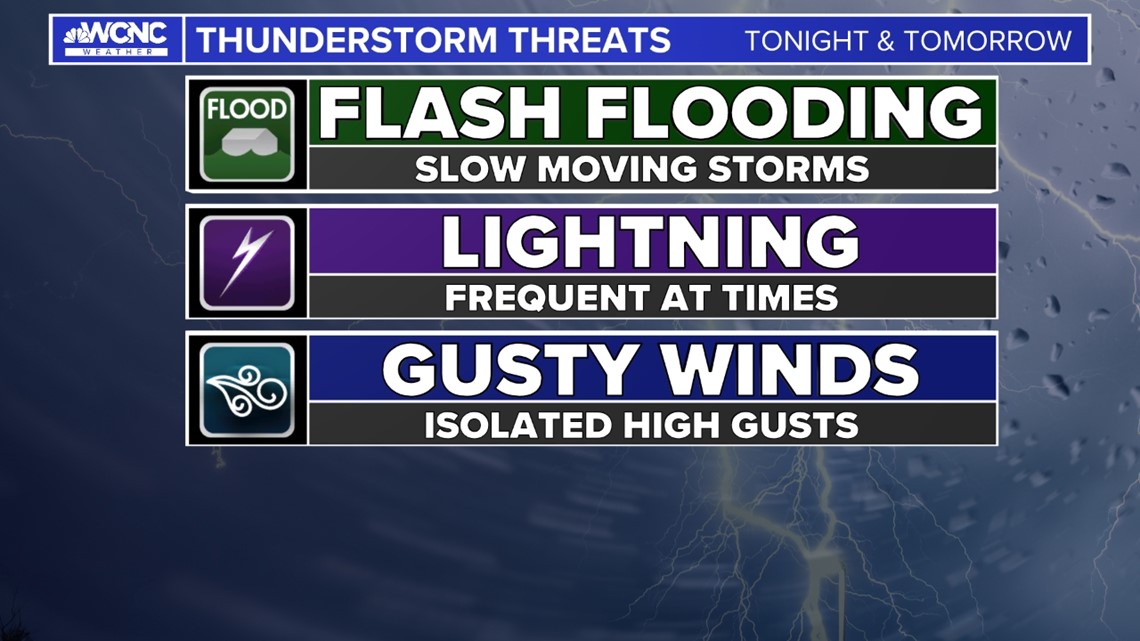 Frequent cloud-to-ground lightning has been evident of the storm intensity this week. Lightning can strike 10 miles away from a thunderstorm. Be prepared to safely find shelter inside a building or vehicle anytime you see lightning or hear thunder regardless of whether or not a storm warning has been issued.
The meteorologists at WCNC Charlotte have very specific parameters for you to stay Weather Aware. WCNC Charlotte meteorologists will use this term when the weather is expected to exceed typical, run-of-the-mill afternoon storms or even typical seasonal heat.
What is a downburst wind?
One of the threats from these storms is potential downbursts. Higher humidity and heavy rain oftentimes lead to a higher risk for downburst wind gusts because of all the heavy rain and moisture in the atmosphere.
From the National Weather Service, downbursts are powerful winds that descend from a thunderstorm and spread out quickly once they hit the ground. These winds can easily cause damage similar to an EF0 or EF1 tornado, and can often be misinterpreted as tornado damage.