CHARLOTTE, N.C. — When winter weather sweeps through the Carolinas, there are a lot of aspects of living in a colder climate that not every resident is used to.
North Carolina winter precipitation types: What can I expect?
Most typically, winter weather hits the Carolinas with various types of precipitation. Carolina residents encounter snow, sleet, freezing rain and rain. The impact can cause crippling conditions for our region from power outages, flight cancelations, road closures and more.
Staying safe during the winter months starts with keeping track of the forecast. Once you're in the know and plan accordingly, you decrease the chances of being caught off guard or harmed.
Because winter weather can hit fast and hard for our region, here's a how-to guide in the event there's a school closure, power outage, even if you're trying to get from point A to B.
Be in the know
It may sound corny, but download the WCNC Charlotte news app. This is a great tool to receive notifications and alerts to help you prepare and stay safe during the storm. The app is equipped to notify you based on your current location whether it's a tornado warning or winter weather alert.
Understand winter weather alerts
Let's break down what the most common ones mean.
Winter Storm Warning: Snow, sleet and/or ice expected. Time to take action/precautions.
Winter Storm Watch: Snow, sleet and/or ice possible. This means you need to be prepared for conditions to possibly worsen.
Winter Storm Advisory: Wintry weather expected. Be cautious, and stay alert
Driving in winter weather
First, driving during winter weather in the Carolinas should be a last resort option. If you must drive, there are some things you can do. Be sure to take it slow in the snow due to reduced visibility, and slippery, icy conditions.
Black ice can be difficult to see until it's too late. Black ice is typically a thin coating of ice appearing like wet spots on the road. It's transparent, often matches the pavement color and is nearly invisible to drivers, which is why it's so dangerous.
If temperatures are near or below freezing after melting snow or ice, assume there's black ice on the road and be extremely careful. Black ice is more prevalent at night and during the pre-dawn hours.
If you see a particularly bad patch of black ice, report it to law enforcement and/or the North Carolina Department of Transportation so they can treat the road and monitor it.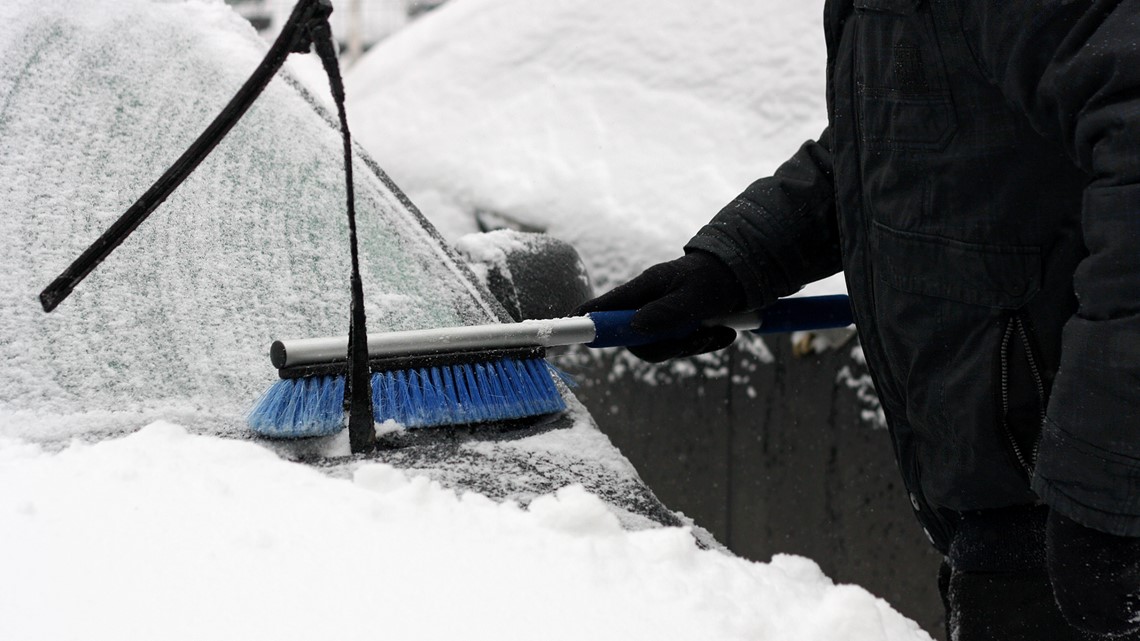 Dust off the snow
While many people may think to brush off snow from their windshields and windows, a lot of people don't think to brush it off the top of the vehicle, too. If you don't do this, any loose snow or ice to blow off and obstruct the view of another car behind you or cause a wreck.
No speeding
Of course, this goes without saying on the roads, no matter the conditions, but it's important to note that you shouldn't use cruise control during wintry conditions. Speeding is the number cause of wrecks in winter weather.
Bridges and overpasses
When driving, make sure to approach bridges and overpasses with extreme caution. The elevated surfaces are especially susceptible to frozen conditions, so watch for possible ice accumulation.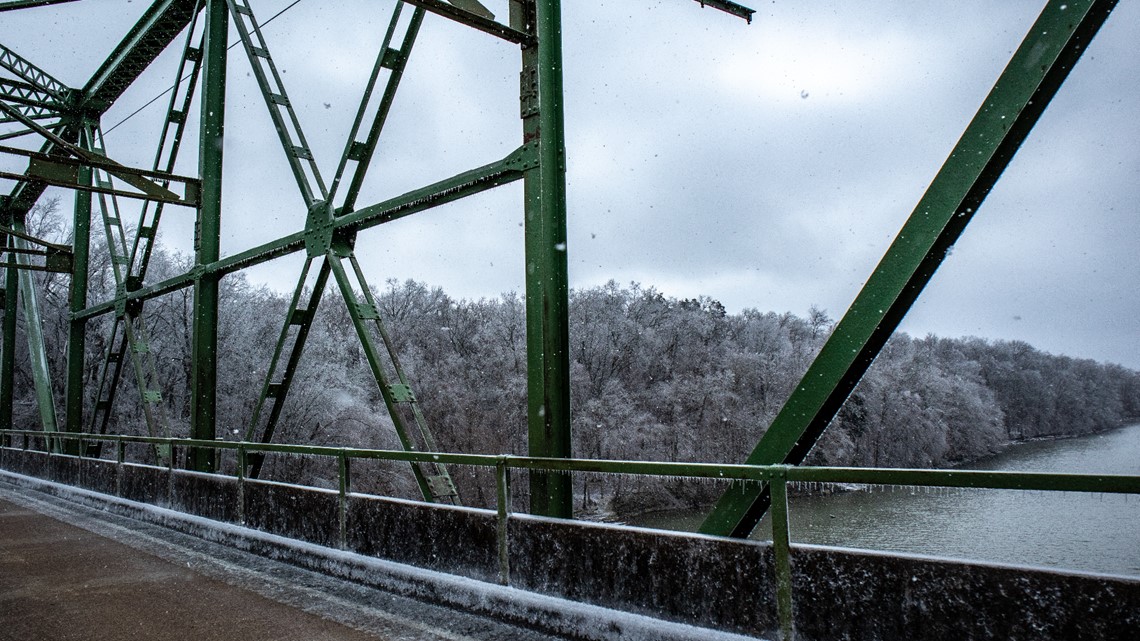 Vehicle emergency supply kit
Before another winter storm strikes, make sure your home and vehicle are properly stocked with items critical for your survival.
Cellphone charger
Blankets
Flashlight with extra batteries
First-aid kit
Knife
High-calorie, non-perishable food
Extra clothing to keep dry
Large empty can to use as an emergency toilet, tissues, toilet paper and paper towels
Small can and waterproof matches to melt snow for drinking water
Sack of sand or cat litter for traction
Shovel
Windshield scraper and brush
Tool kit
Tow rope
Battery booster cables
Water container
This may seem like an intense list, but you don't want to skip one step and that be the one item you really need when a disaster hits.
Winterize your home
Now that hurricane season is over, refresh some of the same items for your emergency weather supply kit at home. It's important to have these items in stock for emergency situations during the cold winter months.
A flashlight with extra batteries
A battery-powered weather radio to receive emergency updates
Extra non-perishable foods and bottled water. This water can be used for brushing your teeth, cleaning, etc.
First aid kit
Extra medicines and baby necessities
Emergency heating sources, such as a space heater, wood stove or fireplace.
In addition, be sure to install and check smoke and carbon monoxide detectors (the easiest way to remember is to do it when Daylight Saving Time happens twice a year). Caulk windows and doors, insulate exposed pipes, clean out the gutters, inspect your chimney if you use a fireplace to heat your home.
Burst pipes
The risk of pipes bursting increases during the winter months when there's a hard freeze. Pipes located in unheated areas of your home are typically most vulnerable such as in the attic, garage or basement.
To help keep the water running and your home dry, add insulation to the attic and basement, keep the garage door closed, allow water to drip from the faucet overnight, leave cabinet doors open so warm air can circulate. And if you're going to be away, leave the heat on and set the thermostat at a low temperature.
Downed trees/limbs
Sometimes with high winds, or heavy snow or even just intense rain, tree limbs or entire trees can fall.
If you see one that's fallen and is endangering people, you should call 911. If you see one that's fallen and just needs to be broken down or removed, call your city's 311 services. Or if you live in the Charlotte area, you can the CLT+ app or call 311 (704-336-7600 if calling from outside Mecklenburg County).
Protecting pets
Protect your furry family members during the cold temperatures. Make sure you can provide them warm shelter from freezing temperatures, wind and precipitation. Have enough food and water for them as well. In addition, if they show signs of shivering, provide them with a sweater.
While many people think of the necessities they'd need to keep themselves warm and fed during a disaster, sometimes pet owners forget to prepare for their four-legged friends, too.
Protect yourself
Dress in layers during the next three months when temperatures are near or below 32 degrees. Be sure to cover exposed skin when it's extremely cold or when the wind chill is a factor. If you encounter wet conditions along with cold temperatures and wind, change into dry clothes and seek shelter immediately. Be aware of the warning signs of frostbite and hypothermia.
Confusion
Shivering
Difficulty speaking
Stiff Muscles
Sleepiness
Report power outages
Blue Ridge Energy: There are three ways customers in Alexander, Ashe, Avery, Caldwell and Watauga counties can report power outages.
Call 1-800-448-2383
Text alerts. Customers can text START to 70216. From there, text OUT to 70216 anytime to report an outage. Text STATUS to check the status.
Duke Energy: To report a power outage to Duke Energy, call 1-800-769-3766. You can also report outages online by clicking here. The same number can be used to report downed power lines in your area.
Flight cancellations
With the recent advancements in technology, there's less of a threat that you'll need to wait it out at the airport when your flight is canceled due to winter weather if you're prepared.
Download the app for your airline and track your plane. This approach will provide you with real-time data and help you make decisions such as "Wait it out" "Re-book my flight" "Get a hotel room."