ATLANTA — We are in an active 3 day stretch in North Georgia. The 11 Alive StormTrackers are tracking waves of showers and storms that will impact the area.
The greatest threats tonight are for heavy rain, frequent lightning, and street flooding.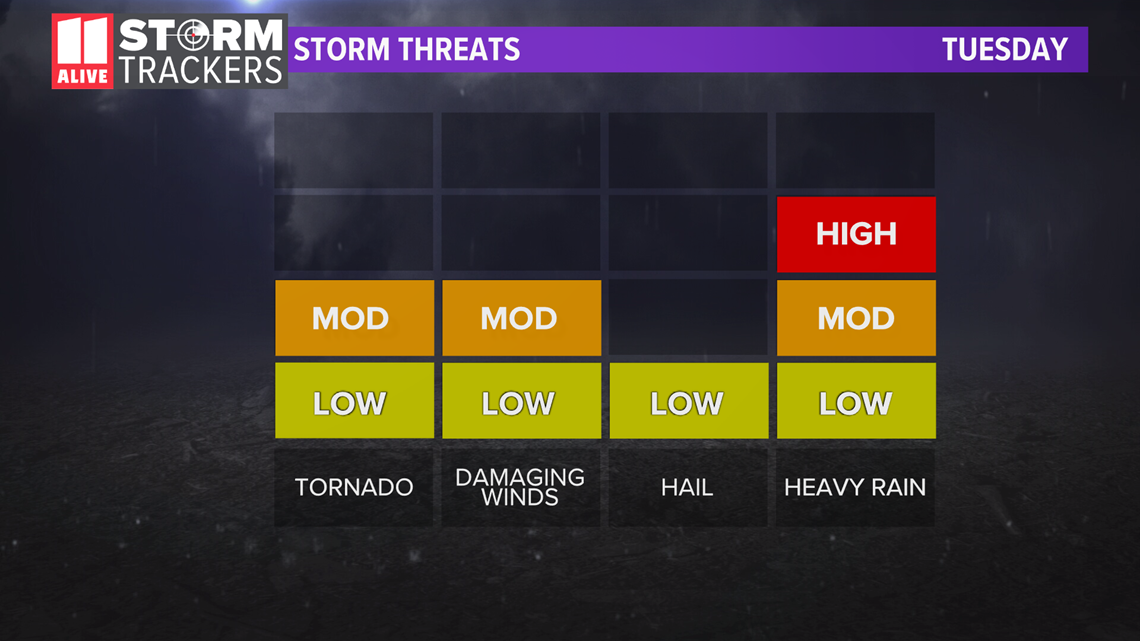 Between now and Wednesday, we'll focus on the potential for locally heavy rain and a few strong to severe storms. Here's what you need to know.
* Rounds of showers and storms will impact the area through Wednesday
* Some strong to severe storms are possible, especially Monday and Tuesday
* Damaging winds, isolated tornadoes and heavy rain is likely
Rain and thunderstorms will impact the area each day through Wednesday. Waves or rounds of showers and thunderstorms will move through the area during points in the day, but there will be dry hours at your house as well within that time frame.
Rain chances are highest on Tuesday at 80%, when we'll track numerous to widespread showers and thunderstorms. The afternoon to early evening look wettest with few breaks in the action.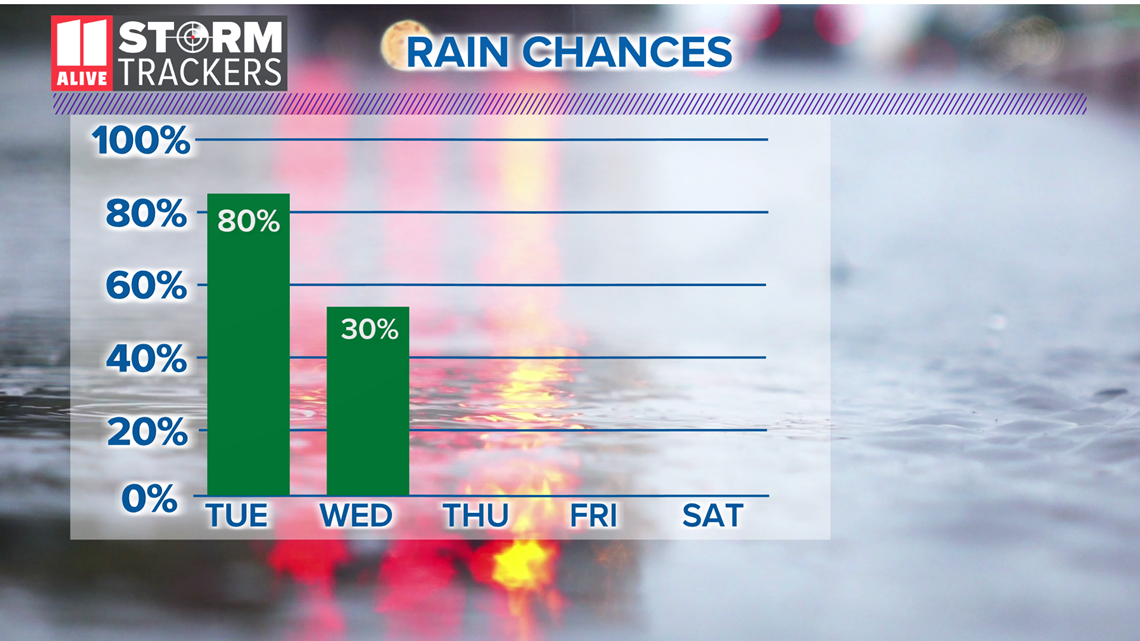 With plenty of humidity and warm temps to fuel storms, we will track the potential for strong to severe storms. Monday and Tuesday in particular will have a pattern favorable for strong to severe thunderstorms.
The Storm Prediction Center has metro Atlanta in a Level 2 out of 5 risk for Severe Storms on Monday. Damaging winds and isolated tornadoes are possible.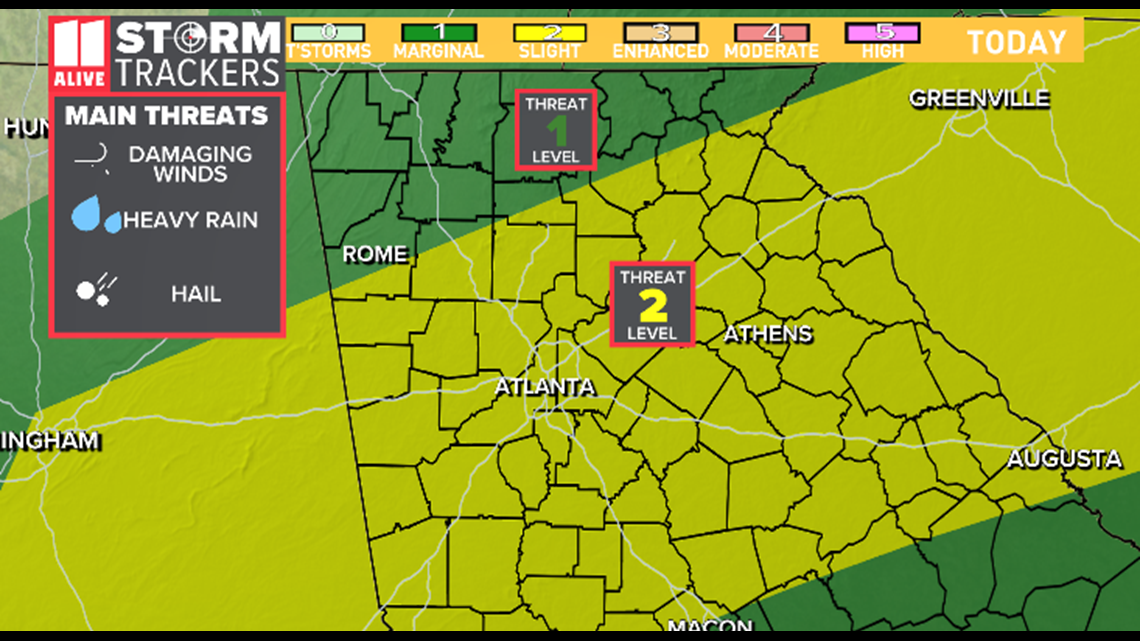 For Tuesday, the Storm Prediction Center has placed northwestern Georgia in a Level 3 out of 5 Risk for Severe Weather. The primary severe weather threat is damaging winds, isolated tornadoes and hail.
Even outside of the severe weather risk, storms will bring heavy rain and lightning.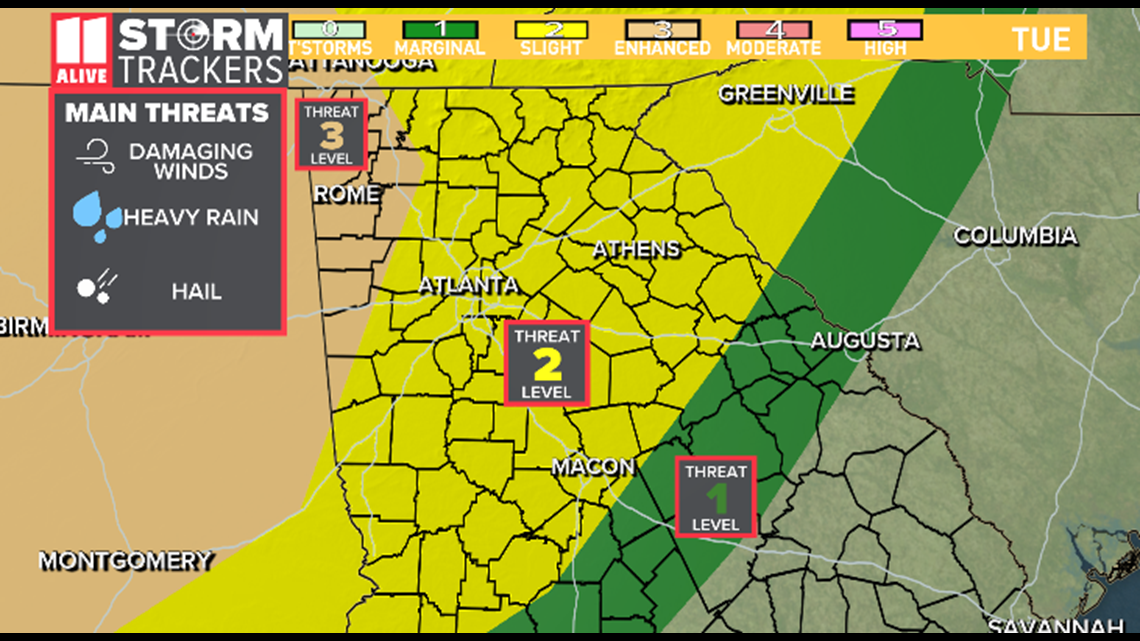 Storm threats include damaging winds, isolated tornadoes, and hail in addition to heavy rainfall
Rain totals between the three days could range from 1 to 4 inches. With multiple rounds of heavy rain likely, the concern for some flash flooding will increase.
The greatest flood risk will be across far northern Georgia on Tuesday, where the highest rain totals are possible.
Exact timing of showers and storms will change as we go through the coming days, but the following images shows the general coverage of storms each day.
Monday morning - Scattered showers, isolated storms

Monday Afternoon to evening - Scattered showers and storms with locally heavy rain
Tuesday Morning - Showers and storms, especially late. Some heavy rain possible.
Tuesday Afternoon and Evening - Widespread showers and storms with heavy rain likely. Some could be strong to severe.

Wednesday - More showers and storms ahead of a cold front. Clearing late day.