CHARLOTTE, N.C. — At least two people died after a line of powerful storms ripped across the Charlotte area Friday afternoon, bringing heavy rain, strong winds and possible tornadoes to the Carolinas.
The line of severe storms moved west to east across the Carolinas around 3:30 p.m., when heavy rain, damaging winds and possible tornadoes. The storms moved into the Charlotte metro by 4 p.m. with widespread damage in south Charlotte.
Emergency Management officials in Lancaster County responded to a crash on Small Street near Springdale Road around 4:30 p.m. When officers got to the scene, they found a utility pole and tree were uprooted by winds and fell onto a truck. The driver, identified as 57-year-old Joe Dale Humphries of Lancaster, was pronounced dead at the scene. The investigation is being conducted by South Carolina Highway Patrol.
Medic confirmed the second death after a tree fell on a home on Idlewood Circle near Freedom Park. Medic said the victim was pronounced dead at the scene. A second person was taken to a hospital with life-threatening injuries.
As of 8:15 p.m., Duke Energy was reporting over 80,000 customers without power across the region. In Mecklenburg County alone, 55,000 customers were without service.
Numerous tress down across the area
WCNC Charlotte viewer photos across the Carolinas saw the aftermath of the damaging winds: trampolines blown into tree lines, toppled trees, and flooded backyards.
Text your severe weather photos to WCNC Charlotte at 704-329-3600.
(Standard text message or data rates may apply; and your multimedia may be used on-air or online by Tegna.)
Visibility was greatly reduced as the severe storms moved through the region.
The winds inside the thunderstorms were so intense that WCNC Charlotte Chief Meteorologist Brad Panovich repeated suggested: "Even if there's not a tornado warning, treat these Severe Thunderstorm Warnings as tornado warnings."
The environment struggled with the intense rainfall rates after days of prolonged rainfall.
Water run-off from roads to rivers and creeks were met with already high-water levels because of the week's rainfall accumulations.
Outside Atrium Health's Carolina Medical Center near Charlotte, Little Sugar Creek surged to flood the greenway.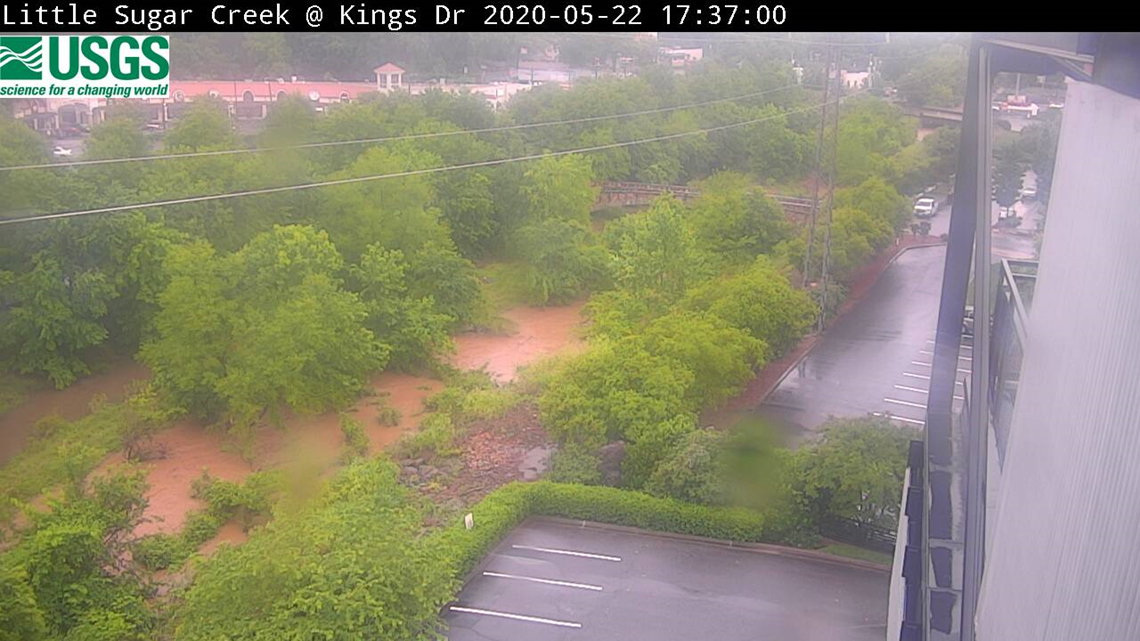 Was there a tornado?
The National Weather Service will be investigating storm damage and radar data to determine if any of the severe storms produced tornado touchdowns Friday.
Numerous tornado warnings were issued as thunderstorms rotated through the region, including in Mecklenburg, York, and Chester counties.
At times, Panovich and the First Warn storm team could see on radar where possible debris was being lofted into the air.
One of those locations was Gaston County, were emergency management reported numerous trees down, especially near Crowders.
In nearby York and Cherokee counties in South Carolina, more trees down: A possible tornado uprooting large trees near Blacksburg, South Carolina.
As that circulation moved east, the tornado warning was extended into Mecklenburg County, where officials were still reviewing damage.
One Charlotte neighborhood hit hard was Dilworth, where some of the city's largest and oldest trees were no match for the damaging winds.
Communities as far north as Northlake, and southward into South Carolina, experienced damaging winds.
In Union County, North Carolina, trees were blocking Providence Road South.
In Lancaster County, South Carolina, power lines and trees were reported down across the county, according to 911 operations officials.
In Chesterfield County, trees down on Highway 265 about one mile east of Jefferson near Fork Creek.
More damage reports were expected as the region as officials began further storm assessments.
Severe weather moves east
By 5:30 p.m., the last of the severe storms moved out of Charlotte, leaving behind lingering showers and flooded roadways. An Areal Flood Advisory issued for parts of Cabarrus, Gaston, Mecklenburg, and Union counties were storm runoff was running high.
Earlier live blog
What follows is a timeline of our earlier live blog coverage from the height of Friday's severe weather.
Tornado Warning for Chester County
A Tornado Warning has been issued for Chester County, South Carolina until 5:15 p.m.
Severe Thunderstorm Warning for most of Charlotte metro
A severe thunderstorm capable of producing damaging winds over 60 mph is moving through Mecklenburg County and the Charlotte metro.
Tornado Warning extended in Mecklenburg County and uptown Charlotte
The National Weather Service has extended the tornado warning into Mecklenburg County, including Charlotte Douglas International Airport and uptown Charlotte, and additional parts of Gaston County, including Gastonia and Belmont.
The current warning will continue until 4:30 p.m. and could be extended.
Tornado Warning for York, Gaston, Cleveland, and Cherokee counties
A Tornado Warning has been issued for northern York, southern Gaston, southeastern Cleveland, and parts of Cherokee counties until 4 p.m.
The severe thunderstorm is capable of producing a tornado and damaging winds as it moves east at 40 mph towards the Charlotte metro.
Locations inside the warning include, but are not limited to:
Crowder's Mountain
King's Mountain
Bowling Green
Clover
Severe Thunderstorm Warning: Cleveland County, North Carolina
A Severe Thunderstorm Warning has been issued for upstate South Carolina, and the southern portion of Cleveland County, North Carolina.
The warning goes until 3:45 p.m., and could be expanded as the line of severe storms move east at 40 mph. The storms are capable of producing damaging winds and damaging hail upwards of one inch.
The same line of storms cause limbs to blow off of trees as it moved through Greenville County, South Carolina.
Threat of bowing line of storms
WCNC Charlotte First Warn Storm Team Meteorologist Chris Mulcahy says a forecasted "bowing" line of thunderstorms "shows that damaging straight-line winds are a legitimate concern."
Futurecast radar and weather models show the line of storms moving through Charlotte after 5 p.m. and throughout the region between 4 and 7 p.m.
Severe Thunderstorm Watch issued
1:20 p.m.: The National Weather Service has issued a Severe Thunderstorm Watch for Charlotte. The counties under the watch include, but are not limited to:
Mecklenburg
Burke
Cleveland
Iredell
Rutherford
Cabarrus
Lincoln
Uion,
Catawba
Gaston
McDowell
Rowan
York
Chester
Chesterfield
The Severe Thunderstorm Watch means conditions are favorable for the development of severe thunderstorms through 8 p.m.
A Severe Thunderstorm is defined as a storm producing 60 mph damaging winds and/or 0.75" size hail, which is equivalent to a quarter coin.
"Atmosphere in vicinity of the stalled front should continue to destabilize with visible satellite imagery showing mostly clear skies across much of the Carolinas," a forecast bulletin from the National Weather Service's Storm Prediction Center. The bulletin came as forecasters prepared to issue the Severe Thunderstorm Watch.
The communities should monitor the weather. Individuals should make sure they have multiple ways to receive severe weather warnings from the National Weather Service, including access to a weather radio, the WCNC Charlotte mobile apps, and other resources.