CHARLOTTE, N.C. — With severe weather season now bearing down on us, now is a good time to brush up on how meteorologists measure how powerful such storms can become.
When discussing severe thunderstorms across the nation, you will hear the First Warn Storm Team refer to convective outlooks from the National Weather Service's Storm Prediction Center in Norman, OK.
They issue these outlooks on an ongoing basis using a sliding scale of categories of risk for severe weather.
A severe thunderstorm is defined as a storm that produces one or more of the following:
a tornado
winds of 58 mph or greater
1-inch diameter hail or larger
But what about those risk categories? What defines the difference between a "marginal" risk and a level just a step up?
When you look at a TV map or one produced by the Storm Prediction Center, see if your area is outlined by one of these risks. If you happen to be in an area, know there is the potential for severe weather within 25 miles of your location.
All of them are based on probability, meaning the higher the risk, the greater the probability -- which is not always a guarantee -- of severe weather
A marginal risk means isolated severe storms are possible, with the threat of isolated damaging winds, small hail and maybe a tornado. A slight risk ramps up the probability, with more storm reports.
The enhanced risk notes more numerous or widespread severe storms -- some of those can be intense.
Moderate and high risks are issued less infrequently as these are reserved for the most intense severe-weather events. Except long-lived storms, including a tornado outbreak or a derecho, which is a meteorological term for a line of intense, fast-moving thunderstorms with destructive winds.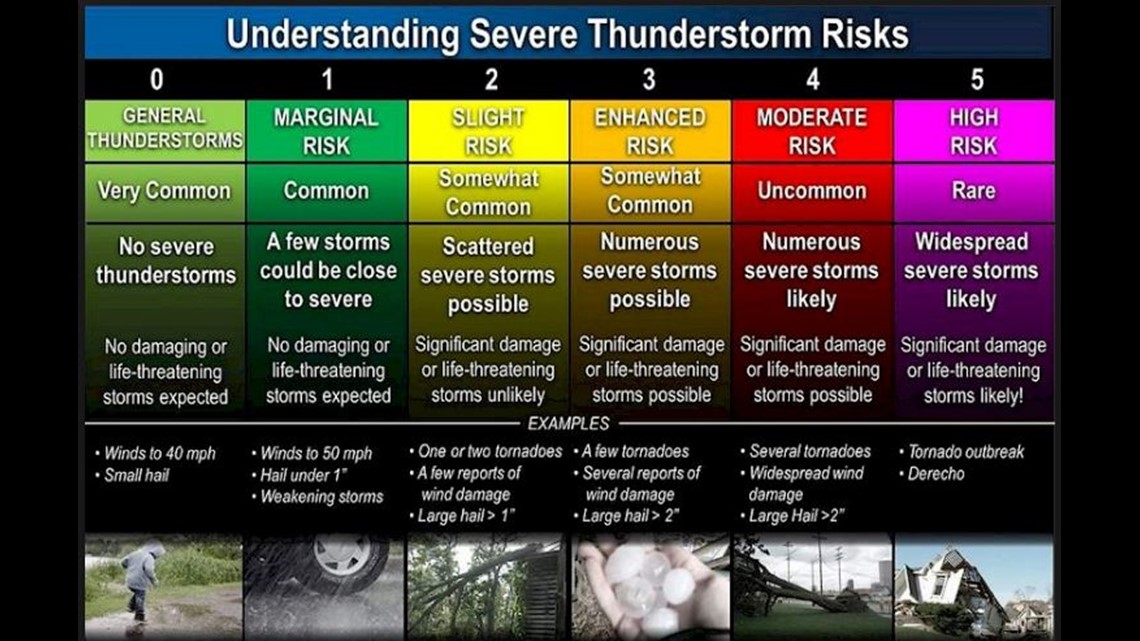 Let these categories be your guide.
The NBC Charlotte First Warn Storm Team will have ongoing updates every day and be your guide to severe weather in the Charlotte area and all of the Carolinas.