WASHINGTON — Sept. 10 is the peak of hurricane season in the Atlantic Ocean Basin. What does that mean? It means looking at the climatology or history of past hurricane seasons -- the frequency of named storms is at its high point Sept. 10.
The chart below shows the frequency of both hurricanes and all tropical named systems based on a 100-year average. September tenth is our season peak -- but on average, the following 4 - 6 weeks afterwards can also be quite active. On any given year, there's about a 50 percent chance that there will be a hurricane on the Atlantic basin on Sept. 10. Only four percent of hurricanes develop in the month of June on average, with six percent as the July average. The average jumps to 29 percent in August, 36 percent in September and a respectable 19 percent in October.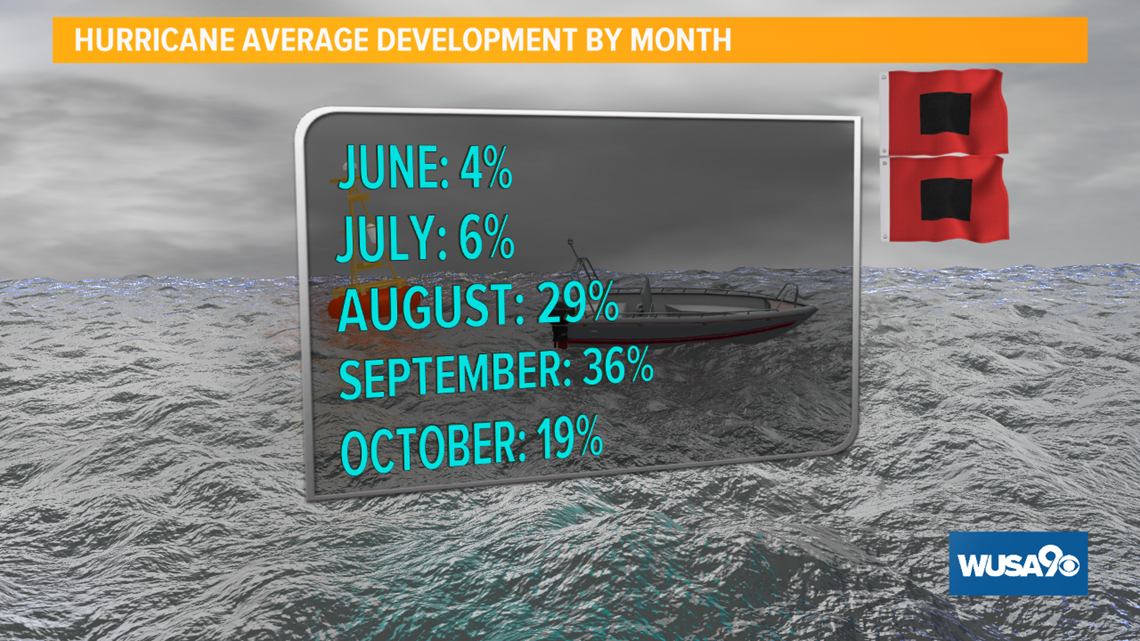 3 of D.C.'s Highest Impact Hurricanes
In the section below -- see more about 3 of the highest impact past named tropical systems to impact the DMV -- Hazel in 1954, Agnes in 1972, and Isabel most recently in 2003.
Hazel made landfall as a Category 4 hurricane with maximum sustained winds of 135 mph on Oct. 15, 1954 along the North Carolina and South Carolina border. It was a quick moving storm and raced inland northward. Because the storm moved so quickly, damaging winds stretched inland for hundreds of miles. Significant storm surge as high as 18 feet occurred along the coast near landfall. There was also storm surge in the Chesapeake Bay.
Wind records from Hazel 65 years ago still stand. In the district, the peak wind gust at National Airport was 98 mph. This is still the district's all time record highest wind gust. As you can imagine, damage was widespread. Trees littered the ground all over the DMV. Below are two photos of tree damage from both the White House and the U.S. Capitol Building.
Although Agnes was a minimal Category 1 hurricane at peak intensity, it was a tropical storm when it impacted the Mid-Atlantic region. After making landfall, Agnes quickly weakened and its remnants brought prolific amounts of rainfall and flooding to the Mid-Atlantic region. Multiple June rainfall records were set from Virginia to New York.
In the D.C. metro region, Agnes brought a total of nearly 8.2 inches of rain to National Airport (with 6.11 inches falling on June 21) while Dulles Airport in nearby Sterling, Virginia, saw a storm total of 13.65 inches (including a daily record of 10.67 inches of rain on June 21). This copious rainfall flooded an untold number of roads and washed away some area bridges.
The Potomac River at Little Falls crested more than 12 feet above flood stage, according to the U.S. Geological Survey.
As bad as the flooding was in the nation's capital, it was even worse in Pennsylvania where it caused a dike to breach in Wilkes-Barre that almost destroyed the entire town.
Hurricane Isabel made landfall in North Carolina as a Category 2 hurricane on Sept. 18. It tracked west of the district as it weakened and brought the D.C. metro area a significant amount of heavy rain and gusty winds. Over one million power outages were observed around the nation's capital, with significant coastal flooding in Old Town, Alexandria in Virginia and in Annapolis, Maryland.
The highest tide in Annapolis reached 7.58 feet above normal, breaking the 1933 hurricane record. Flooding in Georgetown reached 11.3 feet above normal and that also broke the 1933 hurricane surge record.

Isabel left about $5.7 billion in U.S. damages in 2003. One million customers were without power in the DMV that on average took 3 to 4 days to restore.