CHARLOTTE, N.C. — This week has brought some of the coldest weather in the Charlotte area this season and it makes sense because we're in the "dead of winter" for the Carolinas.
But what exactly is the "dead of winter," and when does it happen in the Carolinas?
What is the Dead of Winter?
Simply put, the dead of winter is the coldest part of winter. And for most of the United States, that means mostly the month of January.
December, January and February are classified as the winter months in meteorology which are also the coldest. Based on the 30-year average in Charlotte, January averages out to be the coldest month by 2.6 degrees.
December: 44.7
January: 42.1
February: 45.7
Getting more specific
Jan.10-17 is Charlotte's coldest period. Which would be its technical dead of winter.
During this eight-day stretch, the average temperature is 41.7 degrees. That's 0.7 degrees colder than Jan. 1 and 1.3 degrees colder than Jan. 31.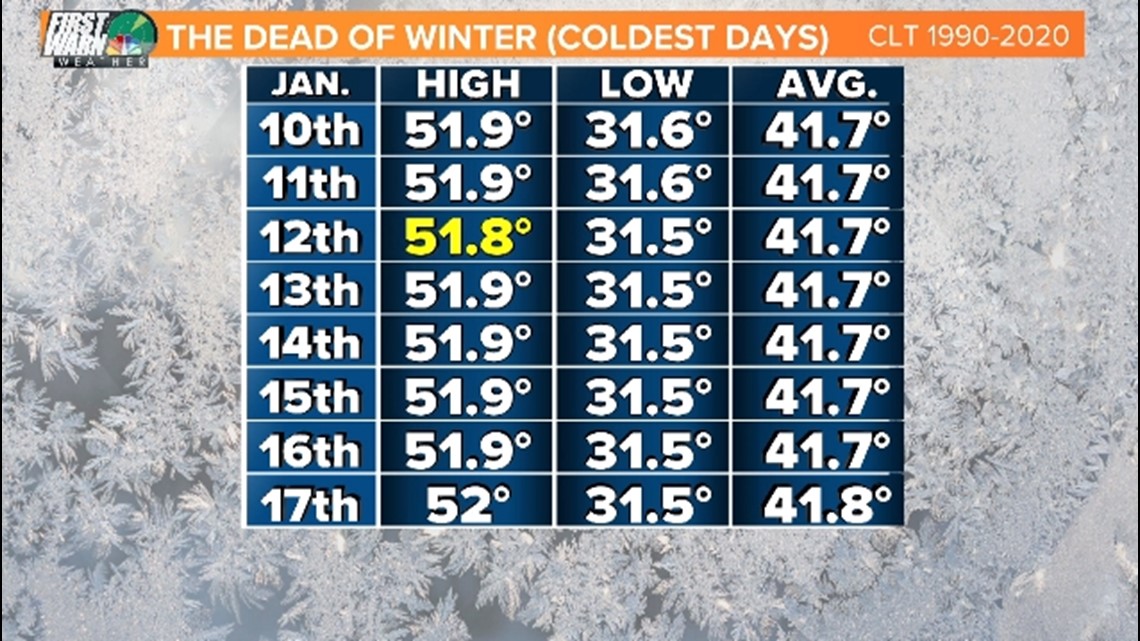 The average temps don't move much in January. Average highs move once from 52 to 53 degrees by Jan. 24. And the lows stay within a few tenths of 32 degrees all 31 days.
What is the coldest dead of winter day?
Looking over the last 143 years in Charlotte, there's one day that has typically been the coldest of winter.
These are the three coldest days by average temp. Jan. 4 wins the title by a tenth of a degree. But over the more recent 30-year average, Jan. 12 has the coldest average high temperature.
Jan 4 41.0°
Jan 13 41.1°
Jan 15 41.15°
So, essentially the dead of winter is January here because it averages out to be the coldest month by far! But that doesn't mean the coldest temperatures always occur during this time. There is a slight buffer zone.
The coldest low temperature on record in Charlotte was minus 5 degrees back in January 1985.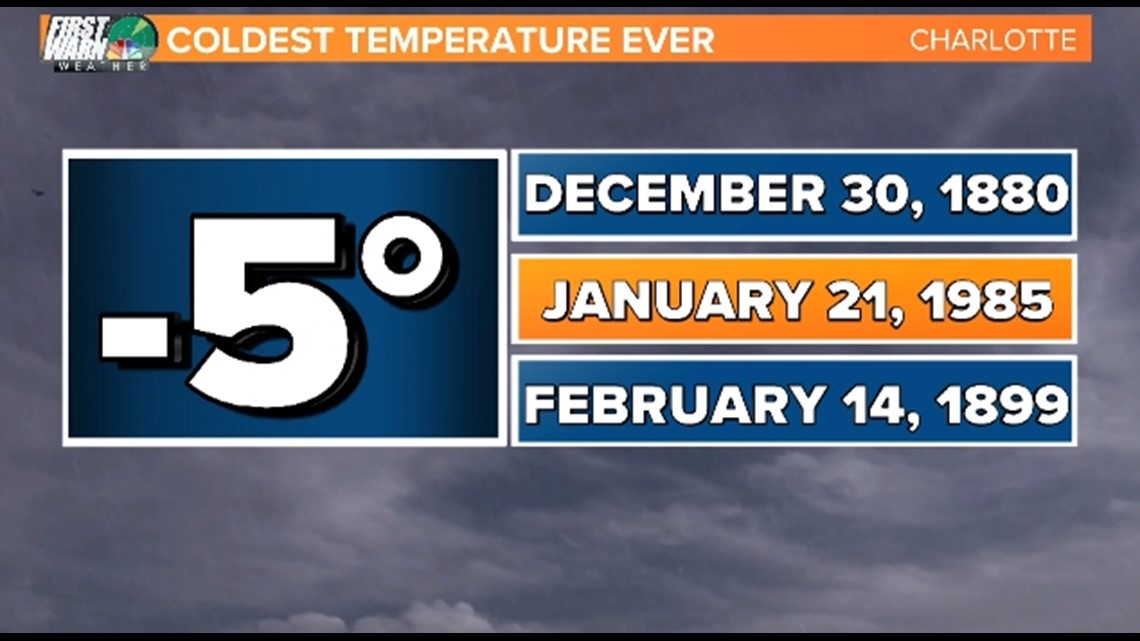 This record also happened two other times in December in February. However, January owns three of the five negative temperatures on record in Charlotte.
All of WCNC Charlotte's podcasts are free and available for both streaming and download. You can listen now on Android, iPhone, Amazon, and other internet-connected devices. Join us from North Carolina, South Carolina, or on the go anywhere.