CHARLOTTE, N.C. — A strong coastal storm is setting up across the Deep South this weekend.
The storm is expected to bring heavy rain, gusty wind, and coastal flooding from Charleston all the way to the Outer Banks. This will include the flooding of roadways and structures in low-lying areas.
Impact of the wind on tides and flooding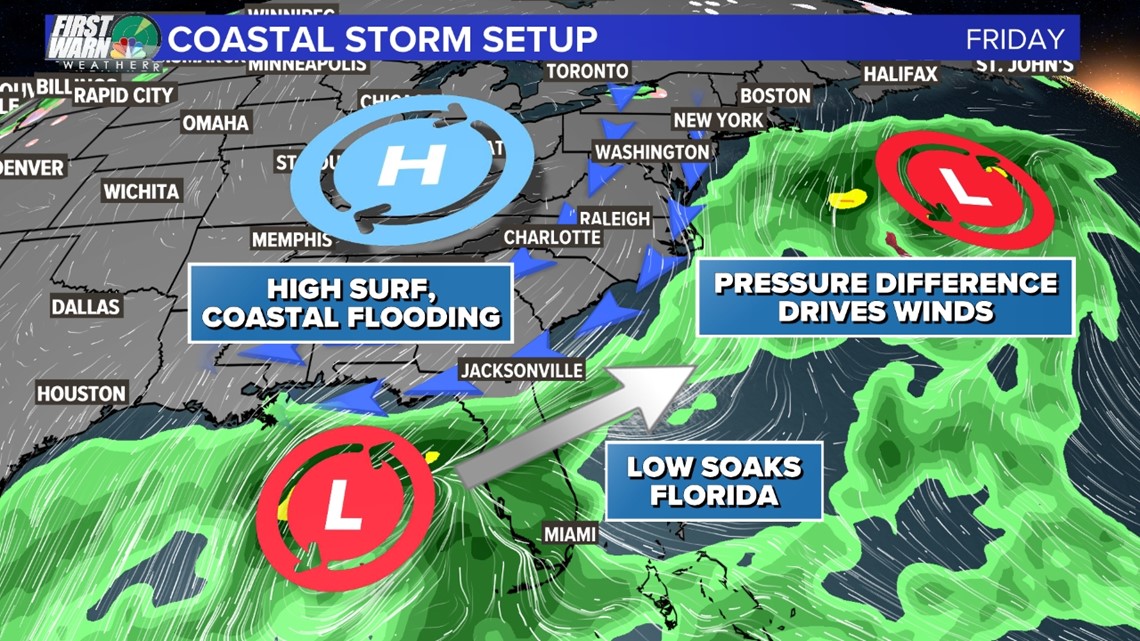 A high-pressure system is building over Ohio Friday. There's a low-pressure system off the New England coast and another sitting in the Gulf of Mexico. This difference in pressure between the high- and low-pressure systems will drive northeast winds through the southeastern states. Those winds will continue through the weekend.
As the system over the Gulf of Mexico moves along the Carolina coast, it will begin to push winds onshore. This will push water onshore and cause coastal flooding.
Winds are forecast to be 45- to 65-mph, which would be similar to winds observed during a tropical storm.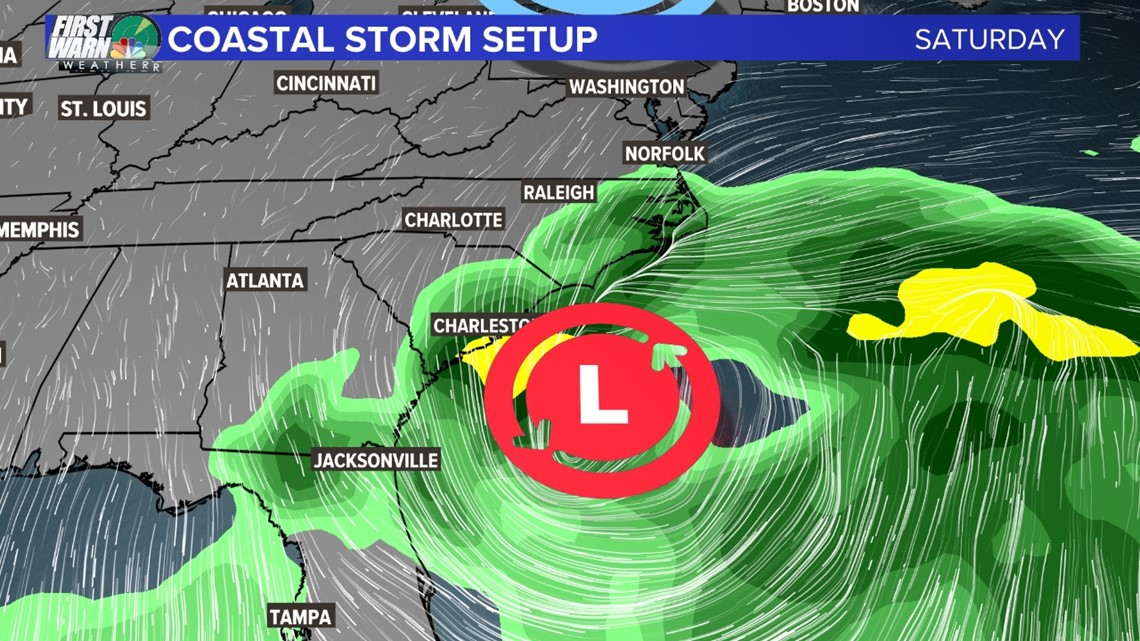 Impact of the moon on tides and flooding
The impact from flooding will be amplified because of the moon.
Regardless of storms, tides were already forecast to be high because of this weekend's supermoon, which occurs when the moon is in its new moon phase and makes its closest approach to Earth.
Impacts of flooding
The moon combined with the winds is driving the major flood threat.
The National Weather Service has already issued a Coastal Flood Advisory for parts of the North Carolina coast. It is likely the advisory will be expanded to more of the Carolina coast -- and also possible Coastal Flood Warnings could be issued as some areas reach a major flood stage.
One such location forecast to reach a major flood stage is Charleston, where tides in the Charleston harbor were forecast to peak at 8.6 feet Saturday morning.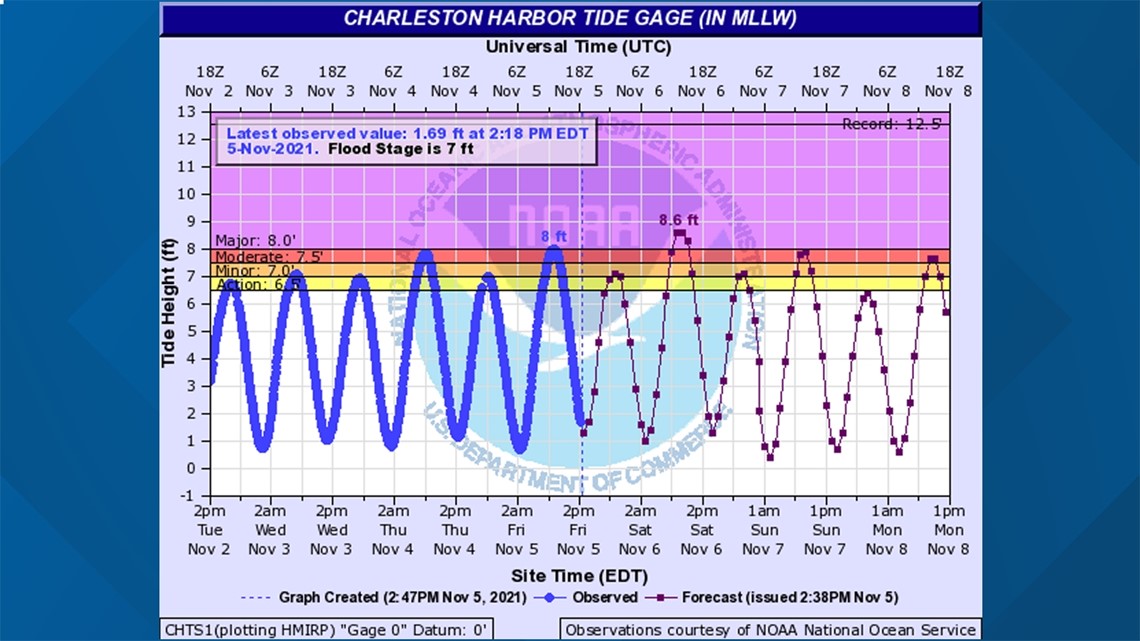 Coastal storm to bring rain to the weather forecast
Heavy rain is expected Saturday as the low-pressure system tracks across Florida. As the storm tracks over the western Atlantic Ocean waters locations like Charleston, Myrtle Beach, Wilmington, and the Outer Banks could see a soaker.
Rainfall totals will remain steady from 3 - 4 inches near the coast with isolated higher totals.
This will only add to the flood threat brought on by the winds and tides.
The furthest reaches of the storm could bring upwards of a quarter-inch of rain to the Charlotte metro area -- especially in places like Union County which is south and east of Charlotte.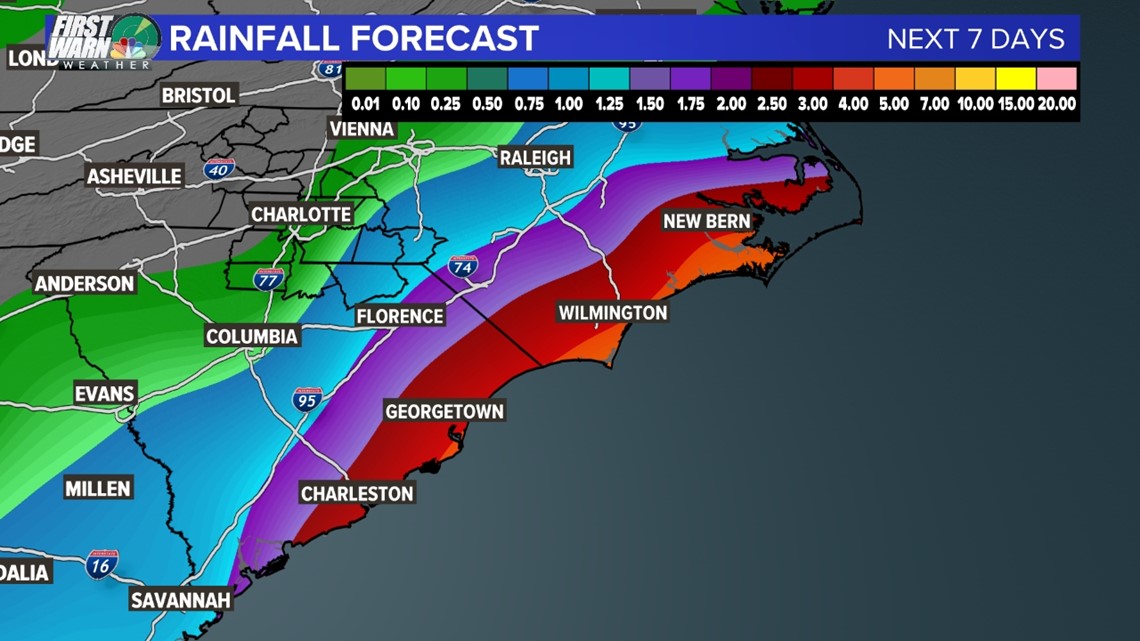 One of the most interesting parts of this weather setup is that it mirrors what's called a "Miller A Nor'easter". Historically, these hit the Mid-Atlantic states the hardest. If we were to get a similar storm in January or February, oftentimes, it's the perfect storm for snow in the Queen City.