NASCAR is at the mercy of Mother Nature on race day, with 36 races annually spanning spring, summer, and fall.
Former NASCAR driver Jesse Little says it's critical to keep your cool when temperatures spike.
"It's grueling in a sense of trying to stay focused for that long in that kind of environment, where things are happening very quickly, and the adrenaline is there," Little said. "You try to do a really good job of hydrating and making sure your body is ready for that time to try and compete for five or six hours."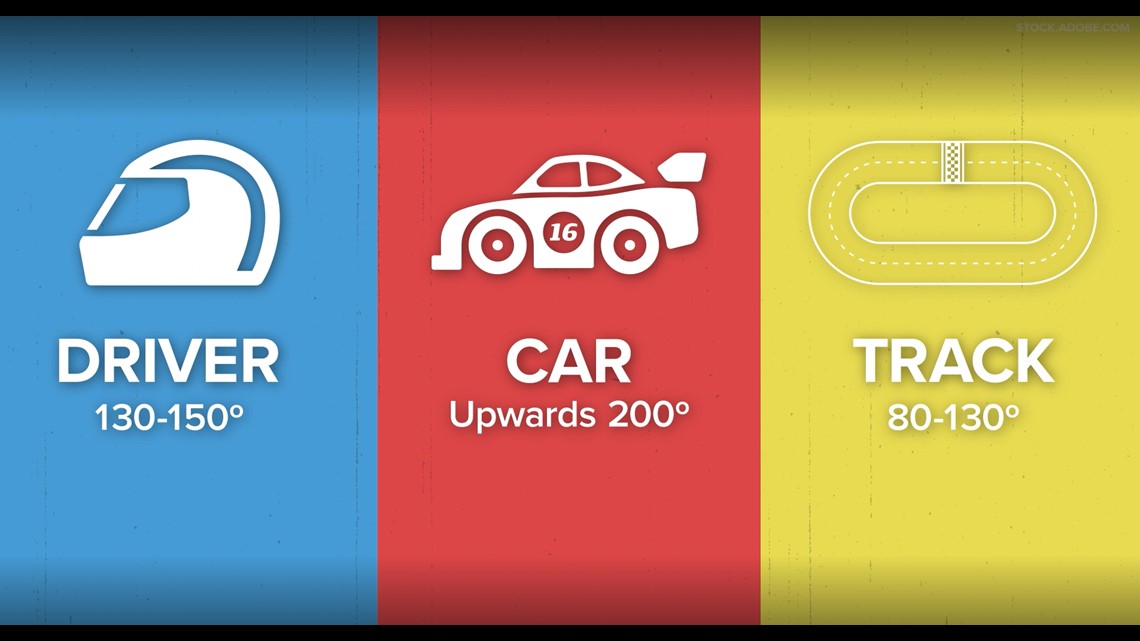 Here is how temperatures break down for the three components of NASCAR: the driver, the car, and the track.
The "DRIVER" can experience temperatures inside the car of 130 to 150º
The "CAR" with temperatures of the tires at 200º
The "TRACK" temperature can reach 130º
Little said drivers rely on an air conditioning process through the helmet and cool suits.
"It takes air traveling around the vehicle on the outside. It'll funnel it through a hose, and that tiny hose will be fed to a NACA duct onto our helmet that has little, tiny openings that will blow down on top of the head and give that fresh air feeling," Little explained.
Keeping track of the wind direction and track conditions is part of the strategy to win the race.
"With the cloud coming over and covering part of the racetrack, you can feel physically this track turns three and four are colder than turns one and two," Little said referring to Charlotte Motor Speedway.
Position on the track can be an advantage for drivers.
"The hotter the surface, or the hotter the tire, the less grip the vehicle will have, the more sliding around it's going to do," Little explained. "Sideways, front and back. And as the sun sets and as the temperature cools off, that's when the track will pick up speed, pick up grip and that's all because temperatures are coming down on track surface and tire temperature."
Although rain is not ideal for NASCAR, road courses can handle light rain once the cars are outfitted with rain tires, wipers, and mud flaps.
According to NASCAR's weather policy, if the race is at its halfway point when inclement weather strikes, NASCAR will end the race and declare the winner. However, if it's just a brief shower the race will continue after a weather delay.
And lightning detected within 8 miles of the racetrack will cause a weather delay until 30 minutes after the last lightning strike.