CHARLOTTE, N.C. — Tis' the time of the year that everyone "Falls Back" and returns to standard time.
So let's learn more about daylight saving time.
Nov. 7 at 2 a.m. officially ends 238 days under Daylight Saving Time. That means it lasts for 34 weeks or over 65% (65.4%) of the year.
Daylight saving time history and Ttmeline:
The idea of changing clocks was first mentioned by Ben Franklin, but the modern idea was credited to a man named George Hudson in 1895.
DST was first used here in the United States in World War I in 1918 for 7 months to conserve electricity. That's its main purpose, to conserve energy.
It came back again in 1942 for more than half of WWII. It lasted all year long and was called WAR TIME.
Later in 1966 The Uniform Time Act set an official beginning and end time to Daylight Saving Time.
In 1973, the Emergency Daylight Saving Time Energy Conservation Act extends DST to 8 months and saved millions of barrels of oil
In 1986, The beginning of daylight saving time was moved to the beginning of April
2007, the Energy Act voted two years prior which moved DST to its current time starting in early March and moved the end to after Halloween into early to mid-November.
FACT: Hawaii and Arizona are the only two states that do not change their clocks.
Sunrise, sunset and day length changes going forward.
Obviously, we gain an hour by turning our clocks back from 2 a.m. to 1 a.m. But physiologically this messes with our brains.
Our sunrise time goes to 6:50 and our new sunset time is 5:22 p.m. under 10 hours and 32 minutes of daylight.

A month later we lose 40 minutes of daylight
The 5:10 p.m. sunset time is the earliest sunset in Charlotte. From this date, the sunset time slowly gets later and our sunrise time doesn't start getting earlier until mid-January.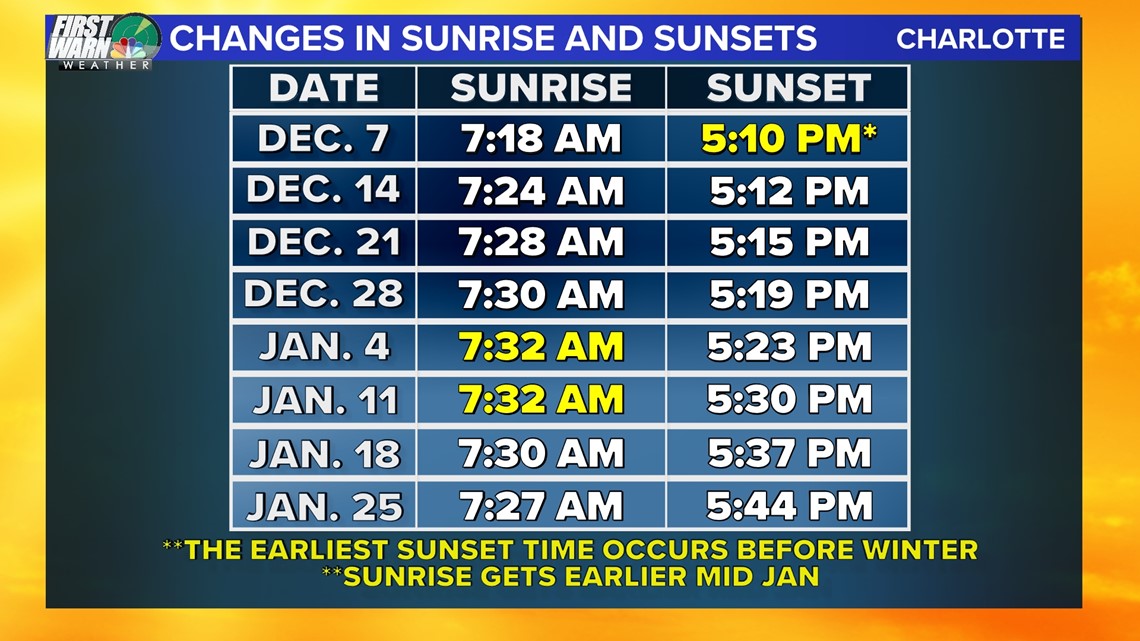 Welcome back to standard time everyone.
All of WCNC Charlotte's podcasts are free and available for both streaming and download. You can listen now on Android, iPhone, Amazon, and other internet-connected devices. Join us from North Carolina, South Carolina, or on the go anywhere.