CHARLOTTE, N.C. — To better prepare and react to winter weather alerts, the WCNC Charlotte wants to help you understand these bulletins issued by the National Weather Service.
The potential for accumulating snow, sleet, and ice will prompt the following alerts to be issued by the local National Weather Service office. They can then be seen on local television, radio, and apps, including the WCNC Charlotte app.
Winter Storm Watch
As confidence in the potential for winter weather builds for a certain area, a Winter Storm Watch is issued as conditions become favorable for snow, sleet, or ice accumulation.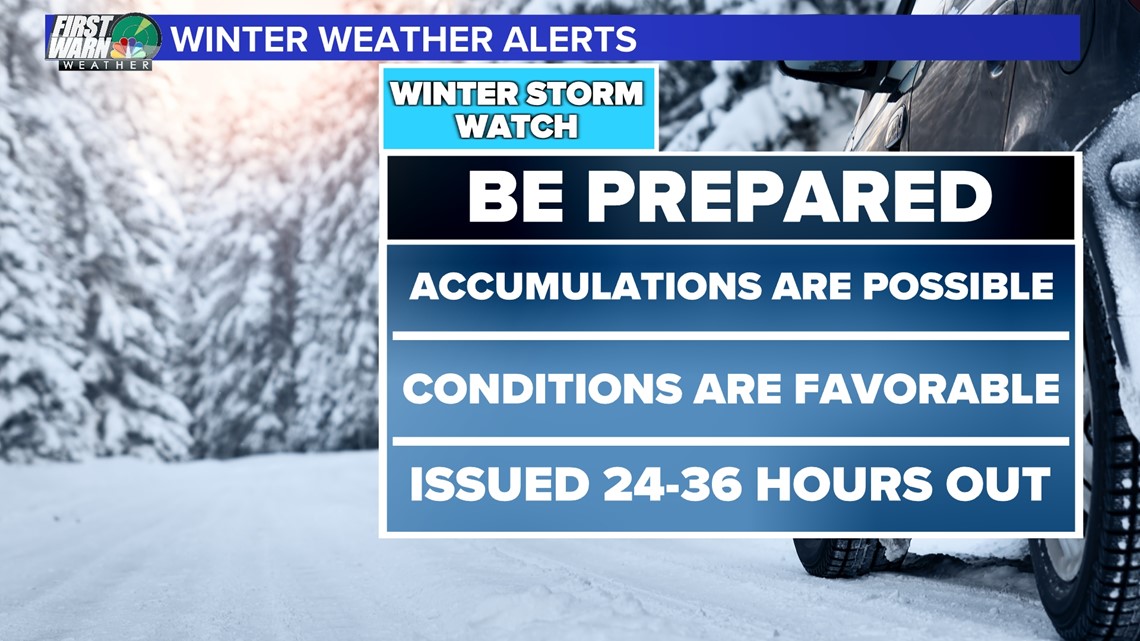 The goal is to ensure most people at risk are prepared for a hazardous winter storm event. A watch provides people with advanced notice upwards of 24 to 36 hours before the storm hits. Winter storm watches may even be issued 48 hours out.
Winter Weather Advisory
A Winter Weather Advisory your time be aware of the potential for light wintry precipitation. Blowing snow, slick roads, and minor travel difficulties would be possible. However, this particular advisory doesn't typically pose any threat to life or property.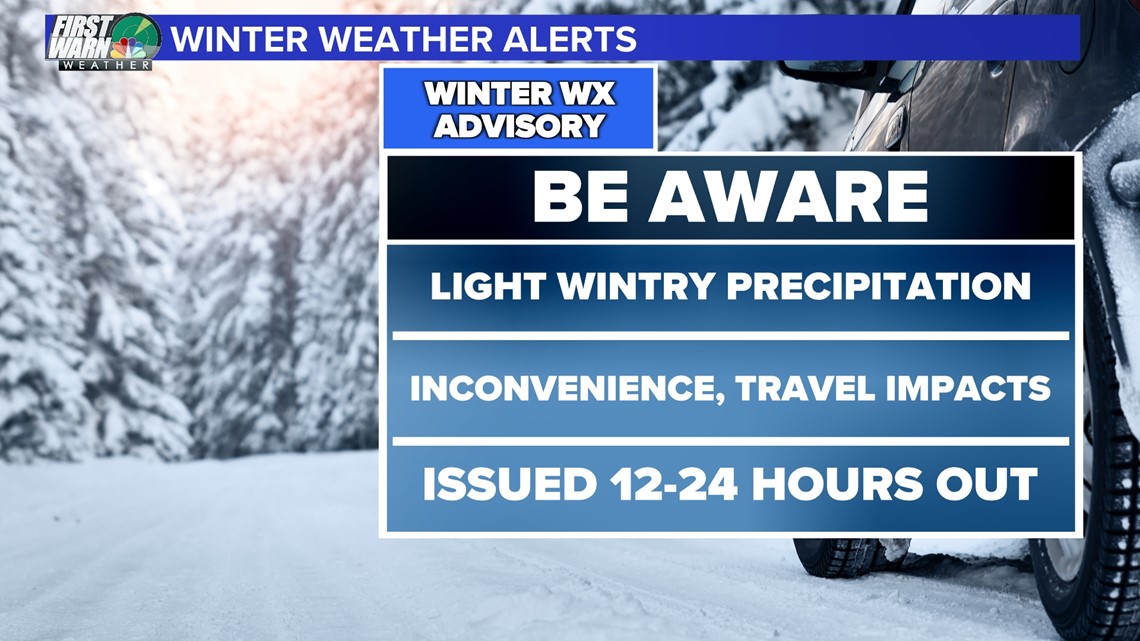 On the other hand, the advisory can be a huge inconvenience to your day-to-day routine. Winter weather advisories are usually issued 12 to 24 hours ahead of the storm. Sometimes an advisory for winter weather is issued 36 hours before the storm moves into the area.
Winter Storm Warning
It's time to take action when you're notified of a Winter Storm Warning. This is when heavy snow, sleet, or ice are likely to cause significant problems to a specific area. In most cases, travel is delayed and strongly discouraged especially as road conditions worsen.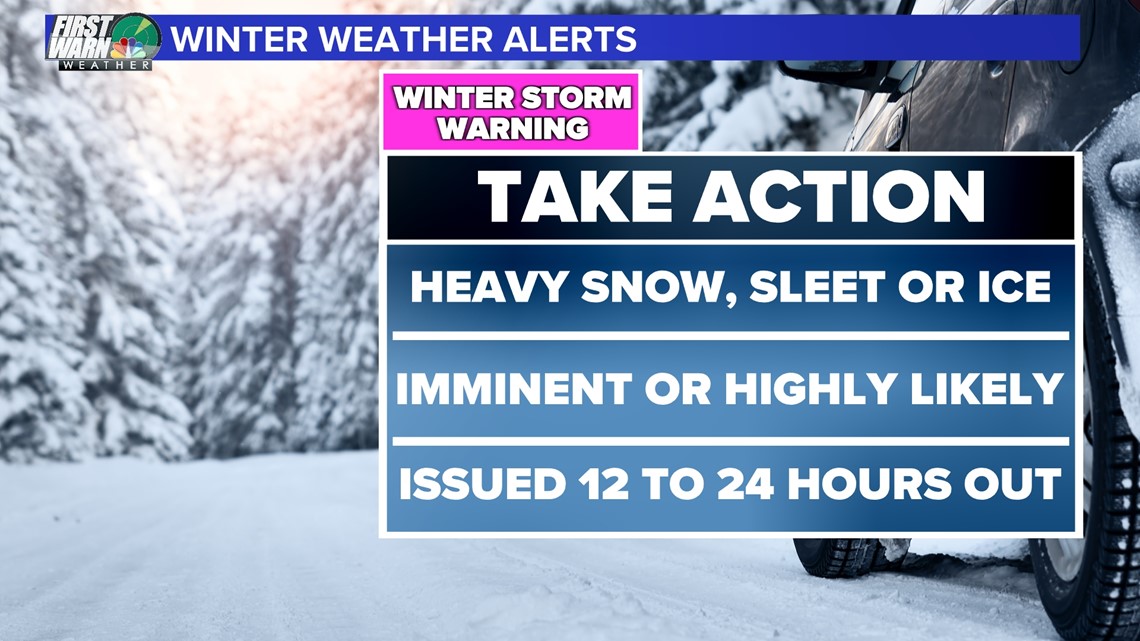 The warning is issued when wintry weather is happening, imminent, or highly likely for the area. Winter storm warnings are usually issued 12 to 24 hours ahead of the storm and sometimes up to 36 hours beforehand.
Ice Storm Warning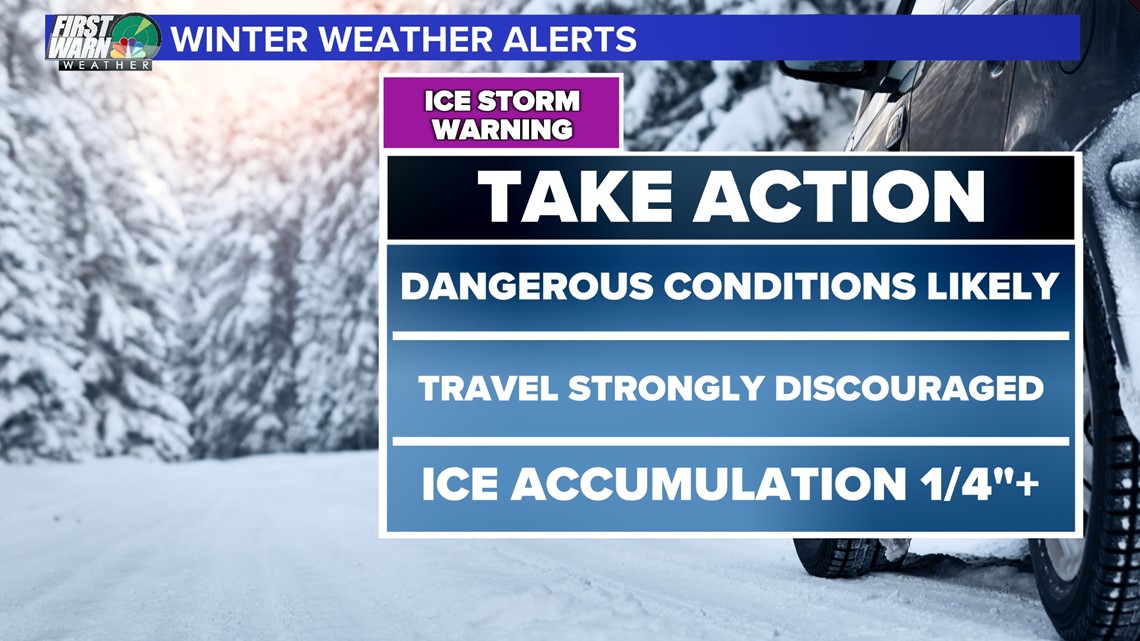 With any mention of ice in the forecast, be prepared and ready to take action because accumulating ice starting at a quarter-inch or more would cause damaging impacts. Downed trees, icy roads, and power outages are all likely outcomes when you consider ice accumulation.
Unlike a Winter Storm Warning, which is issued when there is the potential for any combination of snow, ice, sleet, or freezing rain, the National Weather Service may elect to issue an Ice Storm Warning for the type of frozen precipitation that is expected to be limited to just ice.
Stay informed about weather alerts
Download the WCNC Charlotte app for updates and notifications on all forms of severe weather including winter weather.