BEECH MOUNTAIN, N.C. — A winter storm warning is in effect for the North Carolina mountains as a storm moving into the area will bring snow throughout the day Monday into Tuesday.
First Warn forecaster Larry Sprinkle said the Boone area could see 1-3 inches of snow by Monday evening, with some higher elevations and western-facing slopes seeing nearly a foot by the time the storm moves out.
By 6 a.m., snow flurries had started in Watauga County and there was some accumulation on elevated grassy surfaces. The roads were mostly wet from overnight rain, and with freezing temperatures expected, driving conditions could be treacherous.
The winter storm warning runs through 8 a.m. Tuesday. The criteria for a Winter Storms Warning is snow or sleet accumulations of either 4" in 12 hrs or 5" in 24 hrs. In this case, we will see 3-6" over most locations above 3500' in the next 24 hrs.
First Warn meteorologist Chris Mulcahy said the storm will also bring strong winds to the High Country, with Boone expecting gusts up to 45 mph.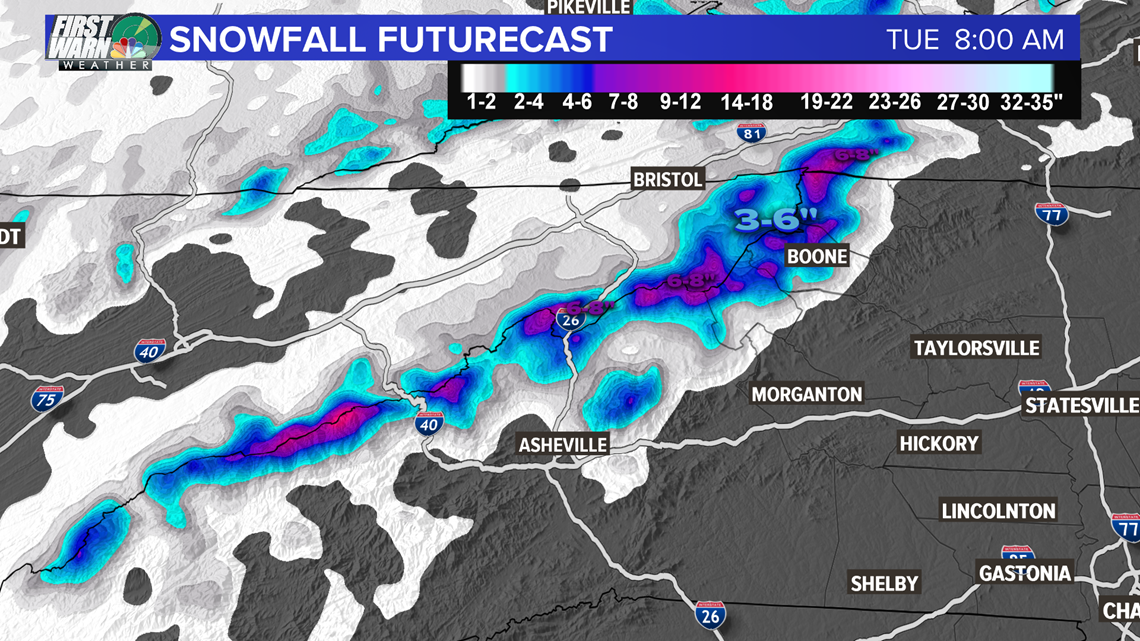 The snow will last through Monday night before tapering off early Tuesday morning. Most areas will see in the 2-4" range, but some localized higher peaks will see 8-12" especially at Beech Mountain, Mount Mitchell, and parts of the smoky mountains.
School districts in the mountains announced delays for Tuesday: Ashe and Watauga counties are opening two hours late, Avery and Mitchell counties are opening three hours late.
Chief Meteorologist Brad Panovich said the mountain region could see another inch, maybe two in some of the highest elevations -- with grand totals at 3-4 inches in higher elevations, 1-2 inches in lower elevations by the time the event is over.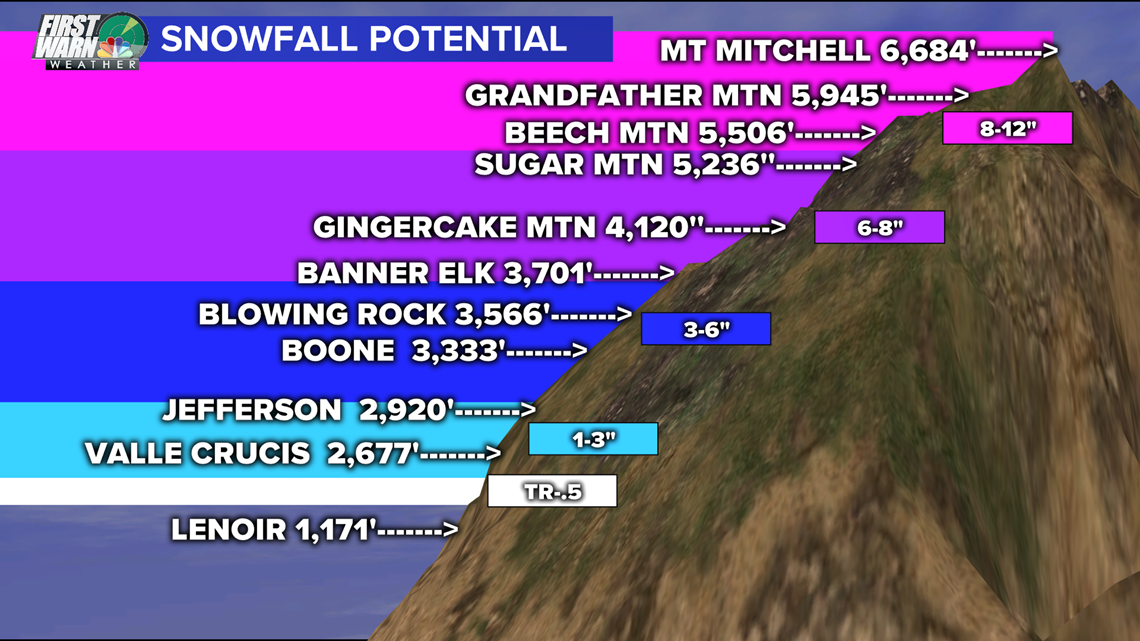 The combination of cold temperatures and strong winds will reduce visibilities at times and makes for blowing snow. Roads will be very slick, especially in the mornings and at night when temperatures fall well down into the teens and 20s.
In Charlotte, temperatures will be in the upper 40s to lower 50s throughout the day.
MORE NEWS ON WCNC: