CHARLOTTE, N.C. — When Emma Kenney left work to meet Mike Hanson for dinner at the Goodyear House in Charlotte's NoDa neighborhood in October, she had a feeling something was up. He told her what he'd be wearing, which was out of character for him. She figured a proposal might be coming.
What she did not expect, though, was for the engagement to be paired with a custom painting celebrating the restaurant that meant so much to the couple. Better yet, now they are a part of the painting.
Kenney and Hanson first met through mutual friends. Then, in July 2020, Kenney approached Hanson while they were at the Goodyear House with a group of friends to ask why he hadn't yet asked her out.
Hanson said it was that moment he knew they'd end up together.
Soon after, they had their first date at the Goodyear House. Now, they've spent another milestone there.
When Kenney met Hanson at the restaurant, she saw a painting that depicted Goodyear House under a purple and blue sunset. It was in front of that painting that Hanson got down on one knee.
'Our history is really entwined with this restaurant'
Kenney said yes to Hanson's proposal, adding another reason to why Goodyear House means so much to the couple. Hanson said he knew he'd want a way to remember that day for years to come.
"Our history is really entwined with this restaurant from the time of her basically asking me to ask her out, our very first date, and then, of course, the engagement itself," Hanson said. "That's what I wanted to capture."
The couple had already admired the work of Charlotte artist David French, and they own several pieces of his. Hanson asked French if he'd make a custom piece commemorating the restaurant that started it all.
French said taking on the project was a "no-brainer," adding he enjoyed the opportunity to paint a business that's important to the NoDa community he calls home.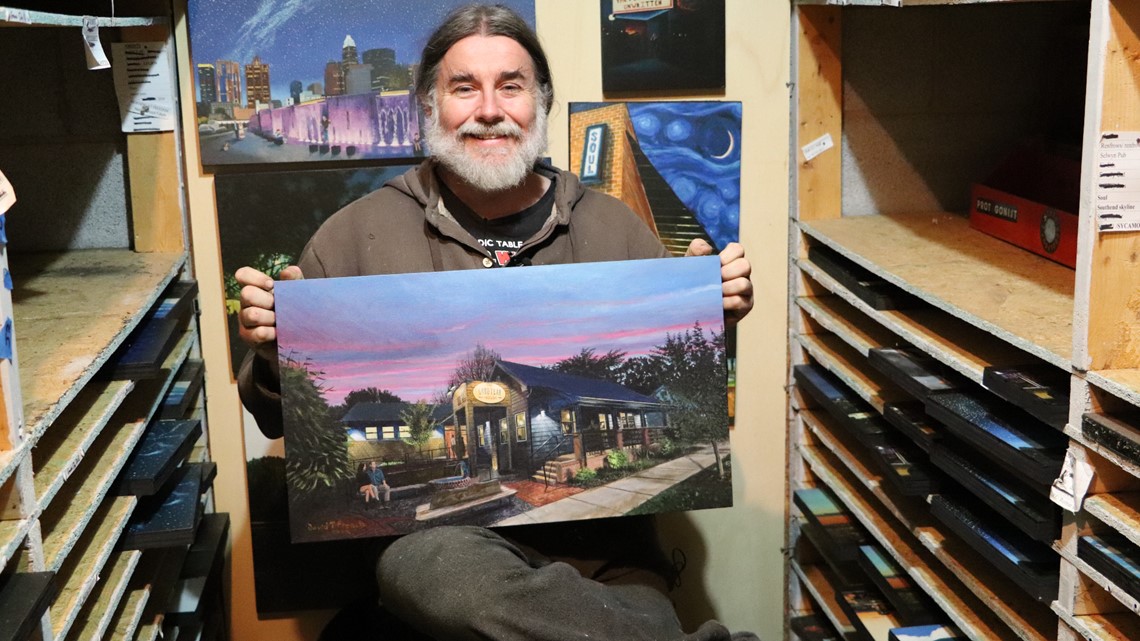 "Being part of someone's proposal is very special, and it takes a lot of trust," French said. "It's wonderful. And it feels blessed."
One of French's favorite parts of what he does is creating pieces that become cherished family heirlooms, documenting moments of joy.
That's how Kenney said she viewed French's work.
"When you look at his artwork, it brings back memories and reminds you of good times that you'd had at those places," she said. "He's even painted some Charlotte staples that are closed now. And so it's kind of like you have that memory forever."
The Goodyear House shared a statement with WCNC Charlotte saying it is always happy to celebrate love.
"We have lots of couples choosing to get engaged in our restaurant," the statement reads. "It speaks to our romantic and dreamy atmosphere. We are always honored that they choose GYH to begin this next chapter of their relationship."
Now, the memories Kenney and Hanson share at Goodyear House are captured in paint.
'Being able to make people happy, what a blessing '
French nearly completed the painting prior to the proposal before handing it off to Hanson. When Kenney met Hanson at the Goodyear House for dinner, he told her they could go outside to put her coat down. When they went outside, she saw the painting. She said from that point on, it was a blur.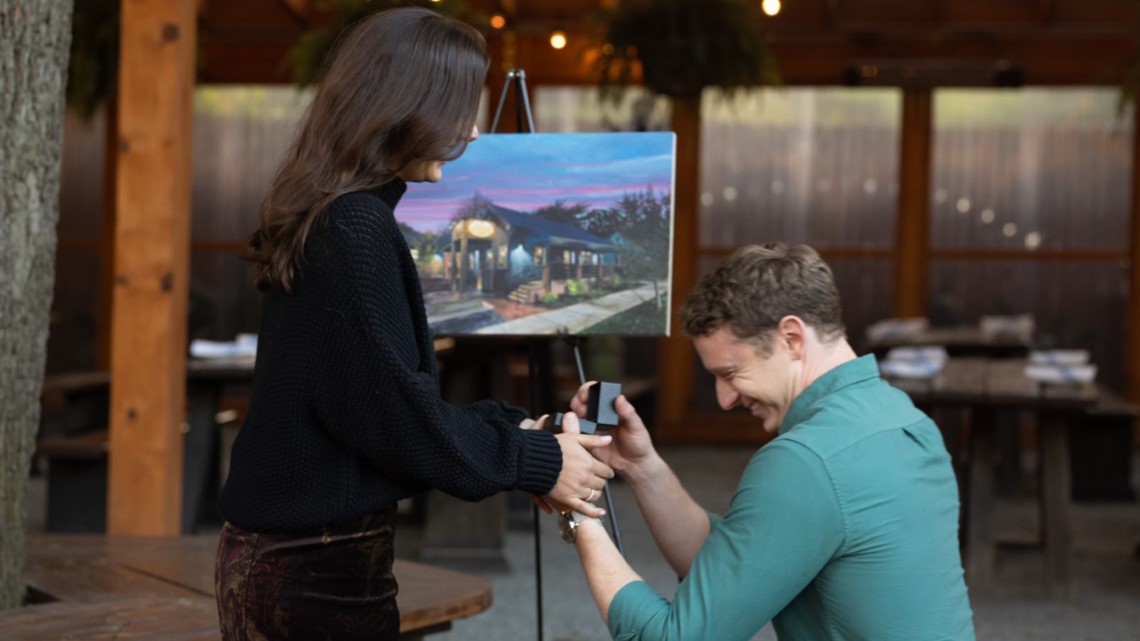 "My favorite moment was when I finally snapped out of the shock, and just realized what could actually happen, and my mom was there, and she was so happy," Kenney said. "Just coming to and realizing it all was just awesome."
French later took pictures of the couple on a bench outside the restaurant and has since added the couple to the painting.
"It's really great being able to make people happy, what a blessing," French said. "Lot of people go to work every day and they grind in their cubicles, pushing numbers and so forth. But I get to interact with people and see the joy quite often that my product of my art brings."
French has created at least 500 paintings of Charlotte over the past 16 years. Now, Kenney and Hanson can count themselves among that collection.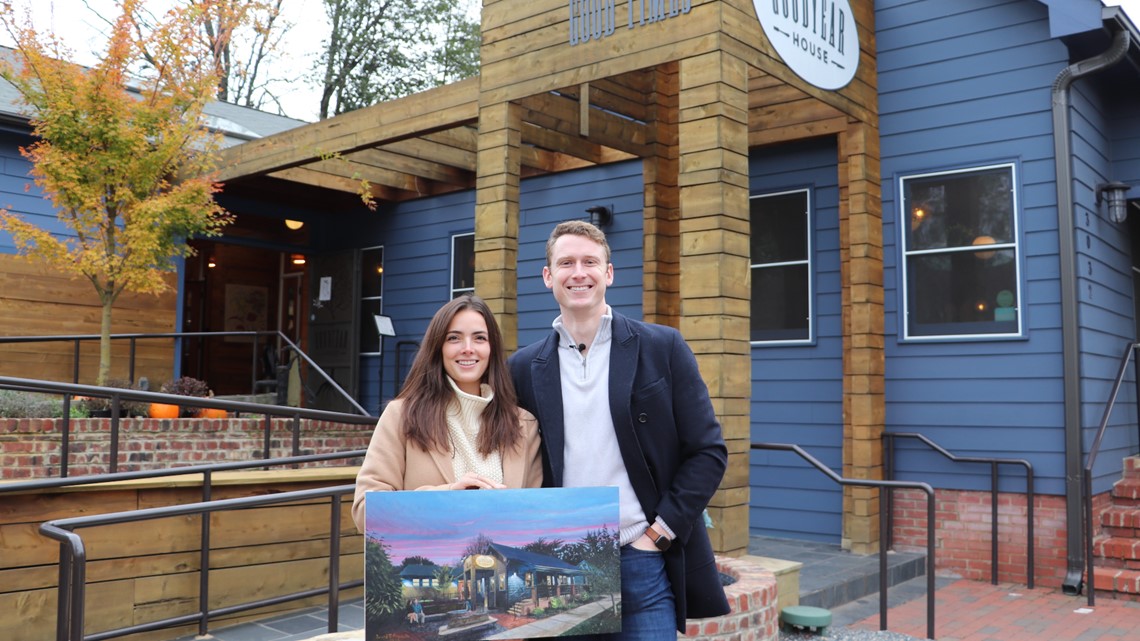 "It took a lot of planning, a lot of time and I can't thank David enough for the painting itself," Hanson said. "He really captured the Goodyear House ... it's fantastic."
The Goodyear House will forever be a part of Kenney and Hanson's story. French's painting solidifies those moments into something the couple says they'll cherish for years to come.