CHARLOTTE, N.C. —
Tonight
A beautiful evening is underway across the Charlotte area. Conditions will remain nice and dry along with mild temperatures. Expect overnight lows in the lower 60s with partly cloudy skies.
This Week
Much warmer temperatures to kick off the week. Expect temperatures in the mid 80s, which is above the seasonal average high temperature. In addition, drier weather sticks around Monday despite passing clouds.
Rain chances will increase by midweek. You'll notice an increase in cloud cover by Tuesday, but rain chances will remain low during the daylight hours as the next system approaches the region.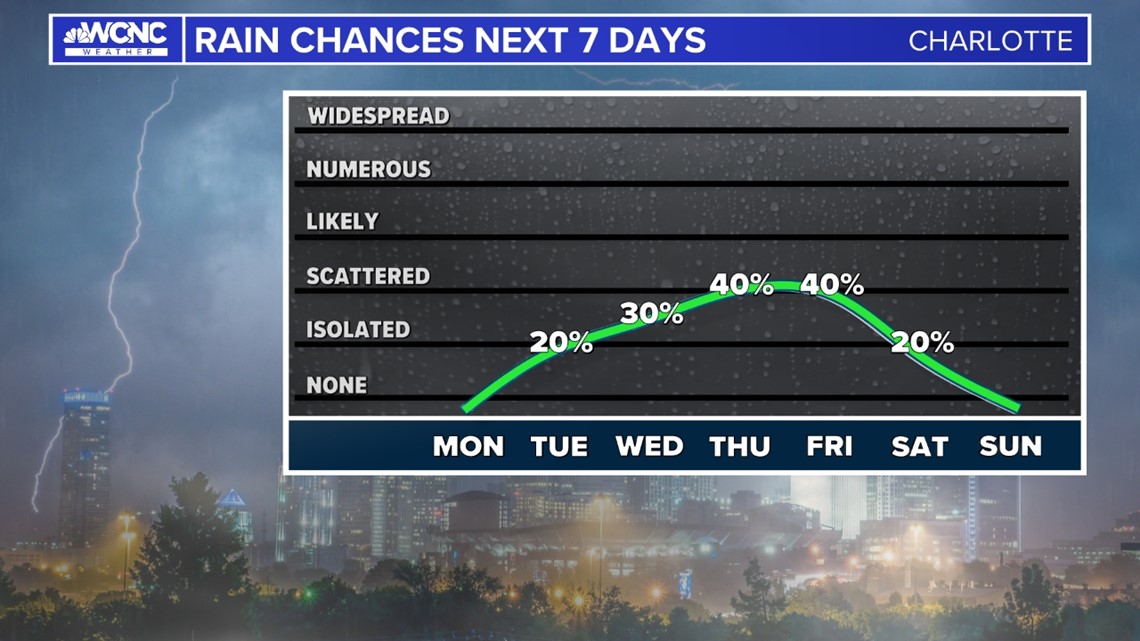 Expect a few days through mid/late week with scattered rain, more clouds, and cooler temperatures. Long-range models indicate most areas will dry out by the weekend. Weekend temperatures will range in the mid 70s as the Panthers return home for Sunday's game in Charlotte.
Tropical Update
Tropical Storm Philippe formed Saturday afternoon in the eastern Atlantic Ocean. Long-range models indicate this storm stays out to sea, but it's something we'll watch closely. It's followed by a new tropical wave just off the African coast with a high chance of formation. A second wave in the southern Gulf of Mexico has a low chance of further development.
Stay connected to the WCNC Charlotte Weather Team:
WCNC Charlotte's Weather IQ YouTube channel gives detailed explainers from the WCNC Charlotte meteorologists to help you learn and understand weather, climate and science. Watch previous stories where you can raise your Weather IQ in the YouTube playlist below and subscribe to get updated when new videos are uploaded.