CHARLOTTE, N.C. —
This Weekend
Pleasant weather continues across the Charlotte area this weekend! Highs will peak in the upper 70s Saturday and low 80s Sunday under a mix of sunshine and clouds. It'll be a picture-perfect weekend to hit the links or spend time outdoors.
Humidity remains low and drier air sticks around, so any rain that tries to develop will have a hard time reaching the ground. There's a better chance for a stray shower Sunday as a weak cold front moves through the Carolinas. This brings a reinforcing shot of cooler and drier air for early and midweek.

Next Week
Let's start with what we know: gorgeous weather is in store across the region Monday through Wednesday. Cooler and drier air mixes in allowing for another round of "fall"! However, some changes are possible by late week and into the weekend.
The eventual path of Ian, right now a tropical storm, could have an implication to our local weather. If the storm comes closer, rain and flooding is possible. If the storm stays out to sea, there may be zero impacts. It's too early for specifics now but the WCNC Charlotte Weather Team will continue to provide updates. Stay tuned!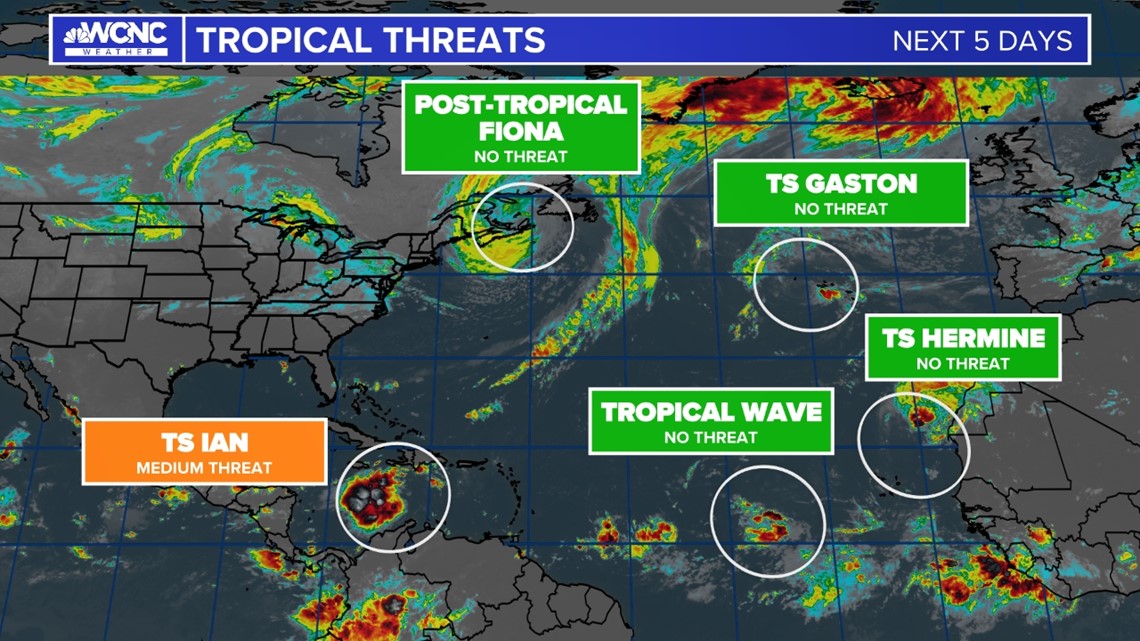 Tropical Update
First, there are multiple systems that are no threat to the Carolinas right now: Post-Tropical Cyclone Fiona, Tropical Storm Gaston, Tropical Storm Hermine, and a new tropical wave in the central Atlantic Ocean.
Elevated rip currents are expected through the weekend along the Carolina coast due to swells from Fiona, but it's on a weakening trend now after making landfall in Canada. We'll watch the leftover energy from these tropical disturbances over the next few days, but for now, all eyes are on Ian.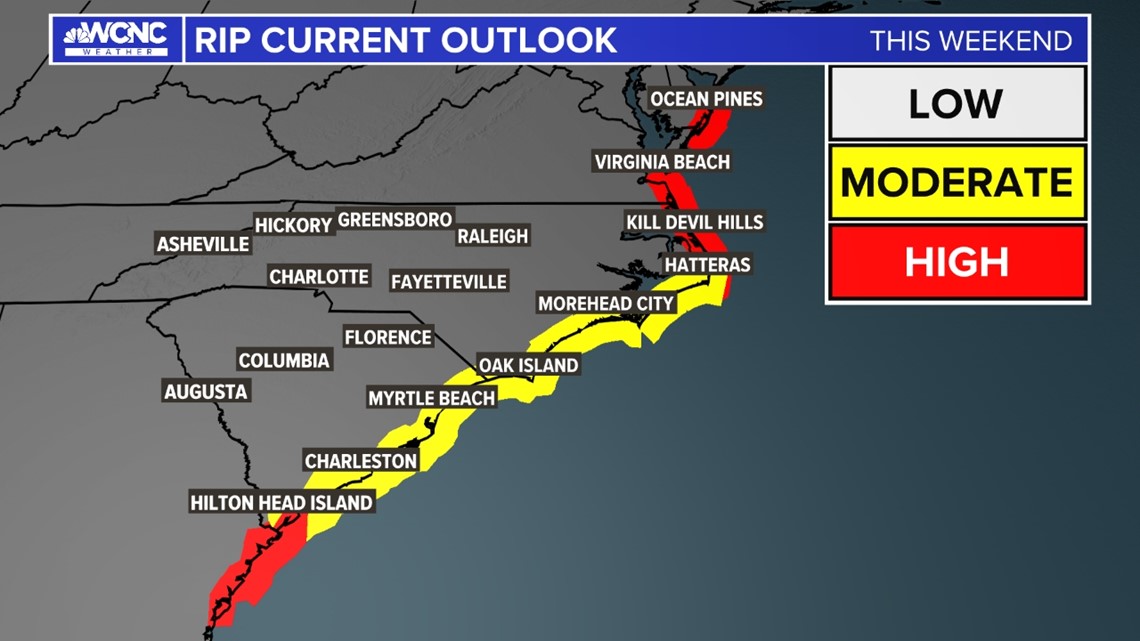 Tropical Storm Ian became a named storm last night after forming as a tropical depression Friday morning. The National Hurricane Center has a forecast track through the Caribbean, over Cuba, and eventually making landfall along the Gulf coast (most likely Florida) as a Category 3 major hurricane by Wednesday of next week. There is a *high amount* of uncertainty with the forecast track due to steering currents that have not yet developed across the eastern seaboard.
Latest models as of Saturday morning have seen a very small westerly shift. Will that trend continue? Maybe. Could this change our impacts locally (if any)? Yes. Is it too early to know specifics? Also yes.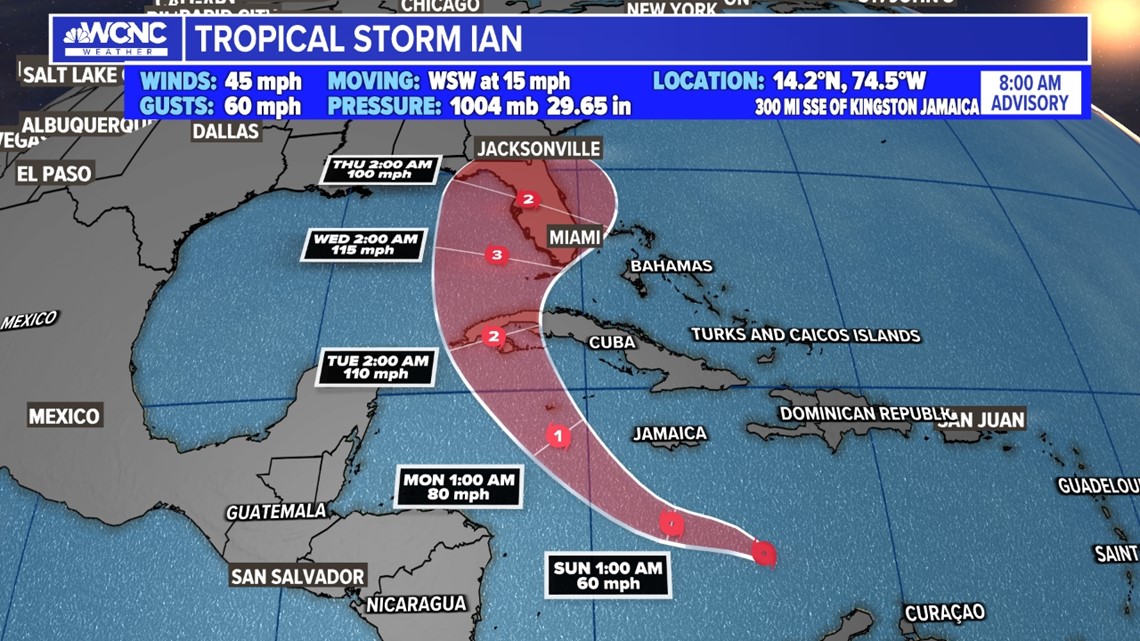 There are multiple scenarios we're monitoring right now:
1) If the Bermuda high pressure stays in place and a strong trough develops across the eastern half of the country, the storm could be deflected further west. This would mean little-to-no impacts to the coastal Carolinas, but more wind, rain, and even isolated severe weather for us in the western Carolinas.
2) If things stay perfectly in place, Bermuda high off the coast, another high in the central United States, and a moderate trough, the storm could hit Florida, move across the east coast, and eventually head out to sea. This would mean huge impacts for Florida, the gulf states, and the coastal Carolinas - but zero for us.
3) A strong ridge of high pressure across the country could deflect Ian away completely. This is still a possibility, although a lesser chance as of Saturday morning.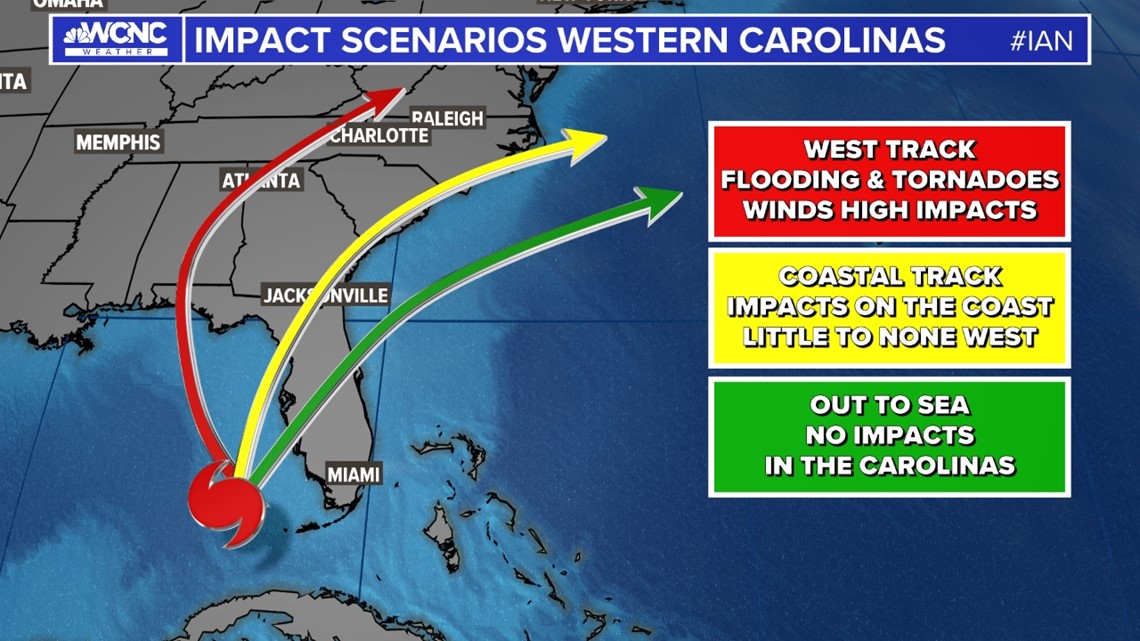 For now, if you have friends and family in Florida or along the Gulf coast, make sure they are getting a plan in place for a potential hurricane next week. This includes preparing a disaster kit, knowing where they would go if evacuations were issued, gathering important documents, refilling medications, and more.
For the Carolinas, coastal portions of the states should be doing the same as Florida. Locally, stay with WCNC Charlotte as we monitor the progression of Ian.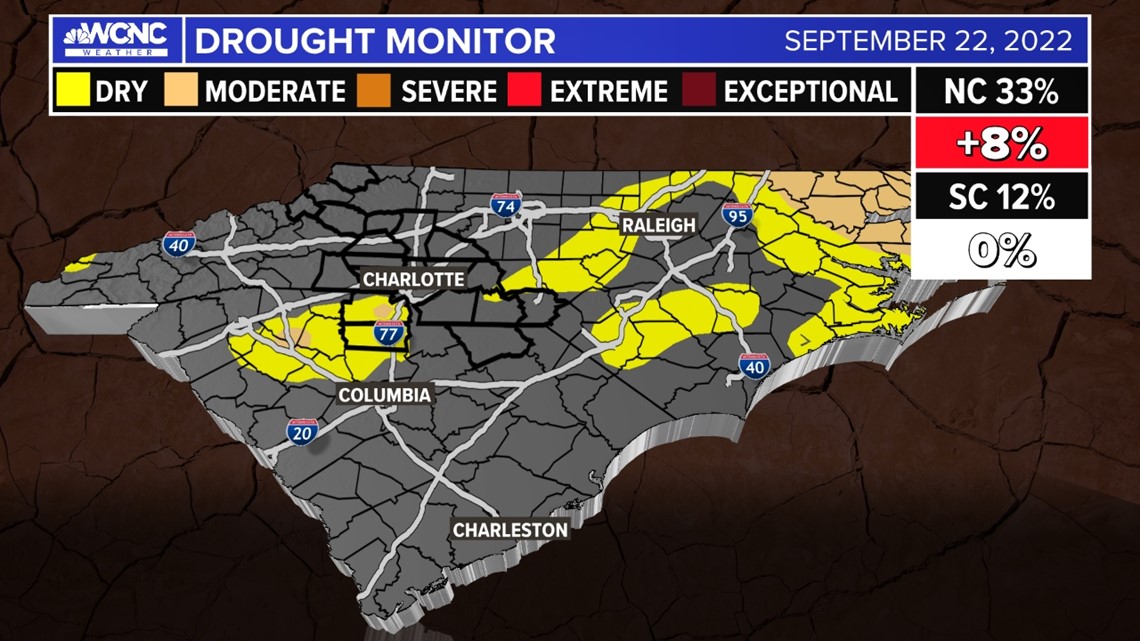 A brand-new drought monitor was released Thursday, September 22nd. North Carolina saw an increase of 8% in abnormally dry conditions (shaded in yellow) while South Carolina saw no change. Abnormally dry conditions are a precursor to moderate drought (shaded in light brown).
The more notable change was a moderate drought increase of 10% in North Carolina. While this was in the eastern part of the state, it's an important trend to keep an eye on. Updates come out every Thursday!