I can't afford to live here | An in-depth look at Charlotte's affordable housing crisis
Charlotte's affordable housing crisis didn't happen overnight. In fact, Charlotte has a history of broken promises and missed opportunities that led us here.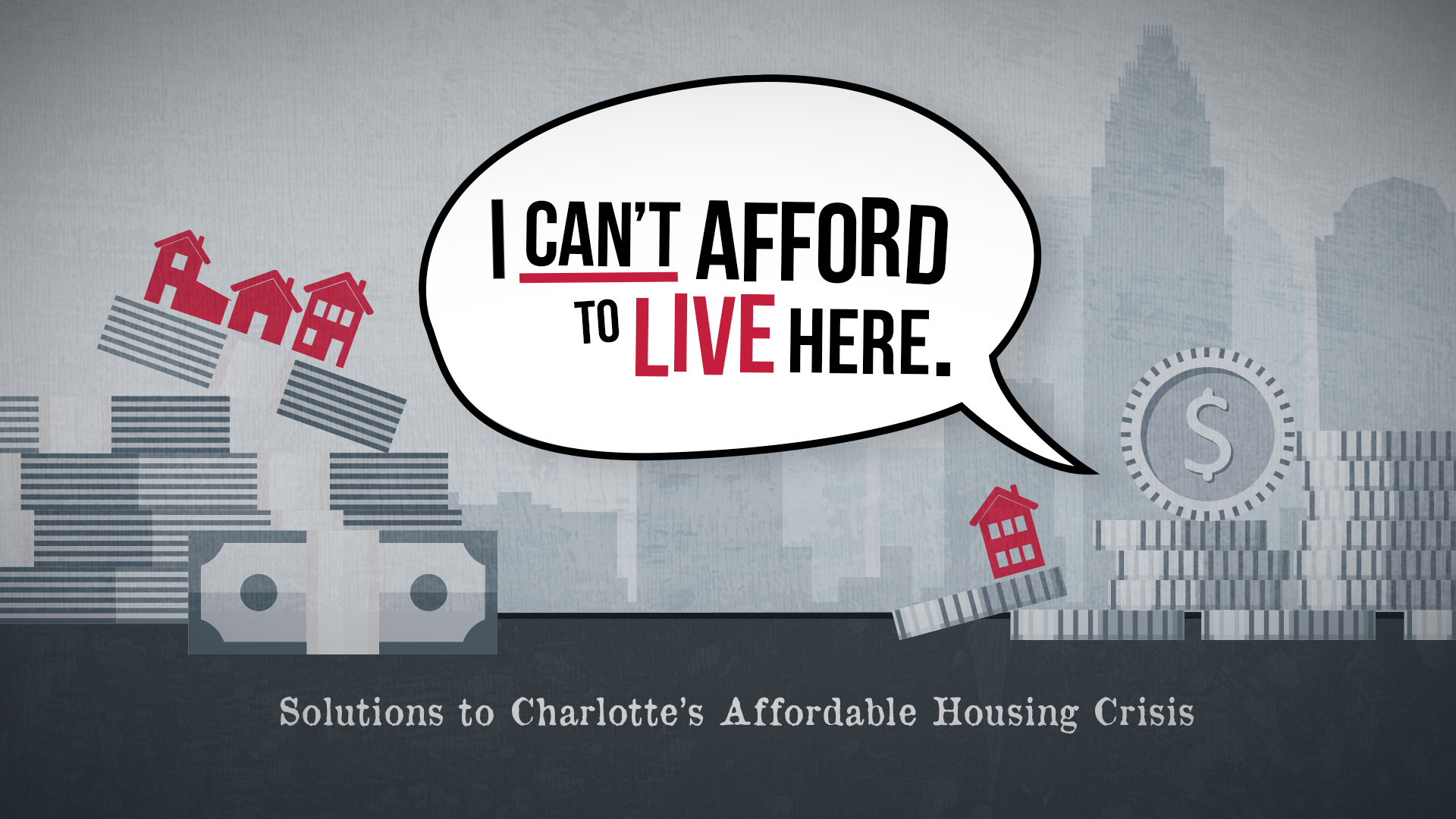 By many accounts, Charlotte is as vibrant as ever. The Queen City is recognized as a great place to raise a family and start a business.
But there's a growing problem that's putting it all at risk: the affordable housing crisis.
Charlotte needs 34,000 affordable housing units to meet the demand of its population. That's nearly double the number from a decade ago, and it's a complex problem created by the city's own success.
To give you some perspective, local rents have climbed 45% since 2010. A person making $20 an hour would need to work 60 hours just to make enough to pay one month's average rent. And that doesn't include whatever is taken out of your paycheck. Approximately 46,000 people in Charlotte pay more than half of their income to rent; experts recommend paying no more than 30%.
Teachers, police officers and firefighters, the people who are the heat of a community, are working full-time but still having a hard time buying a home, but low inventory and high prices aren't the only enemies in their struggle.
Supply and demand
:
Out of state firms have bought over 10,000 homes in Charlotte, driving up the cost of rent and eating up affordable single-family homes.
"I would say that it's never been more difficult for first-time home buyers," said Nestlewood Real Estate agent Bobby Sisk.
He says the crisis is driving some people to look in areas they might not have considered before. In some cases, that means out of Charlotte.
"Prior to 2014, at least 40% of home sales occurred at price point of $150,000 or less," said Richard Buttimer, who spearheaded UNCC's "State of Housing in Charlotte" report. "In 2018, that number was 13% here in Mecklenburg County."
Sisk said if you search for single-family homes in Charlotte under $150,000 you'll only get about 50 results. In a city the size of Charlotte, it's really hard to believe that's all you will get in Charlotte. What's even harder to believe is that houses are snapped up in a matter of days and NBC Charlotte discovered the buyers aren't always local.
In a review of the closings for homes priced at $150,000 in the last six months, WCNC found several examples of out-of-state investment companies with numerous properties in town.
"The first 10 I looked through, six out of the 10 were cash buyers, which tells me they were investors," Sisk said.
Greenleaf Investment Partners in Atlanta had 36, Arcadian Village Owner in Miami had 22 and Safari One Asset Company of Austin, Texas had 180.
WCNC's Fred Shropshire called Greenleaf to find out why Charlotte is such a great investment. After getting bounced around a couple of times, he never got an answer. As for renters, rent for single-family homes rose 19% in a five-year period. In the last decade, out of state firms have bought more than 10,000 houses across Charlotte, creating new rentals with even higher rents.
"And that gives you an idea of what first-time home buyers are going up against," Sisk said.
Sisk says home buyers can stand out by offering more money for due diligence and getting full loan approval prior to making an offer.
"You still have to factor in what you can afford," Sisk explained. "You are taking on this huge responsibility and you still have to be able to make that monthly payment."
How did we get here?
:
Charlotte's affordable housing problem didn't happen overnight. In fact, Charlotte has a history of broken promises and missed opportunities that led to today's problem.
A mural on Brevard Street is a time capsule of Charlotte's past, commemorating what was the Brooklyn neighborhood.
Now known as Second Ward, it was the heart of the black community. The Mecklenburg Investment Company building was the city's first office building open to blacks. It's one of the few buildings from Brooklyn still standing today.
"They torn down all of the homes and all of the business," said Arthur Griffin, who lived nearby in the 1960s when Charlotte's urban renewal began. "But we never replaced housing one to one."
It was a big idea that pushed out over 1,000 families. Some 30 years later and another big idea further isolated the working class.
In 1991, Charlotte developers announced plans for Ballantyne. It's now an upscale address, but at that time, the approved rezoning noted the developer's intention to build housing for all income levels. However, nothing was required, and today Ballantyne is an affordable housing desert with zero subsidized housing developments.
Griffin, who later became the chair of the Charlotte-Mecklenburg Schools Board of Education, would fight for affordable housing in south Charlotte as part of a proposal to encourage school integration.
"They called me a communist, they thought I was a socialist and it didn't go anywhere," Griffin said.
The proposal included policies and incentives like low-interest loans and suggested building houses on surplus land owned by CMS.
"You'd be surprised the list of vacant land the City of Charlotte owned in the 80s, 90s and even til this day," Griffin said.
Charlotte missed another opportunity in 2001 with the development of the light rail. Ron Tober, former CATS Director, oversaw the Blue Line project.
"The biggest expenses the people have is housing and transportation, and if you have a portable housing and you have a convenient, reasonably priced transportation, you're dealing," Tober said. "You're helping people with their financial management of their own family finances."
The Charlotte City Council approved a policy encouraging up to 25% of below-market units in multi-family developments near rail stations. No one believed the light rail would be so successful, and demand for land skyrocketed around the rails, making affordable housing virtually non-existent.
"I mean, never in my wildest imagination did I expect to see all of the development that has happened," Tober said.
More than 6,200 units have been build along the rail line, most of them luxury apartments with amenities that come with a price tag up to $2,000 a month. There are 100 units in the South Oak Crossing Apartments that are below market rental along the line. They're the only units below market rental, too.
Critics of the deal say land banking, or buying land at a cheaper cost to donate or sell for development, could have helped ensure affordable housing.
"Land banking would've been very difficult for us at the time, mainly because of the cost of the project and [the city] tried to keep it within a reasonable amount to meet the requirements of the federal government," Tober said.
Spurred by a report that ranked Charlotte last in social mobility, local leaders have launched the most intense push for affordable housing in its history. Tober thinks the time has arrived.
"As is evidenced by the fact that there's a number of people in the business community or control the money now towards building more affordable housing for the workforce," he said.
Griffin isn't convinced. He says the problem won't be fixed unless a strategic comprehensive plan is put into place.
"We have a constant history of transactions and things that give you the impression that we're moving foward when we're really not," Griffin said.
'I don't know where my children are going to live. This is urgent.'
:
The Queen City's in desperate need of housing help, but the major US city receives fewer government vouchers than smaller and similarly sized cities.
They're proven to sharply reduce homelessness, pull people out of poverty and help families move to safer neighborhoods, but a review of federal records shows the nation's largest rental assistance program is helping fewer low-income families in Charlotte than other places.
U.S. Department of Housing and Urban Development records show Charlotte, one of the largest cities in the country, receives far fewer government housing vouchers than dozens of other cities, many of them smaller than the Queen City. The discovery comes as NBC Charlotte works with other local media outlets as part of the Charlotte Journalism Collaborative in search of solutions to the city's affordable housing crisis.
As of Thursday, more than 13,000 people currently sit on a waiting list for a Housing Choice Voucher in Charlotte. For most of those people, there is almost no hope, because there are so few vouchers to go around. The Charlotte Housing Authority reports it hasn't received new traditional housing vouchers in more than 20 years.
The lack of vouchers hurts people like Latoya Wilson. From sunrise to sunset, the single mother is trying to build a life for her family.
"I cook every day, I work eight hours, I ride the bus two hours every day to and from work," she said during break at her job. "I lived in a hotel for three-and-a-half [years]. I stayed in boarding homes."
Unfortunately, she can't catch a break. She's one of 200 forced to find new homes after Lake Arbor started kicking tenants out of the rundown apartment complex to make way for renovations.
"It's depressing because I don't know where me and my children are going to live," she said. "This is urgent."
Wilson might be in a better position if she received a housing voucher to help pay for rent. She said she applied for one many years ago.
"I got a number, but my number still hasn't come up," she said. "It's a wait."
Just like the thousands of others who sign up, she's learned receiving a voucher is a long shot. The ones who are lucky enough to get one wait five, six and even seven years. It all stems from decisions made decades ago.
Newly obtained federal housing data show less than 8,000 housing choice voucher units leased since 2018 in Charlotte, which is 45th in the country for the nation's 16th largest city. Charlotte's leased almost 5,000 less than similarly sized Columbus, Ohio and less than smaller Portland, Louisville and Rochester too.
Per capita, it's even worse. Roughly 900 units leased for every 100,000 people in Charlotte, which is much less than dozens of small, medium and large US cities.
"We can always use more vouchers," CHA Senior Vice President of Public Relations Cheron Porter said.
CHA reports every time HUD has allowed agencies to apply for more vouchers, the agency has, securing 632 new vouchers since 2009. Porter said those vouchers are earmarked for people with special circumstances like veterans and those with disabilities, not the general population.
"We're in a fight with everyone else in the country," she said.
According to HUD, the HCV Program has around 2.55M allocated units with Charlotte administering approximately 8,400 units. HUD records show over the last 15 years, the number of vouchers available nationwide has remained relatively unchanged. Any new federal funding mostly covered increased rents, not new vouchers, which means as the demand grew higher in Charlotte, new vouchers from Washington remained hard to come by.
"To be that low on the list. How is that? How does that happen?" we asked.
"That is a question for HUD," Porter replied.
We asked HUD. A spokesperson said generally, the federal government gave housing authorities an original allotment of vouchers decades ago based on community needs at the time. While that allotment perhaps was enough back then, it is not nearly enough today. Knowing that, CHA has changed its approach in recent years to try and help people find housing by pushing for more local solutions rather than federal help.
"Without question, we don't depend on the federal government," Porter said. "We understand what the limitations are. We understand what the history has been."
Latoya Wilson's history is full of challenges. Her latest challenge came after checking on the status of her voucher wait. Wilson said her transient lifestyle ultimately cost her a chance at a voucher.
"I was taken off the list because I didn't change my address," she said. "This was like a kick in the a**."
Davidson sees results with inclusionary zoning
:
Getting everyone to agree on the best solution to the problem isn't easy.
Inclusionary zoning is a controversial idea that's seen some success in cities like Denver, Colorado. Now, Davidson is seeing results.
"It's not just happening on the fringes, it's starting to happen in the neighborhoods you would not have thought," said Julie Porter, President of the Housing Partnership. "And all of the sudden, Charlotte is becoming completely unaffordable."
The loss of multi-family units to outside investors has been a catalyst for the housing crisis. Porter says those investors are putting a minimal amount of money into the properties and raising rents 20-30 percent in the first year, then another 20 to 30 percent the next. And the city just can't compete.
"It is beyond our control right now," Porter said. "We need more tools to purchase those."
Some experts suggest inclusionary zoning as a solution. Inclusionary zoning policies typically give developers bonuses or other incentives in exchange for building or funding affordable housing. Porter says getting lawmakers to take action is an uphill battle. But in Davidson, planners aren't waiting. They enacted a plan requiring builders to set aside 12% of development for affordable housing.
Mayor and realtor Rusty Knox admits developers have pushed back against the plan.
"When you have to build affordable houses in a town where the average home price is about $500,000, the economics don't work out for them," Knox said.
But it's working out for Davidson, where in lieu of meeting the housing requirement, developers can make a payment to the city. Those fees have racked up a fund of over $2 million.
"We use them to acquire land to potentially acquire existing homes and use down payment assistance, as well as do emergency repairs," Knox explained.
Inclusionary zoning isn't a slam dunk, though. Some state courts have struck down ordinances as unconstitutional. According to the Grounded Solutions Network, inclusionary zoning laws are on the books in 25 states, plus the District of Columbia.
"Charlotte is at a tipping point that I have never seen before," Porter said. "We are getting calls every single day on, 'I can't afford my rent, my rent just rose $100, $150, I can't afford it.'"
Just over 13,000 units were under construction and almost 10,000 apartments were proposed in the Charlotte metro area as of February. And there's nothing in place to require that any of them are set aside for affordable housing.
"There's a tremendous amount of cooperation among civic leaders and nonprofits to help solve the problem but it's getting away from us so quickly, rents are rising so quickly, that it's going to be very difficult to catch up and solve it or even abate it," Porter said.
Housing or health care?
:
It's a scary scenario more people are facing as rents in the city continue to climb. But there are some real solutions that could help families.
A bulging disk in Shannon Bayes' back and severe arthritis limits his ability to work.
"I just, it's...it's been hard," Bayes said.
Hard because the rent keeps going up.
"I know the trade-offs," Bayes said. "I hear them every day. People are either paying their rent or paying their health care."
"These are working families and they can't afford to live in Charlotte, period," Porter said.
Even with his wife working two jobs, Bayes says rent increases are taking up most of their budget.
"Now if you are spending on housing, you're not spending it on quality food, you're not spending in on your medications, you're not spending it on going to the clinic," said Dr. Don Jonas, director of the nonprofit Care Ring, which is dedicated to providing health services for those lacking access.
"You have to look holistically and clearly, affordable housing is essential to a family being able to get ahead in this economy," Dr. Jonas said.
Care Ring's home visiting program for first-time mothers takes housing into account.
"One of the key things they do during that visit is assess the conditions to look and see if the carpet is moldy, are there couches that are usable, is it safe for little ones in that home?" Jonas said.
Homes in disrepair often lead to even more health problems. Respiratory issues from mold, moisture, asbestos or lead paint, pest control problems, and accidents or falls.
"Those people end up in emergency rooms, which cost them a whole lot more money that it would just to get them affordable, permanent housing," Jonas said.
There are an estimated 13,000 people in Mecklenburg County without any health insurance at all. Dr. Jonas says the health care industry is finally realizing the connection between health care and housing.
"You are going to start seeing that there are Medicaid dollars traditionally tied to clinical care that can actually be used to provide appropriate housing for low-income populations," Dr. Jonas said.
The Medicaid changes Dr. Jones mentioned should go in effect in December.
This story is part of WCNC Charlotte's work with the Charlotte Journalism Collaborative.