MECKLENBURG COUNTY, N.C. — Mecklenburg County's property owners will soon learn how much their revaluations are.
Notices will be mailed out Friday, March 17, according to the Mecklenburg County Assessor's Office. However, property owners don't need to necessarily wait for a letter in the mailbox; the office said property values will be updated that day and accessible via an online portal.
The revaluation process, according to the assessor's office, revalues all property to current market value as of Jan. 1, 2023. North Carolina law requires counties to conduct property revaluations at least every eight years; Mecklenburg County does revaluations every four years.
HOW TO VIEW YOUR REVALUATION ONLINE

People who do not want to wait for a letter to arrive with their revaluations can easily access their update property values by visiting Mecklenburg County's Revaluation page online. Follow these steps to view your property's revaluation online:
Scroll down and click on "My Property Values." This link is in two places on the revaluation page (see picture below).
Once you click on "My Property Values," you can easily search your property using one of the following:

All or part of an owner's name
The property address
The parcel number

If needed, you can narrow your search from there to locate your property revaluation.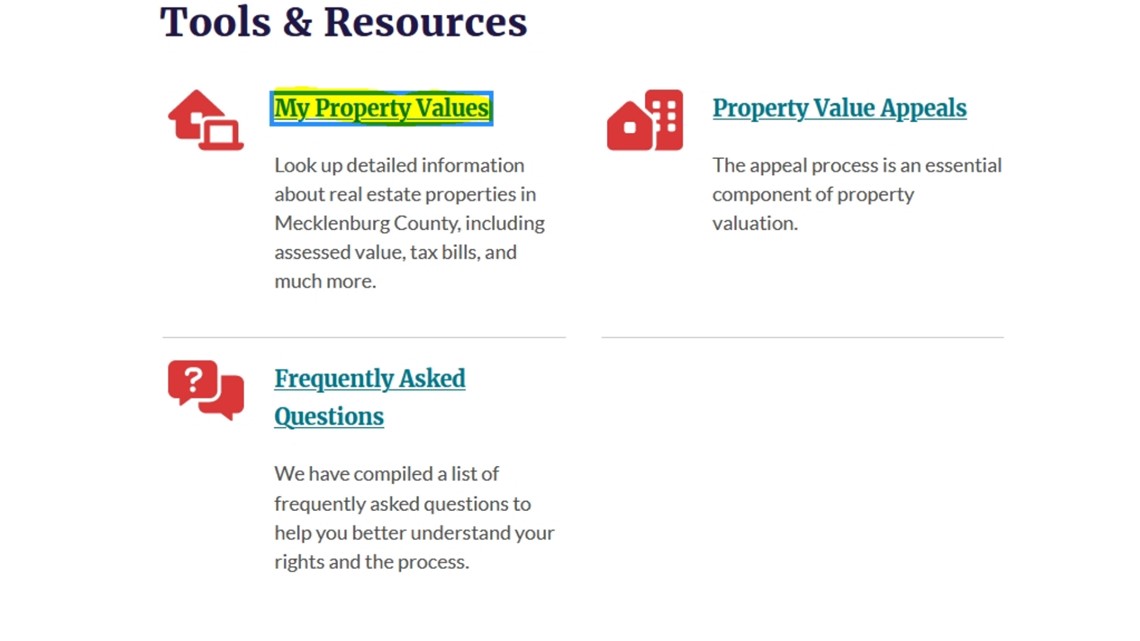 The county assessor's office notes that steep sales prices in the region in recent years have led to an increase in assessments across the county. The average increase for residential properties is about 51%.
Staff with the assessor's office visit and observe properties across the county to verify a property's characteristics, consider similar sales nearby, and consider improvements or changes made. The office also said evaluations happen to ensure a property's assessed values are based on the current market and to establish equalization for owners.
HOW TO APPEAL YOUR REVALUATION

Property owners who believe the new assessed value doesn't align with what it could sell for have two options: an informal review and a formal appeal. An informal review allows the owner and assessor to review the revaluation notice together and correct errors without an appeal. However, a formal appeal is sent for review by the Board of Equalization and Review (BER), a citizen volunteer board that listens to the appeals.
If you are a property owner and you would like to appeal the new assessed value, you can do this on the same page where you locate your new property revaluation.
Scroll down and click on "Property Value Appeals" under the "Tools & Resources" heading.
Once you are on the appeals process page, you will need to select the type of property value appeals that you are looking for between the following choices:

Real Property Value Appeals
Business and Individual Personal Property Appeals
Registered Motor Vehicle Appeals

It is important to note that taxpayers wishing to to appeal their value must do so within 30 days after the date of the initial notice of value.
You can also request an informal review of the assessed value within 30 days listed on your value notification.
If the appeal cannot be settled informally, taxpayers can download and submit a Formal Appeal Form to the County Assessor's Office.
Make sure to note all deadlines for the appeal process.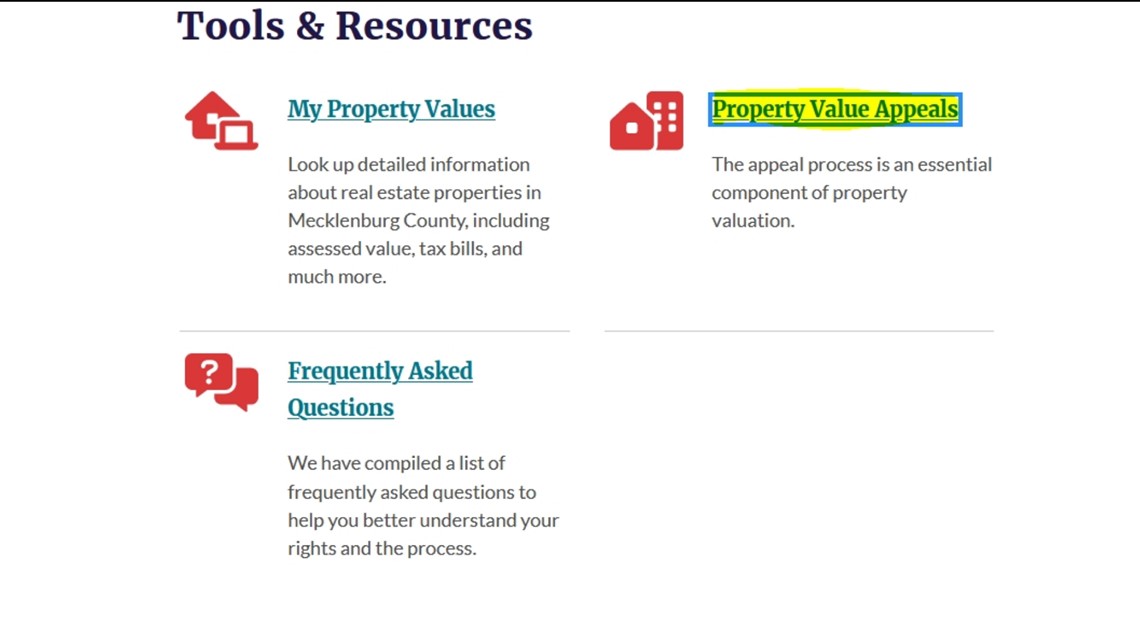 "The process began, really, in August of 2020," said Brad Fowler, Assistant Assessor with Mecklenburg County. "A lot of folks believe it's simply a push of a button at the time of revaluation. Unfortunately, that's not the case. It takes a lot of staff dedicated over the course of some time to produce accurate results."
Fowler noted that the revaluation process allows county employees a chance to learn new ways to enhance the process for better accuracy, and that the assessor's office wants the public to be as involved as possible.
"It's really incumbent upon our office to make sure the public is engaged so they can give us information because no one knows their property like the property owner," he said.
Fowler also said Mecklenburg County's growth played a key role in the revaluation process, in spite of the COVID-19 pandemic.
After properties are assessed, tax rates are then set by elected officials every spring by elected county, city, and town officials. The tax bill is then calculated and mailed each summer to all Mecklenburg County property owners.
"You want to make sure you are certain about wanting a reduction. Because if you appeal and you've missed something, the value can also go up," Sheehan explained.
The attorney who is in the practice of appealing tax assessments said they actually recommend to about 85% of the people that call his firm not to appeal because their values are, more or less, correct.
"The median average for sales in Mecklenburg County is $420,000. That's your average middle of the road sale number. So everything that was much lower than that's all been dragged up."
Additionally, the office has scheduled two Property Tax Resource Fairs in April to discuss new values with residents and look at tax relief options for eligible owners. The first resource fair is set for Saturday, April 1 at the Valerie C. Woodard Conference Center on Freedom Drive in Charlotte, accessible by using Entrance D. The second fair is scheduled for Saturday, April 15 at the Eastway Regional Recreation Center on Eastway Park Drive in Charlotte. Both run from 9 a.m. until 11 a.m.
WCNC Charlotte is always asking "where's the money?" If you need help, reach out to WCNC Charlotte by emailing money@wcnc.com.