CHARLOTTE, N.C. — North Carolina Gov. Roy Cooper said Wednesday afternoon that, with increasing vaccinations and ongoing work to slow the spread of COVID-19, he anticipates the state be able to lift all mandatory social distancing, capacity and mass gathering restrictions by June 1.
Cooper said he plans to issue an Executive Order next week outlining safety restrictions for the month of May.
Cooper stressed that North Carolinians need to remain vigilant in the fight against COVID-19.
"We need everyone to step up," Cooper said.
Health Secretary Dr. Mandy Cohen warned that masks will still be important until the state reaches a target of two-thirds of the adult population vaccinated. Right now, roughly 47% of adults have received at least one vaccine. Just over one-third, 35.8%, of adults are fully vaccinated against COVID-19.
"We can bring back summer," Cohen said.
Cooper said he anticipates easing the mask mandate; he hopes after June 1 masks would only be required in a few situations, like in indoor public places, which are considered higher-risk settings, and places where children are. Summer camps and summer school are both examples of places where parents should expect to see those safety measures in the immediate future, Cohen said.
The safety precautions for children would likely remain in place until they are able to be vaccinated.
The mask mandate may be lifted entirely, Cooper said, when the state reaches the vaccination goal and if COVID-19 metrics remain stable.
"With at least two-thirds of adults vaccinated, our public health experts believe we'll have enough protection across our communities to be able to live more safely with this virus and begin to put the pandemic behind us," Cooper said.
Data behind the Decision
In general, however, state health officials consider the metrics to be largely stable.
For some perspective: The state recently saw an increase of just over one percentage point over the last month with the percentage of positive COVID-19 tests. During the surge over the holidays, percent positive was spiking roughly 3 percentage points each month.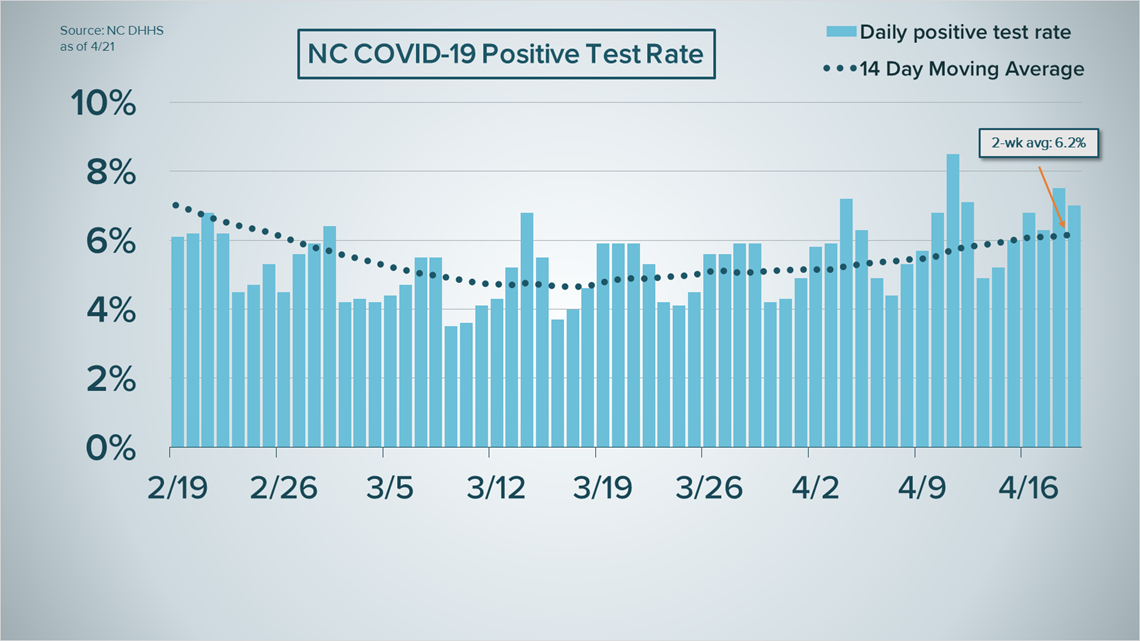 Doctors said the current metrics situation is not ideal, but is it manageable.
"It was to be expected," Dr. David Priest, an infectious disease specialist with Novant Health said. "We said, as we lift restrictions, this number is going to go up. So, we were not caught off-guard."
Giving health officials further confidence is the high vaccine uptake with at-risk populations including the 65 and older age group. NCDHHS data shows 77% of that age group is considered at least partially vaccinated.
Have a relative or friend in another state and want to know when they can get vaccinated? Visit NBC News' Plan Your Vaccine site to find out about each state's vaccine rollout plan.
Mecklenburg Public Health Director Gibbie Harris said the impacts of those vaccinations are not going unnoticed.
"We have not had any deaths in our long-term care facilities since the end of February," Harris said. "What you see is a microcosm of the situation where you've got some herd immunity going on."
However, Harris said there are some concerns about young adults lacking urgency to get the vaccine.
"It's not always hesitancy as much as it is a lack of urgency," Harris said. "In the beginning, we had a lack of vaccines, and the people that needed the vaccine really wanted the vaccine, so we had that sense of urgency. Now it's not so much, especially when looking at our younger population."
Earlier this week, Novant Health and Mecklenburg County announced they will accept walk-up patients at all vaccine clinics.
Businesses excited but struggle to hire workers
It's been a long time coming for businesses. Many owners are excited to finally hear a timeline for when they could expect to see all of their customers back without restrictions.
But there's a problem - several businesses are struggling to find people who are willing to work.
"It's a double-edged sword," said Charles Read, owner and general manager of Queen City Craft and Gourmet.
He's excited about the hopeful future and welcomes it.
"We wrote the business plan based on 100% occupancy. Not 50, or 75 -- and certainly not zero," he said.
However, he's worried his crew will be understaffed when facing 100% capacity.
"I've been in this industry 28 years and I've only had to put a now hiring sign on my door three times. The first two times, it worked," he said.
"We're not getting any applicants right now," he said.
Usually he'd have a staff of 24 workers but he's currently at 15 and is in need of more workers, especially those willing to work the weekends.
He said he's raised the pay for jobs, but that hasn't brought workers in either.
"We are now paying dish washers what we used to pay cooks, we're paying cooks what we used to pay managers, and we're paying managers more than we ever have by a lot," Read said.
Kenny Colbert with Catapult, which serves more than 23-hundred employers across the state and advises their human resources departments, said many business owners believe there's too much stimulus money that's paying people more than they made when they had jobs.
"There is a reduced incentive for the $12-$18 per hour people to return to work. Many employers are literally begging for unskilled/semi-skilled help. And these are companies that are paying way above minimum wage. The $7.25 minimum wage is not even being discussed among employers -- the actual minimum wage is probably around $12 or so. And $15 is the norm," he said in an email to reporter Hunter Sáenz.
Read said he sees it play out firsthand and hopes people will want to work sooner rather than later.
"That's definitely hindering people's ability to come back to work," he said.
Colbert also said others, especially seniors, are still scared to come back to work with COVID still spreading in the community.
He said even seniors who are vaccinated are worried about coworkers who don't want to get a shot and they don't want to risk it at all by going to work.