Pinter, 65, is a 25-year resident of Newport, a town of about 5,000 where Tropical Storm Florence hit the hardest late last week. Much of the town was submerged by floodwaters, which residents said rose several feet in under an hour. It caught many off-guard.
At first, Pinter thought he was safe because his trailer sits about 6 feet off the ground, which has been enough of a defense during past floods. But this time, when Florence brought water into his front door, he realized it was too late to leave. He was trapped with his dogs, Buster and Oreo.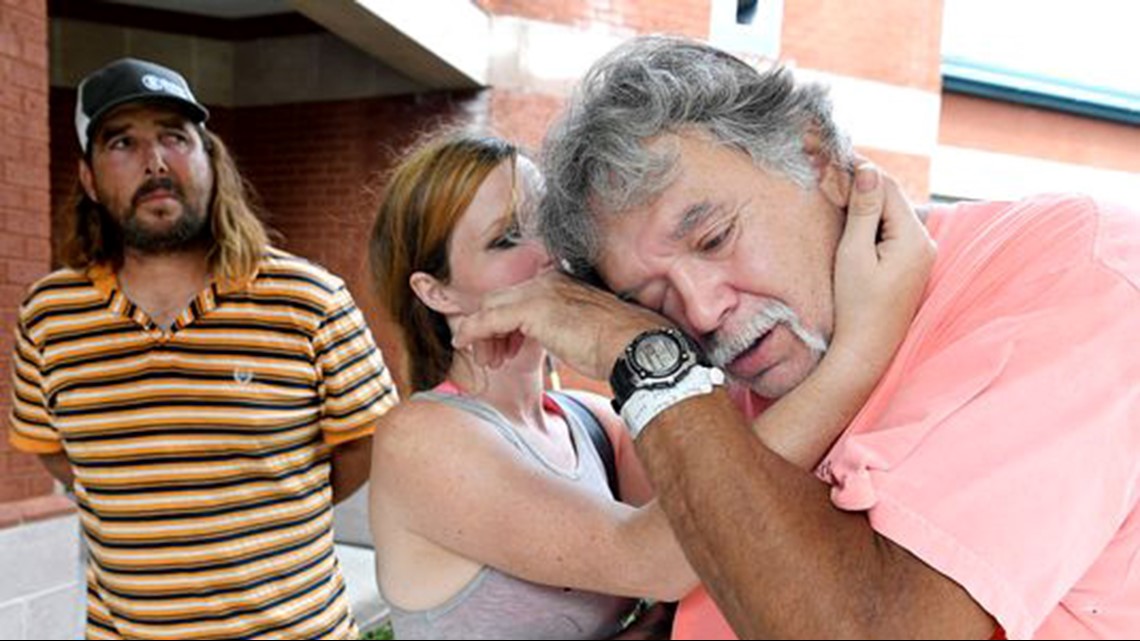 They were running out of time. Pinter considered taking their lives, then his own.
At least, he thought, it would be merciful.
"It was just so scary to me," Pinter said Monday, two days later. His eyes welled with tears as he told his story. His daughter pulled him in tight for a comforting hug. "Because I didn't want to hurt my dogs and I didn't want to hurt myself, but I didn't know what to do."
In the moment after he considered suicide, Pinter said he looked out his door and saw his rescuers. Several members of the National Guard were walking through chest-deep water, pulling a small boat that had been provided by a volunteer. They carried Pinter and his dogs to safety, and he has since lived at a small shelter in the nearby Newport Middle School.
Pinter was one of hundreds of residents who were rescued from rushing floodwater over the weekend, as Tropical Storm Florence pounded tiny towns up and down the Carolina coast. The storm, which many residents described as the largest of their lifetime, dumped feet of rain and killed at least 31.
Newport saw some of the worst of it. Power went out Thursday, and some neighborhoods were flooded as early as Friday morning. Those who did not evacuate found themselves surrounded by floodwaters that seemed harmless at first but rose faster than expected.
For many, help came from the small but determined Newport Fire Department, which ventured into flooded cul-de-sacs in trucks and boats to rescue residents. Assistant Chief James Ainsworth said the town had counted about 400 water rescues, many performed by the fire department itself.
The department has only eight full-time employees, and they've never been trained in swift-water rescue, he said. Without a doubt, this storm was their finest hour.
"As far as I know, there has never been flooding like this in Newport," Ainsworth said. "It was overwhelming, but we just got to work and didn't think about it."
'I was fighting for my life'
PHOTOS: Florence unleashes havoc on Carolinas
One of the residents rescued by the fire department was Tinny Bell, 49, who said she was trapped in waist-high water inside her apartment.
Bell, who uses a walker, could not exit the apartment on her own. Eventually, a firetruck drove down her street, parting the water like an ocean liner, then a firefighter helped her aboard.
"I was fighting for my life," Bell said. "I thank them very much for getting us out of there."
Since the rescue, Bell has spent three days at the middle school shelter, where a few hundreds residents have lived since last week. Most have slept on blankets and sleeping bags spread in school hallways and classrooms. Countless pets are housed in a back room.
Bell said she has heard that her apartment is now completely submerged. She will stay in Newport, she said, but she will never live in the same place again.
"I might go back there to get pictures for FEMA or something, but I'm not gonna stay," Bell said.
Follow Brett Kelman on Twitter at @brettkelman.
If you or someone you know may be struggling with suicidal thoughts you can call the U.S. National Suicide Prevention Lifeline at 800-273-TALK (8255) any time of day or night or chat online. Crisis text line also provides 24/7 support (Text 741-741).