WASHINGTON — Earlier this month, a federal judge held two top officials from the D.C. Department of Corrections in contempt over a delay in handing over medical records for a January 6 defendant. Now, the Department of Justice says he appears to have "invented" the emergency that led to that decision.
Worrell, a Naples, Florida, resident, has been in the custody of the D.C. Jail since his arrest in March on multiple felony charges in connection with the Jan. 6 Capitol riot. He is accused of joining other members of the Proud Boys in storming the U.S. Capitol Building and of assaulting federal officers with pepper gel spray. In June, Lamberth rejected a bid by Worrell to be released from jail over alleged threats he made against witnesses in his case.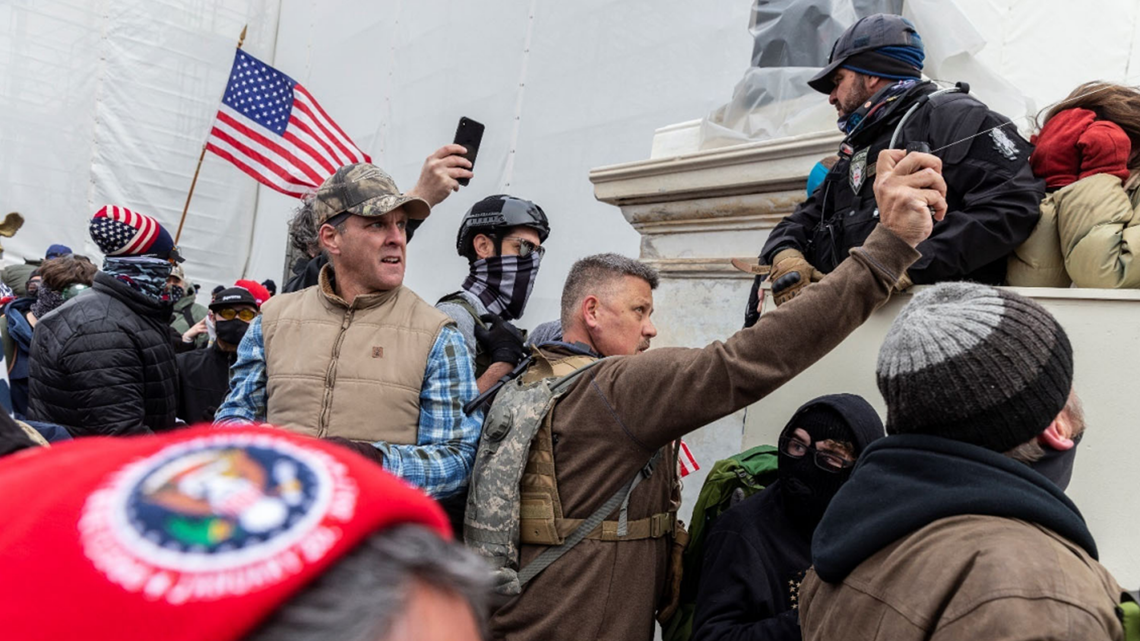 While in the custody of the D.C. Jail in May, Worrell fell in his cell and broke his pinky finger. In filings, Worrell has claimed D.C. Corrections officials didn't get him the proper medical treatment for his injury. In August, Worrell told the court that "due to the jail's delay the hand [would] require surgery" rather than being reset in a doctor's office.
On Wednesday, the Justice Department said Dr. Robert Wilson, the Howard University Hospital doctor who examined Worrell, determined Worrell's hand had already healed normally and that he was suffering no pain or loss of function.
"Dr. Wilson also confirmed that Mr. Worrell simply invented what he asserted in August 2021," the DOJ wrote. "Dr. Wilson stated in his interview that he never said anything of the sort, and that the comment Mr. Worrell attributes to him also 'makes no sense.'"
The DOJ said medical records show Worrell was treated with a "closed reduction" and a splint cast for his fracture on May 17. Prosecutors say his records show he was "primarily dissatisfied with the appearance of his pinky finger" and demanded surgery to fix the cosmetic issue over the advice of Wilson, who told him the risks of surgery on his healed finger could outweigh the benefits.
The records paint a very different picture of Worrell's treatment in the D.C. Jail than the one he has presented in filings to the court. Based on those filings, Lamberth said it appeared Worrell had been "sitting there in pain" since June without his medical needs being met. The DOJ says his records show he reported "no significant pain" as of June 10 and also that he had removed his splint on his own. The records also show the surgery on his finger – far from being necessary or emergent – was actually an elective procedure his doctor had advised against.
His finger injury is not the first time Worrell has complained about medical treatment in custody. Shortly after his arrest, Worrell, who has non-Hodgkin's lymphoma, claimed he was not being allowed access to his cancer medication. Jail officials said the alternative medicine practitioner Worrell had been seeing was not able to provide any documentation about the medication or dosage he had been providing to him. Worrell also contracted COVID-19 while in custody but, again, the DOJ says his health-related claims as a result were "similarly unsubstantiated" by medical records.
"To be clear, the government takes Mr. Worrell's medical situation seriously. His cancer is a dangerous underlying condition, and as such he was at significant risk when he first contracted COVID-19. And he has suffered several other issues while in custody, including injuries from his accidental fall in the spring," the DOJ wrote in its filing Wednesday. "But the government has repeatedly been unable to sort fact from fiction in reviewing Mr. Worrell's many claims of medical mistreatment, because those claims have often been refuted, or at best unsubstantiated, by the medical notes and records that the government later obtains."
Last week, U.S. Attorney General Merrick Garland told members of the House Judiciary Committee the department was conducting a civil rights review of conditions at the D.C. Jail following Lamberth's order in Worrell's case.
Worrell's attorney, Alex Stavrou, had not responded to the government's filing yet Thursday afternoon.
We're tracking all of the arrests, charges and investigations into the January 6 assault on the Capitol. Sign up for our Capitol Breach Newsletter here so that you never miss an update.