CHARLOTTE, N.C. -- A car crash in Cornelius Monday afternoon involving two guardrails brought back bad memories for a Gastonia family.
Cornelius-Lemley Fire Rescue responded to a single vehicle accident Monday afternoon on I-77 southbound at Westmoreland Road in Cornelius. Pictures showed two guardrails penetrated the front of the vehicle. One person was taken to the hospital.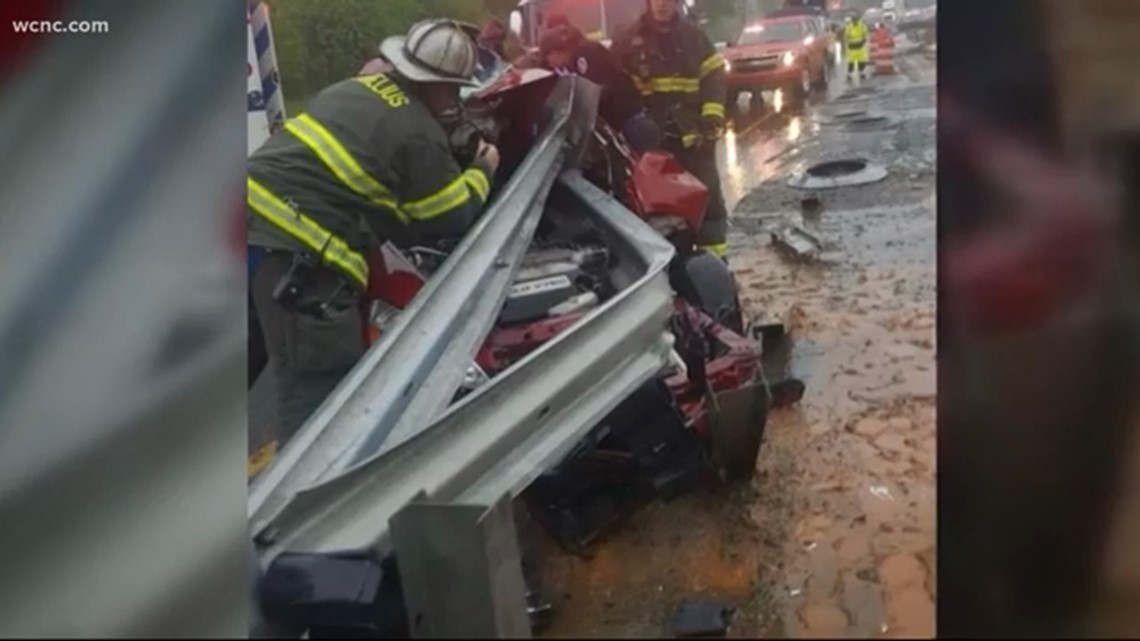 A spokesperson for the North Carolina Department of Transportation (NCDOT) said the guardrail involved in the accident is an X-Lite guardrail, manufactured by the Lindsay Corporation. Several families across the country have filed lawsuits against that company, claiming the X-Lite guardrails are to blame in the death and injury of their loved ones.
Ladeana and Wayne Gambill of Gastonia are one of the families involved in the lawsuits after they lost their daughter, Lauren Beuttel, in an accident in June 2016 involving an X-Lite guardrail. Lauren was a passenger in a car on I-40 between Nashville and Knoxville in Tennessee when the car crashed into the guardrail, piercing the driver and Lauren.
"It's just horrific to think about something that's supposed to protect you actually goes through cars and does more injury than if nothing had been in place," Ladeana said.
Lauren was a 21-year-old who dreamed of obtaining a PhD in psychology. Her parents described her as the kind of person who could light up the room with her smile, and she had a good heart.
Seeing the images of Monday's crash in Cornelius, brings the memories of Lauren and the accident rushing back for the Gambills.
"It looked exactly like her accident," Ladeana said. "You know, it just skewers through a car."
Since Lauren's accident, the Gambills have been working to eliminate the number of X-Lite guardrails on the roads, especially in North Carolina.
"It just seems like it's a ticking time bomb for those that are still sitting out there on the roadways," Ladeana added.
An NCDOT spokesperson said there are between 4,000 and 5,000 X-Lite guardrails currently installed on North Carolina roadways. NCDOT is no longer installing X-Lites on new construction projects and is replacing damaged X-Lites or ones that need maintenance with a guardrail end that is manufactured under the new Manual for Assessing Safety Hardware standards.
According to the Lindsay Corporation: "The X-LITE Guardrail End Terminal meets the guidelines contained in NCHRP Report 350 and has successfully passed crash and safety tests in accordance with Federal Highway Administration (FHWA) standards and criteria, and remains qualified for use on America's roadways."