CHARLOTTE, N.C. — Just days after being acquitted by the U.S. Senate in his impeachment trial, President Trump was in Charlotte Friday hosting a summit on revitalizing low-income communities.
The President was promoting so-called economic opportunity zones that are designed to create new businesses and housing in under-developed areas of the city. The President told the overflow crowd at Central Piedmont Community College that opportunity zones help communities like Charlotte.
The idea of the program is to provide tax incentives to developers to build in underdeveloped areas, and Charlotte has 17 neighborhoods that qualify.
Critics say the program will actually lead to gentrification and drive out the people who are struggling to get by.
President Trump said he believes the numbers show the program works.
Roughly 100 protesters and counter protesters packed Elizabeth Park ahead of President Donald Trump's visit to nearby Central Piedmont Community College Friday. The crowd was nearly split right down the middle, for and against.
Alan Hoffsten sold Trump shirts in the park.
"It tells you people love Trump," he said. "I love that he's a capitalist and he's not a politician. He's a real person."
Oliver Welsh lined the street in disagreement.
"I'm very much against the president," Welsh said. "I don't support him. I just kind of wanted to come out and show my unsupport for President Trump."
CMPD provided extra security both inside the park where the crowd formed and in front of CPCC. Those who lined the street ranged in age and made sure to touch on every trending political topic.
Opportunity Now is the same name used by the White House Opportunity and Revitalization Council in partnership with The Department of Housing and Urban Development (HUD).
"Opportunity Zones were created under the 2017 Tax Cuts and Jobs Act to stimulate economic development and job creation, by incentivizing long-term investments in low-income neighborhoods," the council explains on its web site.
There are more than 8,700 Opportunity Zones across the country, according to their website. Several of them are in north Charlotte, west Charlotte, and east Charlotte, according to a government-produced map.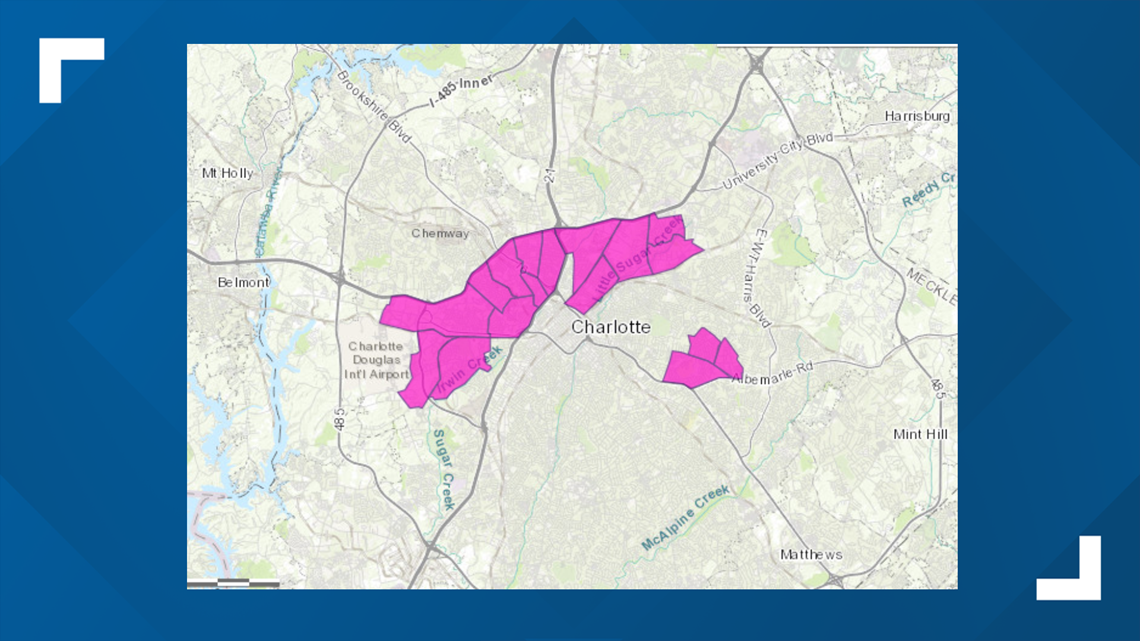 Opportunity Zones are designated by governors, according to HUD.
"Opportunity Zones deliver fast-acting and long-lasting solutions by allowing current investments to qualify and structuring rewards to serve local communities for the long-term," the council's site explains.
It's a busy week for President Trump. The State of the Union Address is Tuesday night and not even 24 hours later he is expected to be acquitted in the impeachment trial.
"People have their opinion of Donald Trump and they're sticking with it," UNC Charlotte Political Science Professor Dr. Eric Heberlig said. "People either like him or they don't."