From Brazil to South Carolina, couple overcomes immigration struggle in modern-day fairytale
In a fateful encounter, hundreds of miles from either of their homes, Jonny and Cia locked eyes. They had no idea the lengths they would have to go to fight for their love.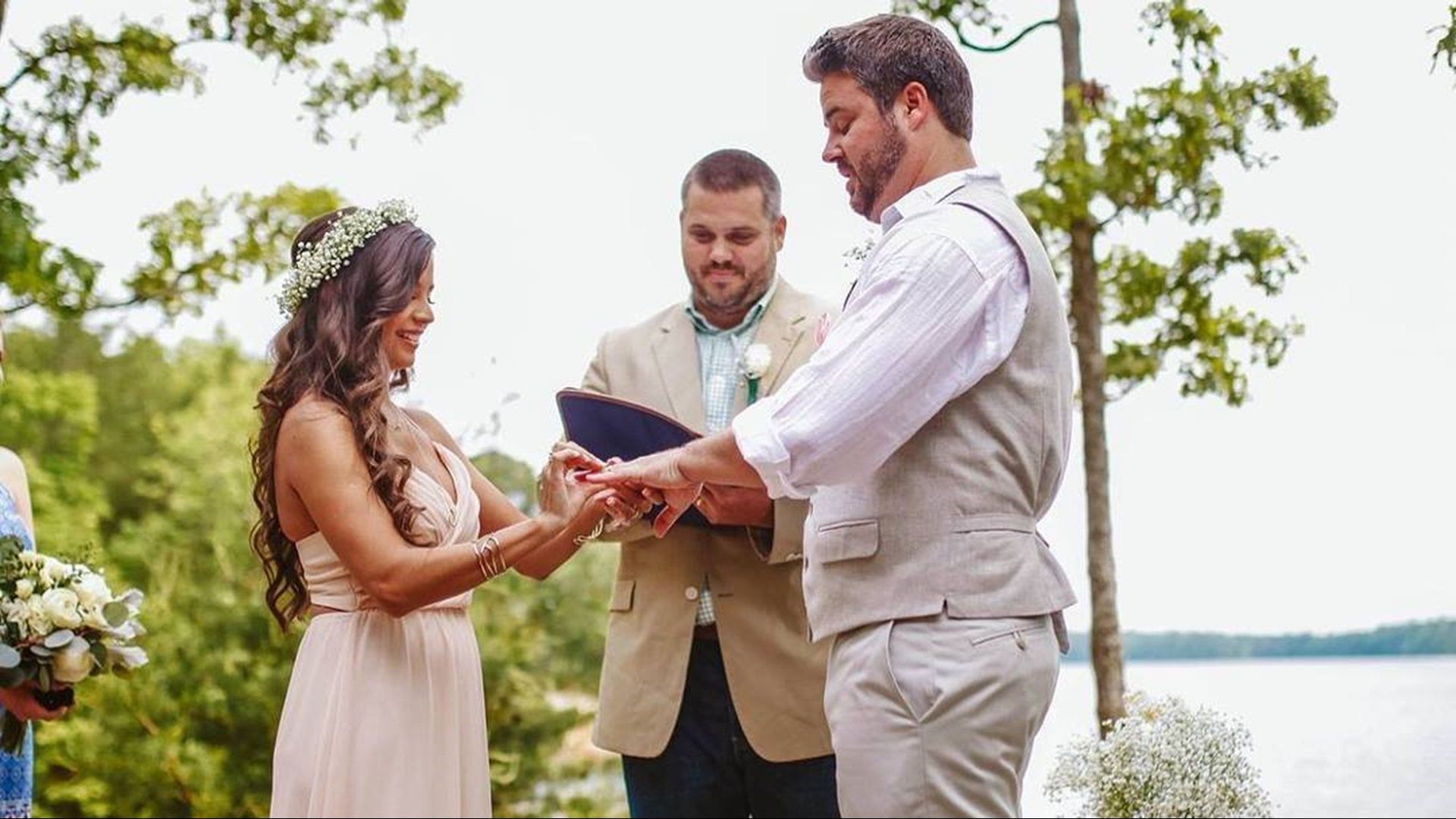 Introduction
:
Jonny McCoy was always a believer in fate.
He grew up listening to his parents' love story. The two had met in the closest thing to a modern-day fairytale – McCoy's mother played Cinderella at Disneyworld, his father was a jungle cruise employee.
So it was no surprise why the 34-year-old wanted to find a true love of his own.
But never did he expect that one of the most destructive and heartbreaking experiences of his life would set him on a course to find his own happy ending.
But on January 29, 2017, fate would bring two people from opposite corners of the world together, and McCoy would first lay eyes on the woman who would become his wife.
Chapter 1: A chance meeting that changed their lives forever
:
As Hurricane Matthew approached the United States' southeast, South Carolina was placed under mandatory evacuation.
But hurricane season was a yearly ordeal for South Carolina native Jonny McCoy. As a Carolina native, hurricane season was a yearly ordeal for McCoy. So he stuck with his annual tradition – board the windows and wait it out.
But this storm was different.
"We just watched [the water] come up one-foot, two-foot, three-foot. It came up 19.5 feet," McCoy said. "By the time it was over with I had pretty much lost everything downstairs."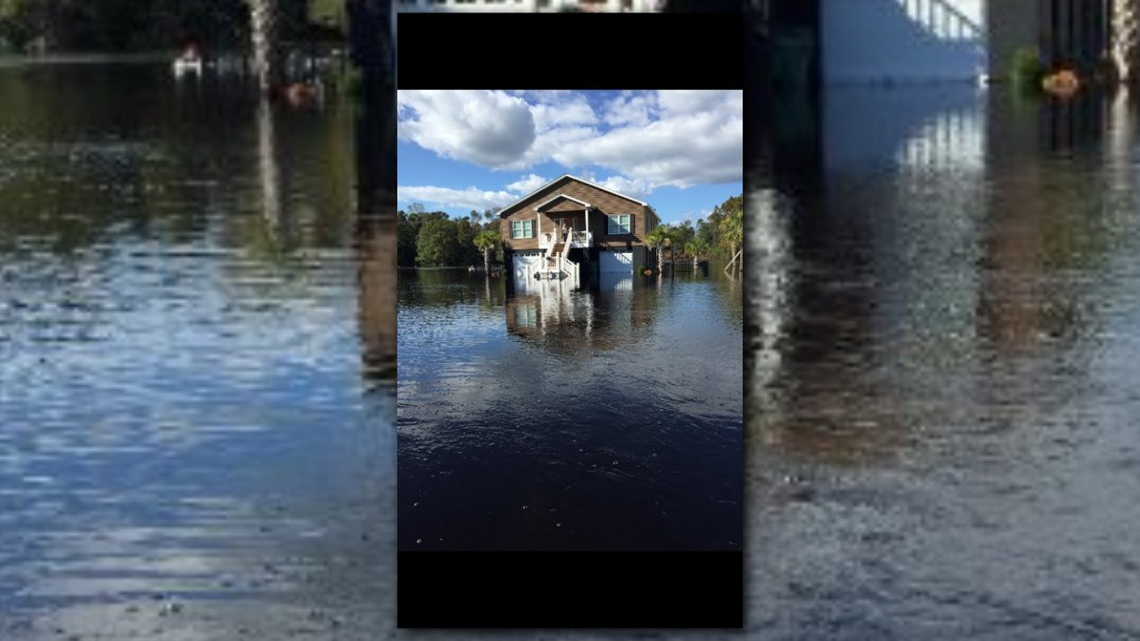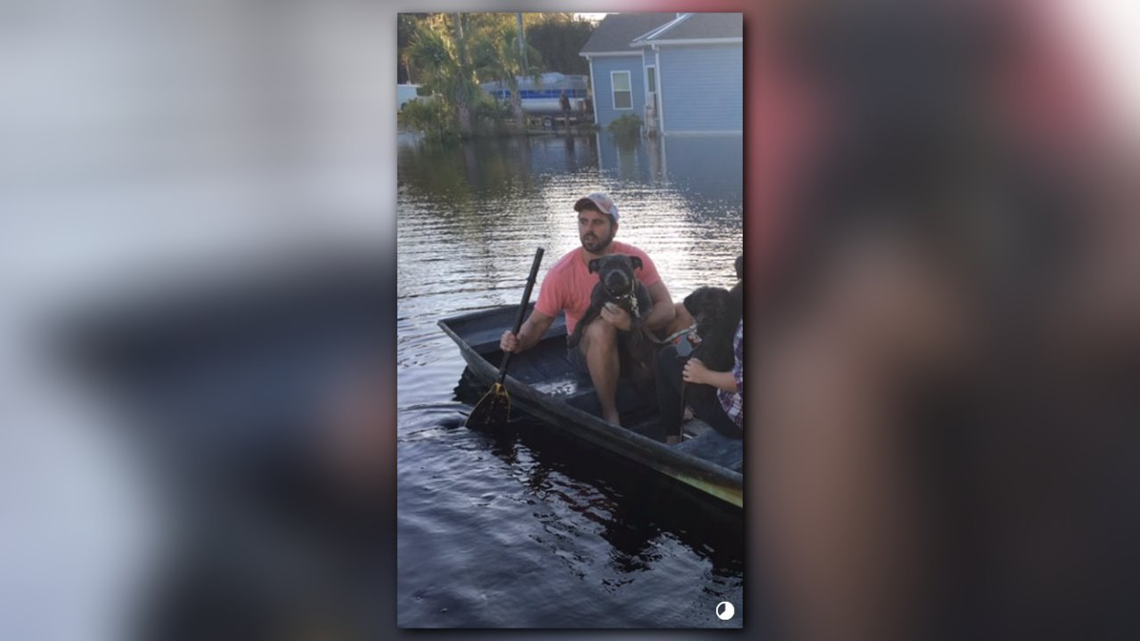 To lift his spirits, a close friend proposed they get away from South Carolina. Far away.
They flew to Peru and traveled across South America. They climbed the steps of Machu Picchu, rode by train from hostel to hostel, stood beneath the Christ Redeemer and explored Bolivian salt mines.
But no adventure was as memorable as when Jonny met Cia.
"We met in downtown Lapa which is a part of Rio de Janeiro," McCoy said. "I just saw this girl. I remember everything about the moment that I saw her. She was absolutely the most beautiful thing I'd ever seen."
Patricia "Cia" Felix, 25, had driven 36 hours across Brazil with her boss to Rio de Janeiro for a meeting for their civil engineer company. The meeting fell on her birthday. So Cia decided to celebrate by going to a nearby bar and having a drink alone.
"I saw Jonny first! He says he was the first to see me, but he wasn't. I saw him first," Felix said. "He came to me with his cell phone – it was so cute!"
'Do you have a boyfriend?' McCoy had charmingly typed into his translation app for it to be read in Portuguese. Little did he know, Felix didn't need any translation.
"She just started speaking English perfectly," McCoy said. "Five minutes into the conversation I realized she was the sweetest human being I had ever met."
"I think everything in my life… the last few months before I met him brought me to the moment I met him," Felix said.
They ended up sitting outside the bar, talking for hours.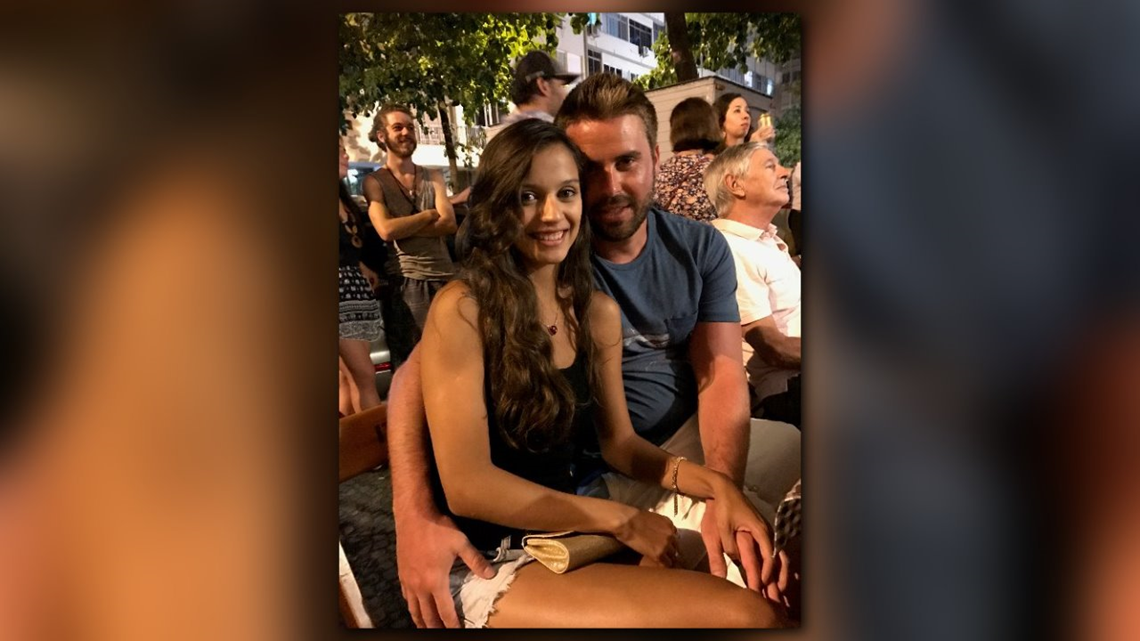 "When we ended the conversation, I knew I had to spend more time with her," Jonny said.
"I thought, 'Yeah this guy is different," Felix said. "He's special."
Chapter 2: An immigration struggle keeps them apart
:
The two spent their remaining days in Rio de Janeiro together. By the final day, McCoy knew his life was forever changed.
"Nothing else mattered in my life," McCoy said.
When they separated ways, McCoy had already booked a ticket for Felix to come visit. While he flew home to a flooded home, Cia returned to her home in Goiânia.
"I had no idea she lived in an area where the majority of people didn't have running water," McCoy said. "She has seven family members that live in a two-bedroom house… I had no idea. But that comes into play with the immigration visa. That was all they looked at."
Their hopes of falling further in love beneath South Carolina's Palmetto trees were quickly dashed. Cia's application for a United States tourism visa was immediately denied.
"Tourist visas, or non-immigrant visas, are for people who are not planning to move to the U.S. The individual applies for it themselves and the answer is based purely on their own situation," explained South Carolina Congressman Rice's District Director Andrew Mims in regards to the visa process.
"The most common denial we see is where people can't prove 'ties' to their home country – they can't establish beyond a reasonable doubt that they wouldn't return to their home country."
According to Mims, a large portion of current illegal aliens came to the United States on tourism visas and never returned home.
"That's why it's tougher on non-immigrant visas because so many people were abusing it," Mims said.
The system is particularly tough on situations like McCoy and Cia's as there is an inherent assumption the significant other would want to stay in the United States with their loved one.
Outside of her family, Cia wouldn't be leaving much behind in Brazil, which made the process even harder.
"I've talked to several attorneys and liaisons at the embassy down there and they have pretty much told me the phrase, 'She doesn't have proven links to Brazil' which means she doesn't have enough money and land to return to Brazil," McCoy said. "But I had no idea."
After the first denial, McCoy immediately flew to Felix's hometown to be with her. That's when he discovered why she was denied a tourism visa.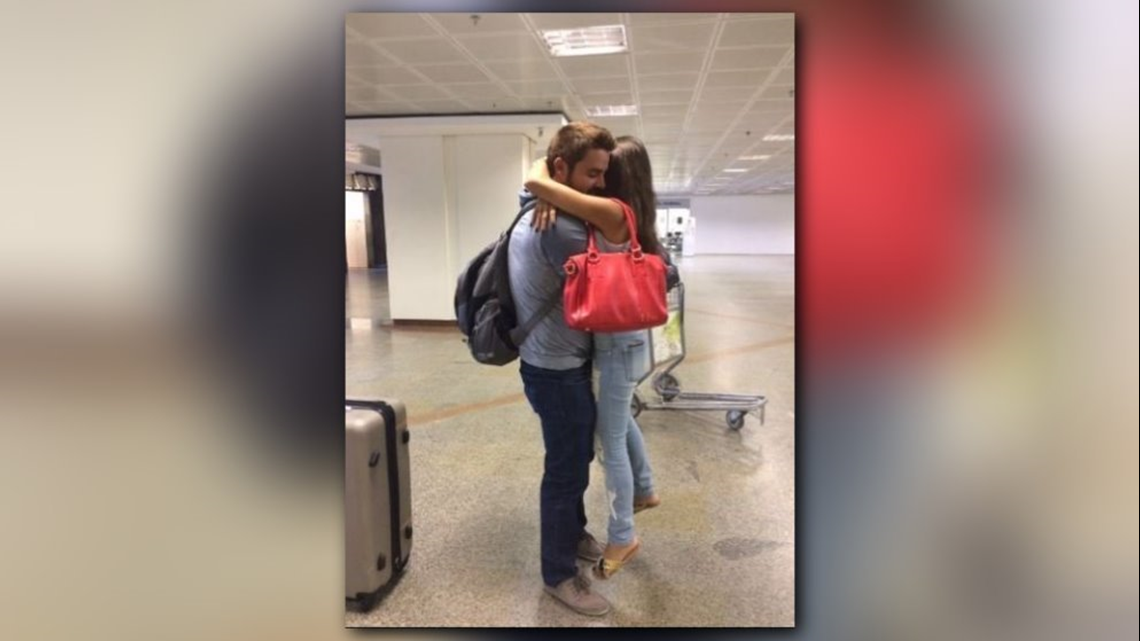 "You pull up (to her house) and it's like this long wall on the street. There's no doors for houses, they're all covered in graffiti and there's nobody walking on the streets… I found out later it's because Cia has been held up twice there since we've been together," McCoy said.
After seeing where Felix came from and meeting her family, there was no doubt in McCoy's mind he had found his match. He decided on another visa option, an immigrant visa – also known as a fiancée visa.
He flew Felix to a surprise destination, an island off the southern coast of Brazil called Florianopolis.
Without speaking Portuguese, McCoy managed to reserve a restaurant's patio, find candles, get the host to play Felix's favorite song and have a bottle of champagne.
That's when he got down on one knee and asked her to be his wife.
"I felt so special," Felix said. "I was so nervous that when he started to talk I was like, 'This is happening! This is happening!' My mind was going crazy and I just remember saying, 'Yes! Yes!'"
Chapter 3: A holiday of family and firsts
:
McCoy returned to South Carolina and set up their fiancée visa interview. But they had months to wait. As the days ticked on, and the holidays approached, McCoy's mood slipped. As a law-abiding citizen, he felt betrayed by his country and he missed Felix.
"I said, 'I kind of want her to see what it's like to flush toilet paper.' She had never flushed toilet paper in her life!" McCoy said.
The two decided to meet as close to the U.S. as they could get to celebrate the holidays together. They chose the Bahamas. Felix had no issue getting through immigration.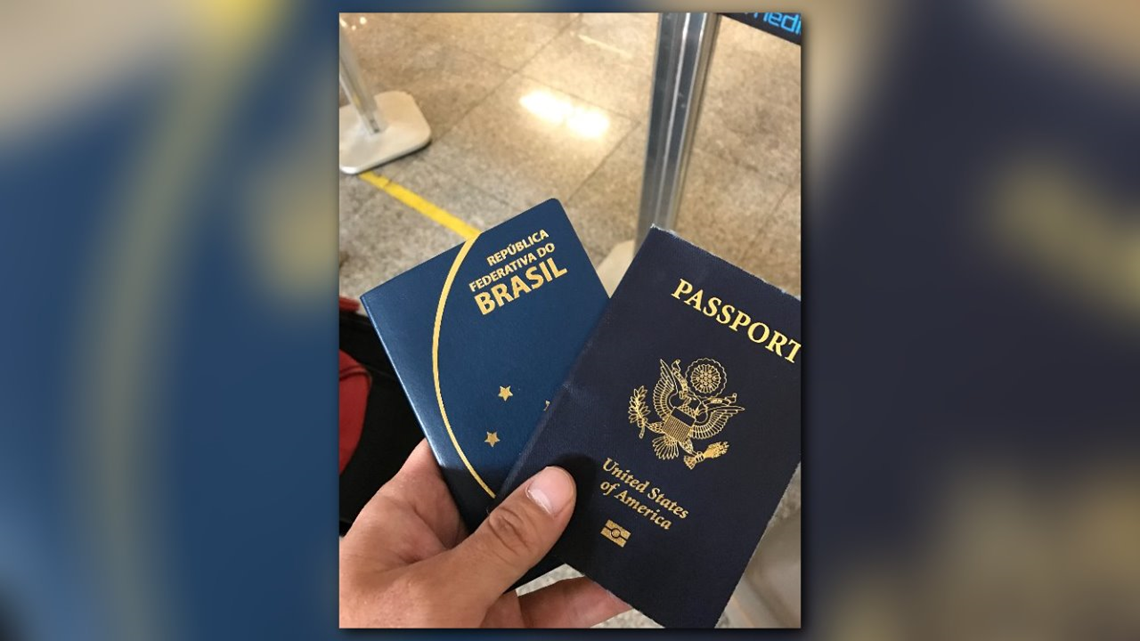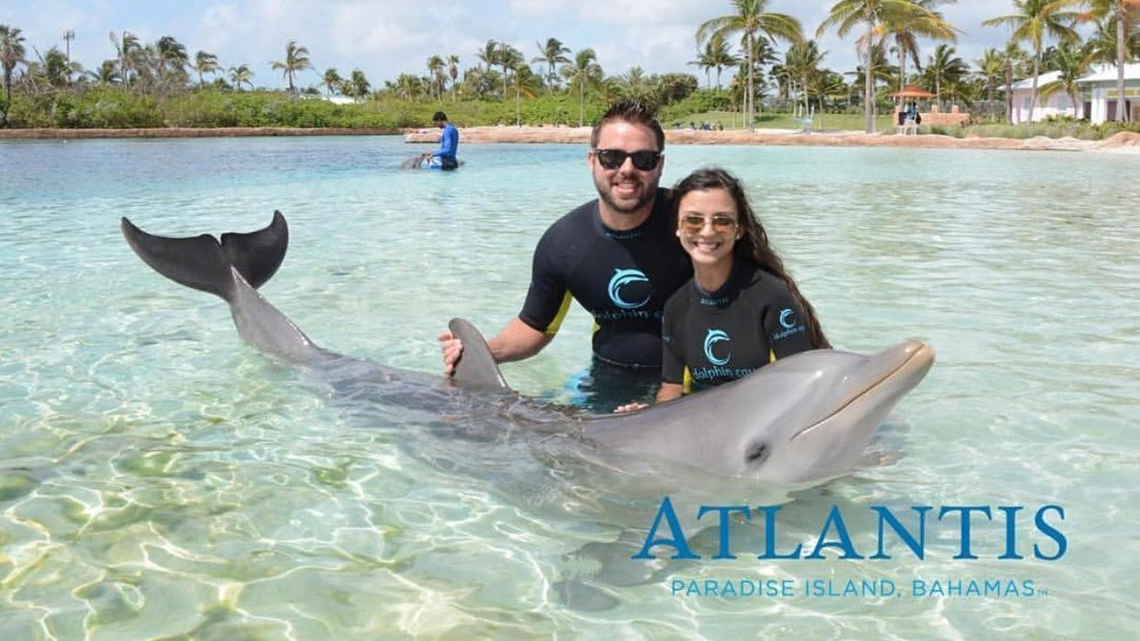 Since he couldn't bring her to them, McCoy had his brother and sister-in-law fly down and surprise Felix. The McCoys spent their vacation giving Felix new experiences: getting her makeup done, going to an aquarium, tasting pancakes and more.
"I thought like, 'Okay now I can feel closer to him. Now I can understand the way they live,'" Felix said. "It was really fun like look! I'm getting Starbucks… like the movies!"
Following a joyful holiday of family and adventure, the McCoys returned to the United States and Felix to Brazil. The couple waited until March 27 for their fiancé interview. In another fateful occurrence, the interview was scheduled where it all began, Rio de Janeiro.
Chapter 4: Letting love in, Cia comes to the United States
:
Just blocks from where they had first met more than a year ago, McCoy and Felix were attempting to secure the next chapter of their love story.
"We got there at 6 a.m. and our interview was at 7:20 a.m." McCoy recalled. "It was horrible waiting. Cia was growing more and more nervous in the line outside."
The two met with an immigration officer who asked one simple question, how did they meet? Felix told their fateful meeting in one minute, then it was McCoy's turn.
"Then [Jonny] said, 'Now I'm going to talk my side of the history,' and took five minutes to talk to the guy. He closed the thing, signed and dated it, 'Good luck and congratulations,'" Felix recalled.
After months of painful separation and anticipation, Felix could come to the United States.
"I'm coming!" Felix screamed.
"That's right, America," McCoy said. "You just gained a hell of a heart and soul."
The two remained in Brazil, celebrating together and with Felix's family until April 12 – the day the two would fly to South Carolina and Cia would put her feet on American soil for the first time. But when the day they had waited for finally came, it was bittersweet.
"She is going to have to say goodbye to her family," McCoy said. "It's starting to get extremely real how much she's actually giving up for me."
In order to prove her citizenship, Cia can't easily travel home for at least a year once she's landed in the United States. Additionally, under a fiancée visa, she and McCoy must get married within 90 days of her arrival.
McCoy knew moving across the world would be difficult. So, he made sure Felix would feel right at home.
"She has no idea my family is going to meet her [at the airport]," McCoy said. "A quick turnaround of saying goodbye to one family and feeling the love from another one will be very necessary in her transition from one country to another, from one life to another."
The McCoys did not disappoint.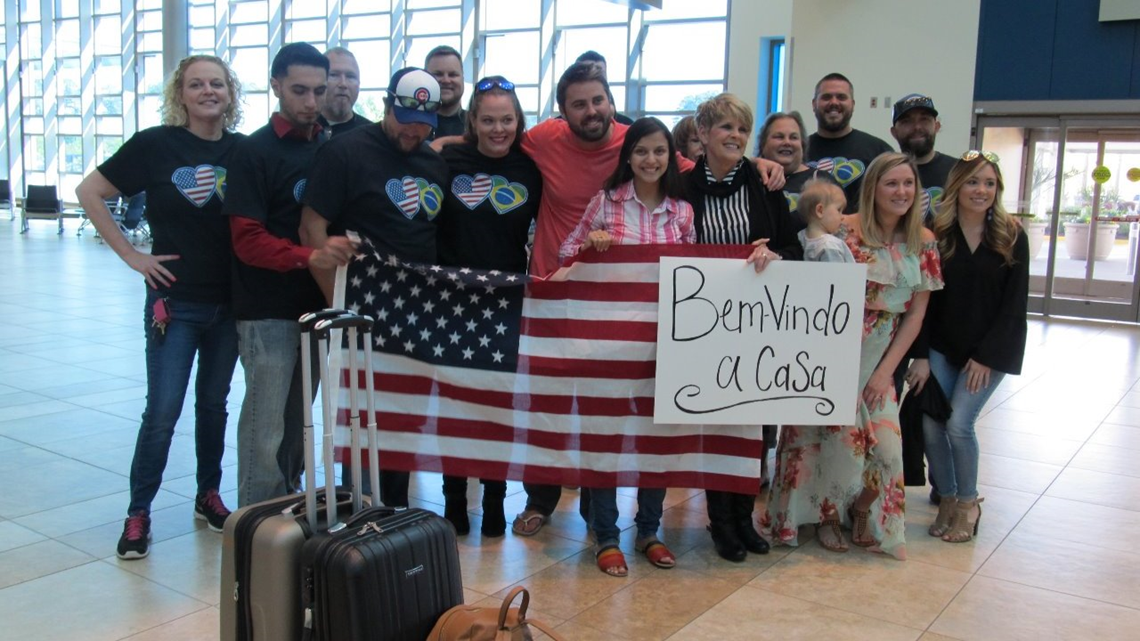 A crowd, with matching shirts adorning a Brazilian and American flag, awaited Felix and McCoy at the bottom of the elevator as passengers made their way to baggage claim. Their cheers were heard throughout the entire Myrtle Beach airport as Felix and McCoy appeared.
The two had done it. Felix was in the United States, surrounded by love.
"There's no other way to describe it other than, 'I told you I would,'" McCoy said. "I told her from the very first time I met her, on the veranda, in downtown Rio, in Lapa, 'I'm going to bring you to the United States.' That was the first hour that we met."
"If you have a true love, you can go through everything no matter what. It can be an immigration thing, different countries, different cities, different states, different families, different way to live. But if you have true love… it's easy," Felix said.
"It proves that the American spirit is behind us 100-percent and it is real," McCoy said. "People do still believe in true love and people still do believe in fairy tales and if you want something hard enough, then you can get it and accomplish it and what more… than love?"
Since coming to the United States, McCoy and Felix have gotten married in a waterfront ceremony officiated by McCoy's brother.
Photos: Jonny & Cia's wedding