CHARLOTTE, N.C. — Last year was the most active hurricane season on record with 30 storms in total. By the end of June 2020, there had already been four named storms.
Well, 2021 is keeping pace with that historic year. Danny was our fourth storm, and our fifth looks to outpace 2020's Edouard.
Let's show look at the two years side by side.
Ana was our first named storm forming on May 22. This was the seventh year in a row that an 'A' name formed before the official start of hurricane season on June 1st. However, 2020's Arthur formed five days earlier on May 17.
B and C names in 2020 were far ahead of this year.
Bertha formed on May 27 and Cristobal formed on June 1. Those were both 18 days ahead of this year's Bill and Claudette.
However, Danny gained some ground for 2020. Danny didn't last long but was the first tropical system to make a South Carolina landfall in June since the 1800s.
Danny formed five days behind 2020's Dolly. Both storms are some of the earliest 'D' names to form on record. Dolly tied for the second earliest and Danny is now the fourth earliest on record. This bumped Dennis in 2005 which was the most active season on record -- before 2020 took the title.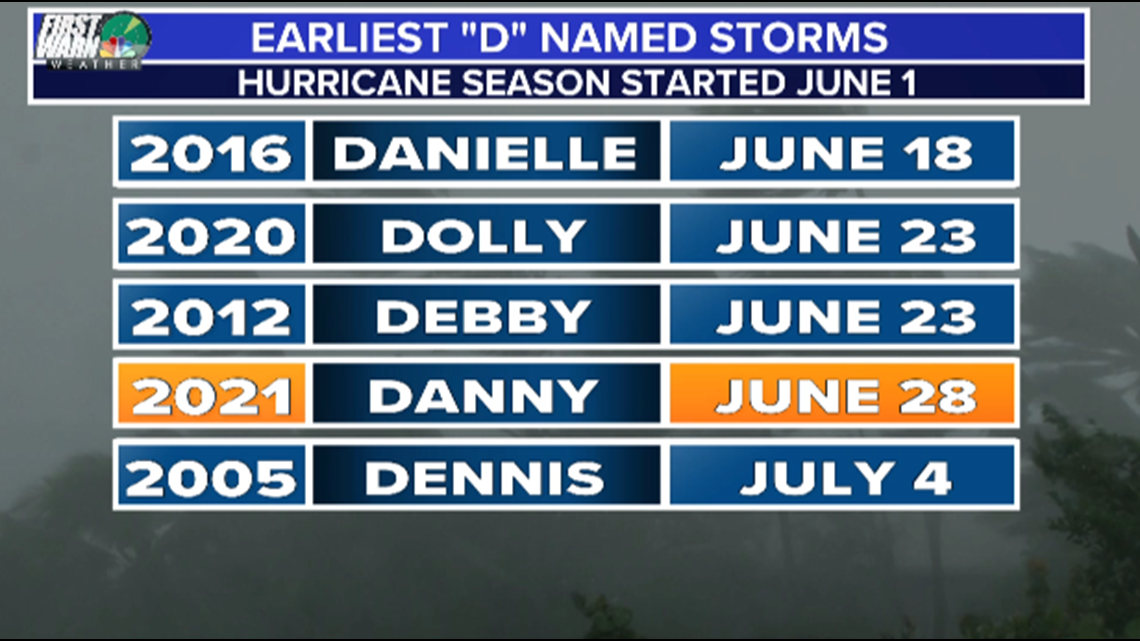 Now, 2021 is about to take the lead.
In 2020, Edouard formed on July 4. But it is very likely that our next named storm Elsa will form before that date. Edouard was also the earliest 'E' name to ever form, meaning 2021's Elsa could take that crown and the early lead over the most active hurricane season on record.
At 5 p.m. Wednesday, the National Hurricane Center updated its forecast to anticipate the formulation of Elsa by Thursday. The system, which for now gets the designation Potential Tropical Cyclone Five, remains over the Atlantic Ocean with sustained winds of 35 mph.
The system is expected to become a tropical storm before reaching the Lesser Antilles and tropical storm conditions are possible beginning Friday in portions of the Windward and southern Leeward Islands. Heavy rainfall will move quickly across the islands, including Barbados, Friday. In the extended forecast, risks of heavy rain and gusty winds are possible for the Virgin Islands, Puerto Rico, Hispaniola, Cuba, the Turks and Caicos, and the southeastern Bahamas through early next week. By Monday, the storm is currently forecast to be near Cuba and southern Florida. If Elsa were to form Thursday, it would set a new record for the earliest "E" name storm on record in the Atlantic Ocean.